10 ways to fit in exercise with kids underfoot!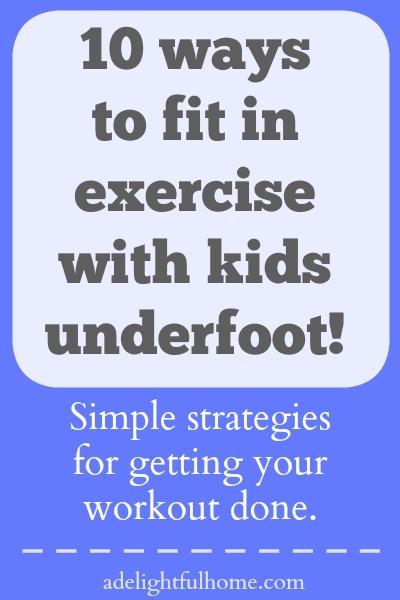 A mom who feels good physically is better able to handle the stresses of life.  Being physically fit promotes happiness and confidence and also gives you energy!
Finding the time to exercise with little ones around can be a challenge.  Here are a few suggestions for exercising with little ones at home. Some you have probably tried already. Hopefully there will be a few news ones to motivate you!
My daughter drew this picture of me exercising a few years ago: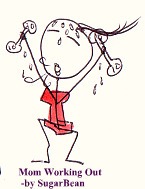 1.  Get it done first thing in the morning
Exercising in the morning is a great way to start the day.  Not only does it give you energy, but it gets the task out of the way.  Circumstances can't cause you to miss your workout, because it is already done.  If you can get up before the kids wake, that is the perfect time.
If you have super early risers and are unable (or unwilling) to beat them out of bed, have them stay in their rooms until a specified time or create a signal that lets them know it is time to leave their bedroom…I read about one Mom who slips a piece of paper under the door with a note telling them it's time to come out.  Or you could simply knock on the door and say, "Time to come out now."
2.  After the kids are in bed at night (if they have an early bed time – or you are a night owl).
I can't do this one, but everyone is wired differently and some come alive at night.  If that's you, then use some of your energy to workout.
3.  While the kids are occupied.
I don't recommend allowing the kids to just play together while you workout if they are fairly young.  I tried this a few times and had to pause the workout over and over to deal with arguments, or injuries (my son ran into a wall) J Putting on a 30 minute DVD for them to watch is fine.  Especially if they don't watch much television – they will be glued to the spot!
4.  During nap time/quiet time.
Dressing in your workout gear early in the day and being ready to go at nap time or quiet time can work very well.  I have done this recently.  My baby is still young and taking two naps a day.  During her afternoon nap the other kids have quiet time and I do a 30-40 minute workout. By quiet time, I mean each child is in his/her own room or space with something quiet to do.
5.  Trade childcare with another Mom or have Dad or Grandma watch the kids.
This could be done once a week for a longer time of focused exercise, or more frequently with shorter workouts.
6.  Put the kids in stroller and go for a walk/run
Pack a snack for them and some water and get outside.  The fresh is good for everyone!
7.  Exercise with the kids.
One set of DVDs I have been able to use with the kids is the Walk Away the Pounds series
by Leslie Sansone.  I usually prefer a more strenuous workout, but when I want to do something the kids can do, I pick this one ( I use the Walk Slim

workouts).  I can always add ankle and wrist weights to make it more intense.  Or do it with the baby in the ergo carrier 🙂
You can also simply pump up the music and dance around. Kids love it.
8.  Do short exercises throughout the day.
This one works in theory, but I have not tried it yet.  I figure if you designate specific days for specific muscle groups, write down or find a list of exercises for those muscle groups and post in on the fridge, you could work through the list as the day goes on.  Doing a few sets here and there.  I think this could work quite well for strength training exercises.
9.  Integrate exercise into daily life.
Do stomach vacuums (pulling your belly button toward the spine and holding it there) while cooking dinner?  Stand on your tip toes while brushing your teeth.  Do calf raises while washing your hair. If you watch t.v., do push-ups during the commercials.  But proceed with caution; I think you can see how this couldeasily go wrong!
10.  Let go of the all-or-nothing mentality
If you plan to workout in the morning but sleep in and miss it, it doesn't mean you can't do something else. It is usually possible to fit in some sort of physical activity.  It may not be the kind you really want to do, but something will work.  Any exercise is better than no exercise.
I have let this happen to me many times.  Especially when I am completing some sort of workout DVD series.  The DVD runs for a specific time period, if that time period is not available to me, I have often done nothing.  That is when the all-or-nothing mentality is really doing me a disservice.  So, do what you can.  Look for opportunities, and you will find them.
How do you fit in exercise with young children at home?   What would you add to this list?
This post is linked to Works for Me Wednesday, hosted by We are THAT Family.
Links to amazon.com are affiliate links.

Stacy is a DIY obsessed, healthy living advocate. A preacher's wife and mom of three, she loves to encourage others to live a natural lifestyle.
Latest posts by Stacy Karen (see all)