Beautycounter Holiday Collection
The Beautycounter Holiday collection is here and it's brilliant!
These safer skincare and cosmetics are high performing and enjoyable to use. I'm addicted!
I've had so much fun playing with all the colors. Which is totally new for me as I have never really been one to do that.
Here I am with the colors from the Necessary Neutrals eyeshadow palette and Raspberry lip gloss from the lipgloss vault.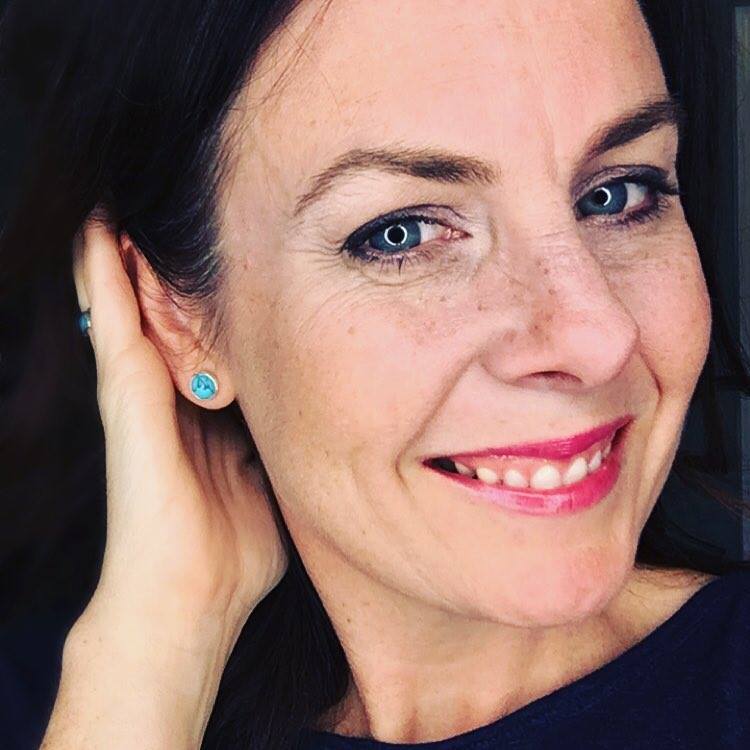 What is Beautycounter?
So, it may be better to ask "who" is Beautycounter?
Beautycounter is a safe skincare and cosmetics company whose mission is to get safer products into the hands of everyone—and everyone means everyone.
Beautycounter fulfills this mission by creating products that blend safety and high performance, and are committed to our rigorous ingredient safety standards.
You'll also find Beautycounter advocating tirelessly for greater transparency and regulation in the beauty industry.
Watch the short video below for more information about this great company and how they can serve you:
If you'd like more information about the company, their products, and why I support and use them, please visit my post: Why I love Beautycounter.
Evaluate your products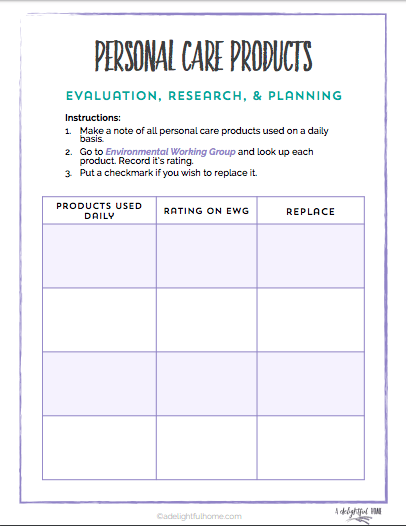 Before I get to the holiday collection, I wanted to share my evaluation printable with you. This is something I usually reserve for my students in the Fresh Start: 30-Day Whole Life Detox program, but I felt it should be shared with you since it's a great tool for prioritizing what changes you'd like to make.
Click here to get the printable so you can evaluate your personal care products.
Why shop the Holiday Collection?
There's something for everyone on your list, including yourself.
We've got so many wonderful products, it's a great way to try them without having to buy full sizes!
You can also get sets with multiple products included, so it's perfect for trying things out. You'll see some examples of this below.
Because many of the sets have multiple products, it's also possible to buy one item and break it up into gifts for a number of people.
A closer look at the Holiday Collection
Last night I hosted a Beautycounter Facebook party, you can still hop over there to see all the posts, but I'm sharing the highlights here for those who aren't on Facebook or prefer a more succinct rundown.
Please reach out if you have any questions. I'm happy to help!
Below is the final video of the night, with an up-close look at my favorite products. It summarizes a lot of what I shared.
You can find all of the products in the Holiday Collection on the Beautycounter website. Here is a little more information about my favorites:
First Light Highlighter Palette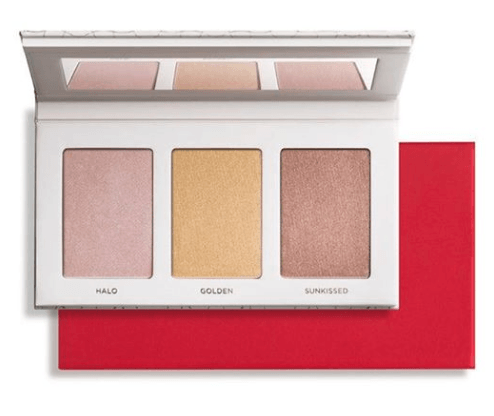 This is the best product for glowing cheekbones! Get a natural glow and all-over radiant look.
Use to spotlight facial high points and/or swipe on collarbones and shoulders.
Three colors give you lots of options for changing up your look.
Compact includes:
– Halo (cool light pink)
– Golden (shimmering gold)
– Sunkissed (rose gold)
Have you ever used a highlighter?
I'm fairly new to the concept and am loving it! I feel like it really pulls my look together and makes me feel fresh and youthful.
Click here to learn more about First Light Highlighter Set.
Necessary Neutrals Eyeshadow Palette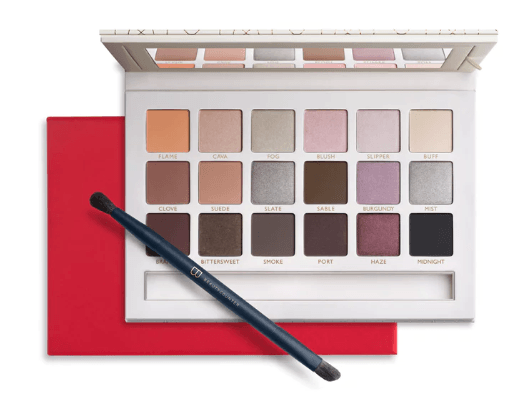 My favorite!
This ultra-versatile limited-edition palette features 18 long-wearing shades designed to flatter all skin tones.
This beautiful collection of wearable warm and cool shades includes matte, satin and shimmer finishes.
The exclusive, gold-patterned compact features a removable mirror and a double-ended brush.
The brush is so soft and fluffy! It really helps with blending.
Click here to learn more about the Necessary Neutrals Eyeshadow Palette.
Transforming Duo
This is the most adorable set you ever did see!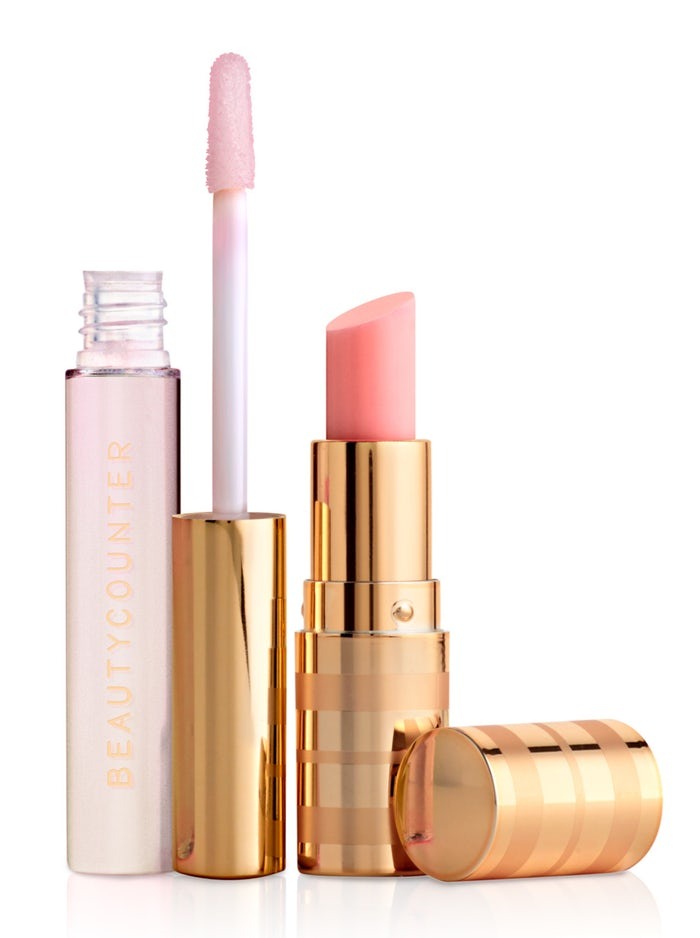 Transforming Lip Tint – is universally flattering instantly and delivers the ideal shade of sheer, customized pink color for your unique complexion.
Crystal Lip Gloss – layer over the top of the lip tint for a high-impact shine and a flawless finish.
Would make a great stocking stuffer!
Click here for more information about the Transforming Duo. 
Mini Lip Gloss Vault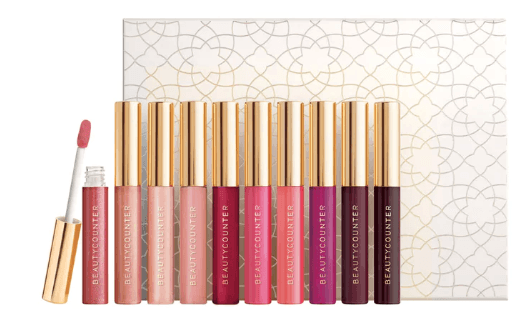 This 10-piece gloss vault has a shade to suit every look—including new limited-edition shades in shimmering and pearlescent finishes for utmost versatility.
Provide sheer color, conditioning moisture, and 
non-sticky, high-impact shine, all with a whisper of fresh
Keep the ones you love and gift the rest!!
This would be a great purchase for gifting to multiple people. Put one is everyone's stocking or give with a little chocolate and card.
Click here for more information about the Mini Lip Gloss Vault.
Mini Color Intense Lipstick Vault
Contains eight universally flattering shades. Including five new limited-edition hues.
Colors range from nudes and pinks to berries and reds!
Options for virtually any occasion.
Enjoy a smooth satin finish, rich color payoff and a hint of fresh peppermint.
All sized to tuck into the tiniest clutch.
Another great option for giving to yourself and using a few as gifts! Break up the set and gift to your girlfriends. Put one in your daughter's Christmas stocking. Pair some chocolate for a hostess gift. So many possibilities.
Click here to learn more about the MiniColor Intense Lipstick Vault
Limited Edition Color Intense Lipstick Duo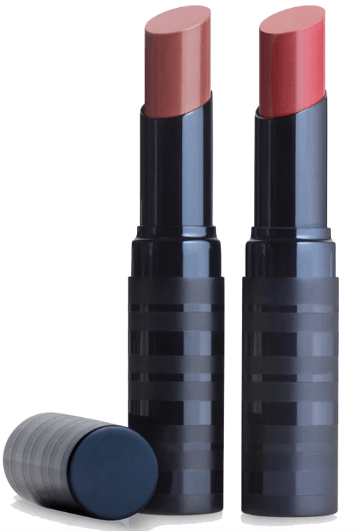 Don't want an entire vault, but need a couple of great base colors? You'll love this set of flattering foundational lipstick shades: Boardwalk and Sunset.
Beautycounter's color intense lipsticks have a matte finish and serious staying power.
Each long-wearing shade delivers rich color payoff, a moisturizing satin finish and a hint of mint. It almost feels like chapstick when applying. Not drying at all. But still very long lasting.
Our lipsticks get their moisturizing touch from plant-based ingredients such as jojoba esters and their light minty scent from peppermint oil— not from synthetic flavors or fragrances that may have harmful health effects.
Every batch of Beautycounter color cosmetics is tested for heavy metals to ensure it meets our industry-leading safety standards.
You could easily keep one and gift one to a friend. Or keep both! They look great on their own, or pair with lip gloss for extra sheen. 
Instant Awakening Trio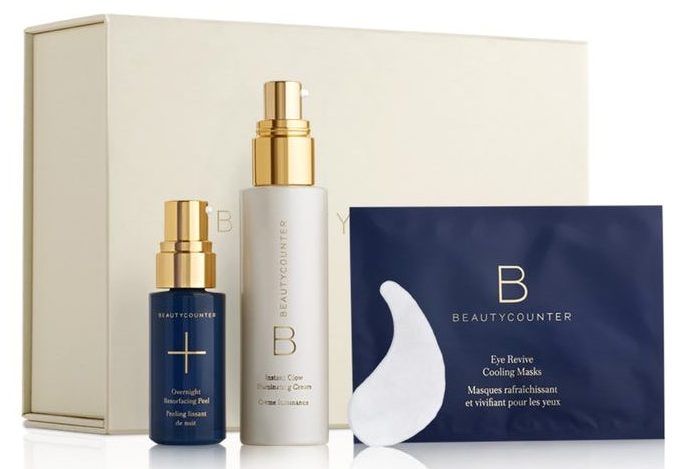 The perfect pick-me-up for dull, tired skin—or the ideal gift for that jet-setting special someone.
For me, this is the star of the Holiday collection! I love it so much I'd have a hard time gifting it 🙂
Instant Awakening Trio includes:
Overnight Resurfacing Peel – clears away dull surface cells without irritation or over-drying.
Instant Glow Illuminating Cream – lightweight pearlescent lotion provides a fresh, glowing complexion and radiant décolleté.
Eye Revive Cooling Masks (4 pieces) – offers soothing hydration to help reduce puffiness and plump tired skin.
Consumer Panel Test Results:
96% of subjects said their eye area felt soothed
90% said eye area felt refreshed and hydrated
These cooling eye masks are so soothing. I wish I could buy them is bulk!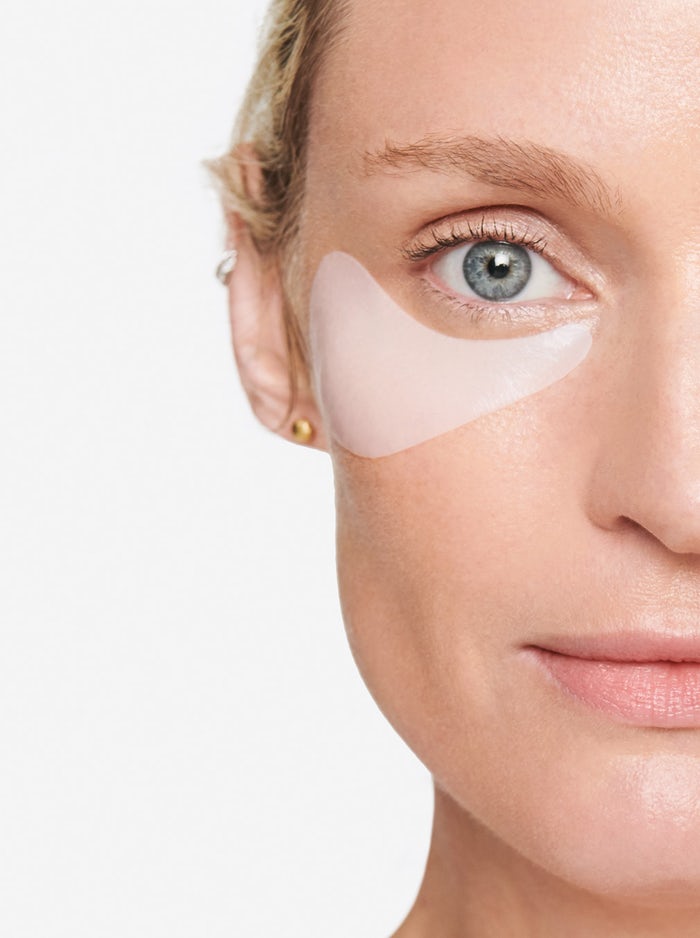 Click here to learn more about the Instant Awakening Trio Set.
Best of Beautycounter Set
These four products are big hitters! They have a powerful impact on your skin.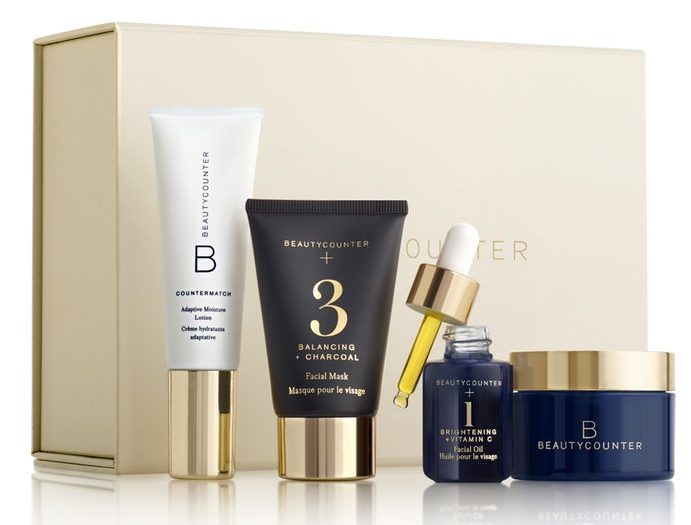 This is a perfect example of getting a set that would allow you to try some of Beautycuounter's best products at a discount. 
These work well as one gift, but could also be used as four separate gifts.
Includes:
Cleansing Balm – works as a daily cleanser, makeup-removing balm, and overnight mask. (I use this one all the time and it really helps soothe my skin. It has the consistency of a homemade product, which I love.)
Countermatch Adaptive Moisture Lotion – lightweight moisturizer adjusts to skin's needs throughout the day.
No. 1 Brightening Facial Oil – an Allure "Best of Beauty" Award Winner, this lightweight citrus-scented facial oil with vitamin C quickly absorbs and brightens skin.
No. 3 Balancing Facial Mask – nutrient-rich kaolin clay mask helps to purify and balance the skin, absorbing excess oil and drawing out impurities for a smoother-looking complexion.
Glow and Go set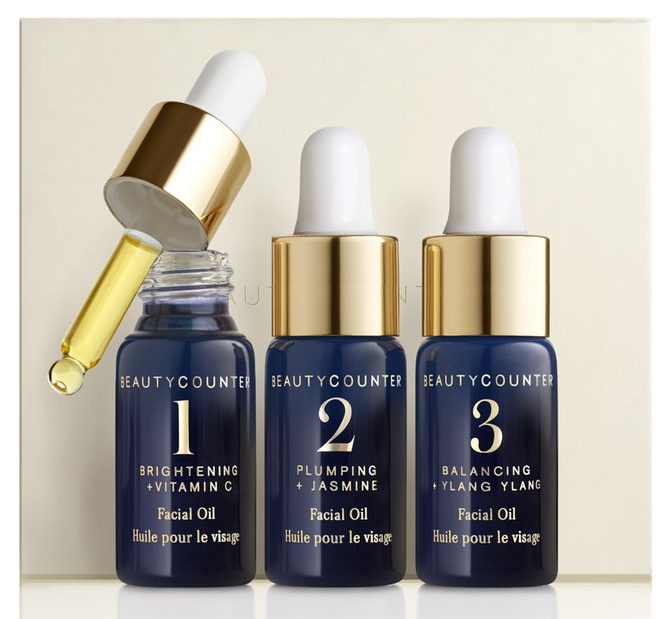 If there's anything that's helped my skin stay young, I believe it's the use of facial oils.
I love that this set of mini oils allows you to try all three oils without the need to buy full sizes of each one.
This set includes:
• NO. 1 BRIGHTENING FACIAL OIL: this lightweight facial oil with vitamin C quickly absorbs and penetrates to awaken and replenish skin.
• NO. 2 PLUMPING FACIAL OIL: featuring rosehip and argan oil, this formula replenishes moisture to help minimize the appearance of fine lines.
• NO. 3 BALANCING FACIAL OIL: calms and balances skin while minimizing the appearance of redness.
My favorite is the No. 1 brightening oil. It smells like mandarins!
Again, this would be a great option for gifting to one or multiple people or yourself!
Holiday Hand Cream Trio
Perfect for co-workers, teachers or hostess gifts. GIve all three to one person or break it up as gifts for three different people!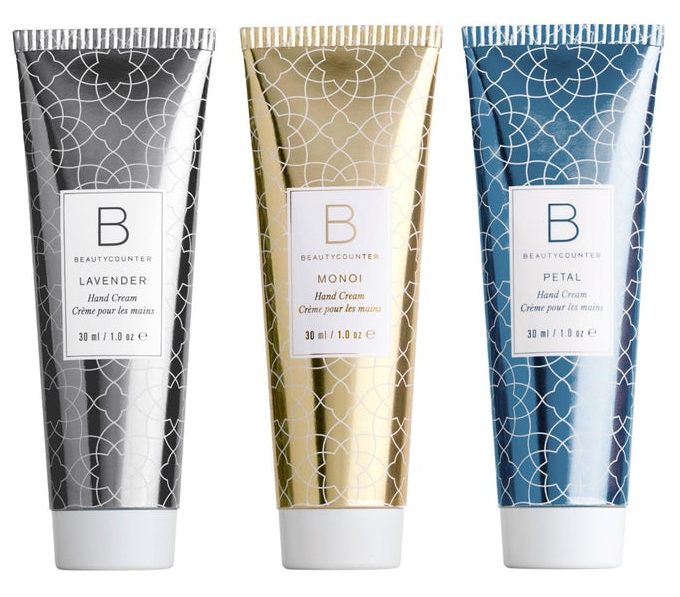 Hand Cream Trio delivers an instant boost of moisture that absorbs quickly for a non-greasy finish.
Luxurious yet lightweight, the all-new formula is enriched with shea butter and jojoba oil to deliver rich hydration.
Comes in three limited-edition scents: Lavender, Petal, and Monoi.
Splashtime Kids Set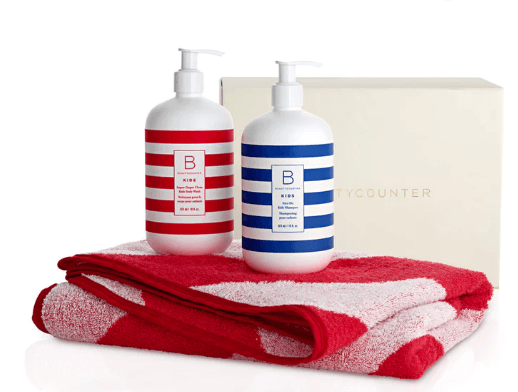 A gift for the kids. Or for their mom who wants the kids to have safer shampoo and body wash.
Comes with a hooded towel.
My youngest kids use these and love them. They don't leave hair stringy like some other natural brands I've tried.
Counter Man Travel Set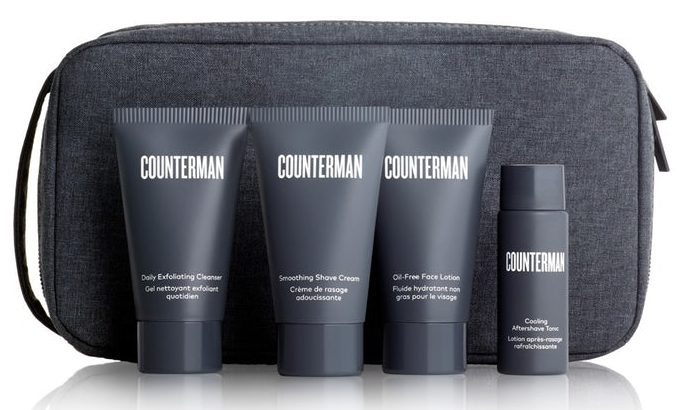 This is the easiest way to get the guys you love using safer products!
Includes:
• DAILY EXFOLIATING CLEANSER: jojoba beads gently sweep away daily impurities.
• SMOOTHING SHAVE CREAM: conditioning cream helps soften facial hair to promote a close shave.
• OIL-FREE FACE LOTION: lightweight and non-greasy formula absorbs quickly for daily hydration.
• COOLING AFTERSHAVE TONIC: formulated with menthol to cool post-shave irritation
It all comes in a cool-looking zippered bag. Very sleek. Or dapper. Whatever you'd like ot call it!
Wait, there's more?
Yes! There is more! But this blog post will go on forever if I talk about everything!
If you're wondering about options for your own personal skincare use. You might like to take
this Skincare Quiz
to find out what products are best for you.
How to shop
When it comes to shopping Beautycounter, you have a few options:
#1 – Shop the entire Holiday collection with me as your consultant here.
Click here, create an account, add items to your cart and you are good to go!
Note: be sure to join my Natural Beauty Facebook group or signup for my Natural Beauty emails to find out about gifts with purchase and special giveaways (info below).
#2 – Join the Band of Beauty Membership
This is a great option if you decide you love Beautycounter and want to save money.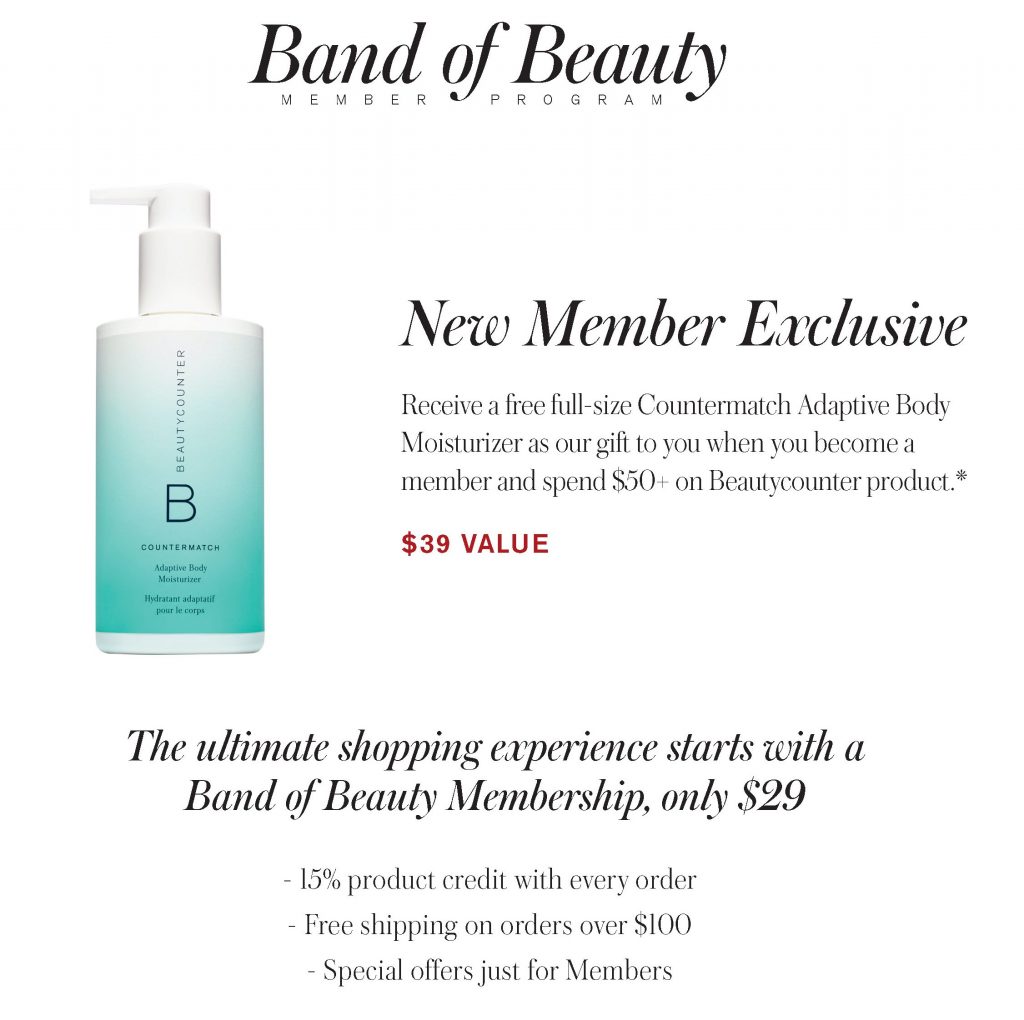 This is optional but highly recommended.
#3 – Become a Consultant
Consultants always get 25% off their orders, plus early access to new releases at special discounts.
I have a special offer for new consultants too. Check inside my Facebook group or sign up for emails to get the details. Or you can send me a message via my contact form.
Giveaway and Special deals.
Beautycounter asks it's consultants to reserve special deals, consultant-only sales, and giveaways for our personal contacts and not publicize on the world wide web.
I've got a big one open until this Sunday!
Get info on the current giveaway and stay up to date on the latest natural beauty info, Beautycounter specials, and access future giveaways and special bonus products from me by joining the No Fuss Natural Beauty Group on Facebook and/or sign up for the No Fuss Natural Beauty Email List
Stacy is a DIY obsessed, healthy living advocate. A preacher's wife and mom of three, she loves to encourage others to live a natural lifestyle.
Latest posts by Stacy Karen (see all)