This post may contain affiliate links which won't change your price but will share some commission.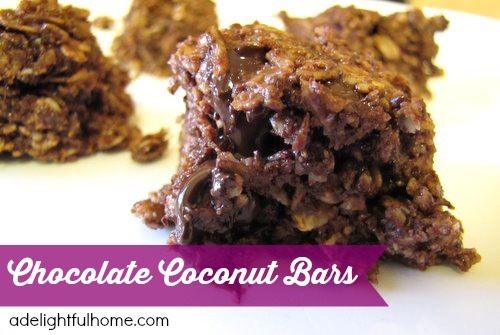 This is a sweet (but not too sweet) desert or snack made from real food ingredients. It is a new family favorite and one I feel pretty good about feeding my kids (and myself).
This bar stays soft and chewy (which we like). It is also egg-free, dairy-free, and gluten-free (if you buy gluten-free oats). (The only thing you might need to be careful of is the chocolate you use. We chose a nice dark chocolate and it didn't have any dairy in it.)
Chocolate Coconut Oat Bars
This recipe was adapted from one found in the February 2011 issue of Delicious Living magazine (Basically, I took out the agave and replaced it with honey and maple syrup. I also replaced natural cane sugar with Sucanat and reduced the amount a little).
Ingredients
2 1/2 cups rolled oats (package must say gluten-free)
1 cup ground almonds or almond meal
1 cup unsweetened shredded coconut
1/3 cup cocoa powder
1/2 cup coconut oil
1/4 cup honey
1/4 cup maple syrup
1/3 cup sucanat
1/2 to 1 cup bittersweet chocolate chips or roughly chopped chocolate
Method
Preheat oven to 275 degrees F. (Yes, it is supposed to be this low.)
In a large bowl, combine oats, coconut, ground almonds, and cocoa powder.
In a saucepan combine coconut oil, honey, maple syrup, and sucanat. Heat over medium heat and stir until sucanat is dissolved. Don't boil. Pour this mixture over the dry ingredients. Stir until well blended.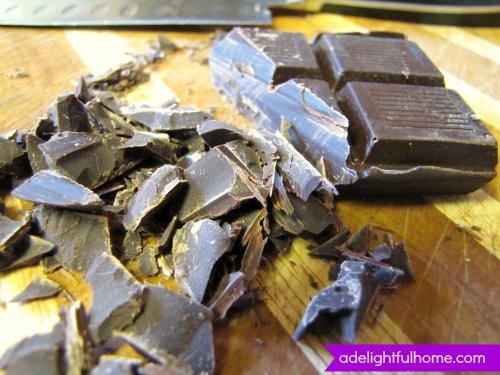 Allow mixture to cool slightly. Once cool, add chocolate chips or chopped chocolate and stir through (do this step quickly so that the chocolate doesn't melt).
Press mixture into an ungreased 8 by 8 inch baking dish.
Bake for 20 minutes.
Allow to cool completely before slicing into squares.
Pin it: