This post may contain affiliate links which won't change your price but will share some commission.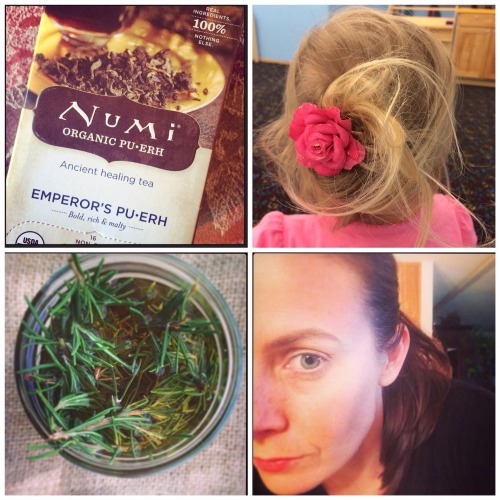 Some highlights of this week (from the top left, clockwise)
– Discovering a yummy new tea (that has some caffeine) since I'm now allergic to coffee.
– Playing with my youngest daughter's hair. She's always had very short, wispy hair. But, it's growing and it's neat to do different things with it. Although, none of them stay in!
– Having a good day. One in which I felt healthy again! And energetic. Plus I felt a renewed determination to beat my autoimmune disease.
– Making more rosemary hair rinse. It's so much fun to create things like this! Plus, it's incredibly easy.
It's been a quiet week on the blog. Thank you for putting up with my sporadic posting. I'm so glad I don't have to worry about writing when it's difficult for me.
If you are new here, welcome! I'm so glad to have you.
I didn't write much this week, but I read a lot of great stuff! Here are some of the best articles from my weekly reading:
SAD to AIP in Six @ Alt-Ternative Immune
This is a six week program helping people move from an average american diet (SAD) to the AutoImmune Protocol. I have decided to join the next group that Angie is running because I feel better on the autoimmune protocol, but struggle to stick with it long term. I think there are still a few spots available. So, if it's something you need help with, take a look. The next group starts on June 2. It would be fun to do this with some of you!
(I'm not an affiliate, nor do I get anything for telling you about this. I just think it's a great idea and am excited to see how it will help me.)
Secondary Drowning @ Delighted Momma – Very important read. I had no idea about this! Reading this post could save a life.
Weekly Cleaning Routine and Free Printable @ Clean Mama – Printed this off to stick on my fridge.
How to Live a Slow(er) and More Peaceful Life @ Faith Village
To Build (or Break) a Child's Spirit @ Hands Free Mama
Homemade Sunscreen Lotion Bars @ Mommypotamus
Homemade Peppermint Chapstick @ New Leaf Wellness
The Power of Less – I read this a book few weeks ago. It was a great reminder about the benefits of living with (and doing) less. very practical too.
Have a lovely weekend. 
(This post contains a few affiliate links.)