This post may contain affiliate links which won't change your price but will share some commission.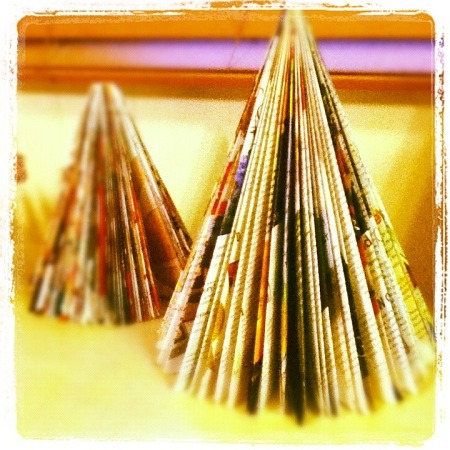 My kids made these fun Christmas trees out of magazines at their homeschool co-op. As far as I could figure, they simply folded each page to make a triangle shape. I found this YouTube video demonstrating the technique if you want to give it a try.
 Natural Living
The 30 Days to Save Some Green series is now over. See all the posts here.
How to make a Green Tea Mask @ Nearly Natural Nicole
Christmas Ideas
Chocolate Spoons  @ Christmas Your Way – these look so easy and fun to make.
10 Way to Wrap Gift Cards with Stuff You Already Have @ Simply Rebekah
Paper Snowflakes from Coffee Filters @ Heart of Wisdom
Giveaway winners
$50 Carter's gift card – Soluckyducky
$25 Amazon gift card and Vintage Remedies' Guide to Real Food and Vintage Remedies' Kitchen Herbal – Allison (Mama B)
Let. It. Go. Book by Karen Ehman – Yvonne D and Kelly Ann T.
All winners have been contacted via email. Thanks for entering!
What I'm doing
This morning I spent a good long while making a variety of chocolate truffles! Mmm. They are good. I'll be sharing the recipes soon. Have you ever made truffles?
Tonight we are watching Cinderella Man. but it is the clean version (edited down to PG). A few years ago there were two companies, one called  Clean Films and another called Clean Flicks. We used to rent and buy movies through them because they edited out offensive content (like bad language and s*x scenes). They got shut down, which was very sad. It's interesting that movies can be edited for T.V but are not available to the general public. Anyway, we have a few and are glad for it.
I'm making this for dinner tomorrow: Slow-Cooker Italian Pork Roast
Hope you all have a wonderful day!