This post may contain affiliate links which won't change your price but will share some commission.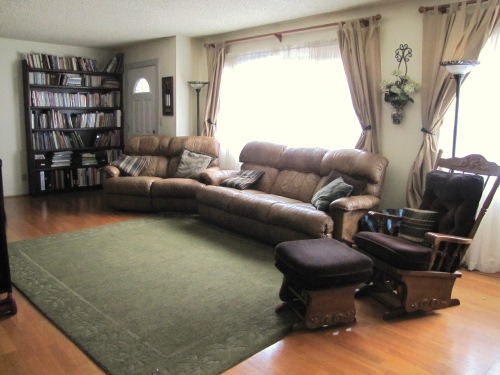 My living room (on a good day!)
I want my home to be a warm and inviting place for visitors and a safe and healthy environment for my family. I strive to create a space like this by choosing nice furniture, minimizing clutter, using simple decorations, and always having something baking in the oven when guests arrive.
I try to keep my home naturally healthy and "green" by reusing and repurposing items. Sometimes it's small things, like making these button hair pins, other times is bigger things, like  unpluging energy-wasting appliances, repurposing furniture, or removing toxic items from my home.
I know many of you want the same things.
Today I'm partnering with the Apartment Guide blog to  give away a $50 Home Depot gift card to one of you! I know you could use that to do something lovely in your home.
Whether you're living, looking or moving, Apartment Guide offers tips on how to make your apartment greener and make the most of your space on the Apartment Guide blog.
Apartment Guide offers tips on how to make eco-friendly cleaning products and save you money, which is a favorite topic around here!
Before we get to the giveaway, I wanted to let you know that there is  a lot more to the Apartment Guide blog than just looking for an apartment. I think you'll enjoy some of these articles:
Cheap and Green Ways to Wrap Gifts
How to Create DIY Christmas Wreaths
Ideas for Repurposing Moving Boxes
Unplug Your Energy-Wasting Appliances and Save Money
How to Make Your Apartment Greener
Clean Green: Eco-Friendly Cleaning Products
How to Keep Your Apartment Cleaning Earth-Friendly
If you're ready for a whole new space or looking to move, Apartment Guide has the photos, floor plans, features and tips to help you search for green apartment communities.
The Giveaway – Enter to Win a $50 Gift Card from The Home Depot
To enter: leave a comment below
Optional entries: 
(Leave a separate comment for each one you complete)
Use the widget below to  "Like" Apartment Guide on Facebook, tweet at  them @AptGuide on Twitter, "circle" them on Google+ and follow them on Pinterest for real-time tips and updates on how to make the most of your small space.

Giveaway will end at 9pm EST Friday, December 7, 2012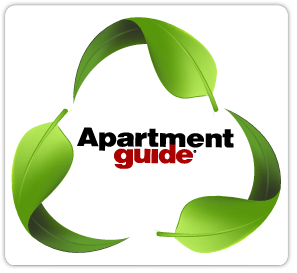 Disclosure Statement:
Apartment Guide and owner Consumer Source, Inc. partner with bloggers such as me to participate in blogger programs.  As part of that program, I received compensation.  They did not tell me what to purchase or what to say about any products and believe that consumers and bloggers are free to form their own opinions and share them in their own words. Consumer Source's policies align with WOMMA Ethics Code, FTC guidelines and social media engagement recommendations.