This post may contain affiliate links which won't change your price but will share some commission.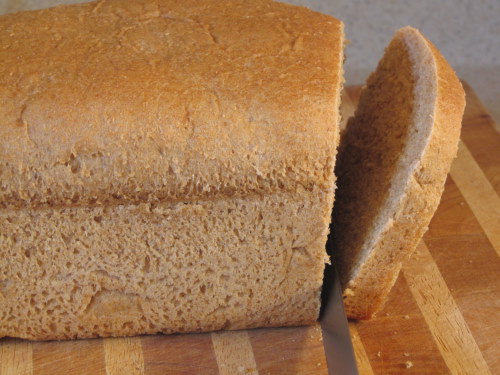 This is the quickest yeast bread recipe I have ever come across. It only requires one rising instead of two, which means I can go from grain to hot, yummy bread in about an hour! (I also use a Bosch mixer which speeds things up a little.)
From my studies it seems that sourdough is one of the most healthful choices, but I am still learning how to make it with whole wheat flour (I only know how to successfully make it with white at the moment). So for the time being, the following is a regular feature in our home. It makes great toast and sandwiches!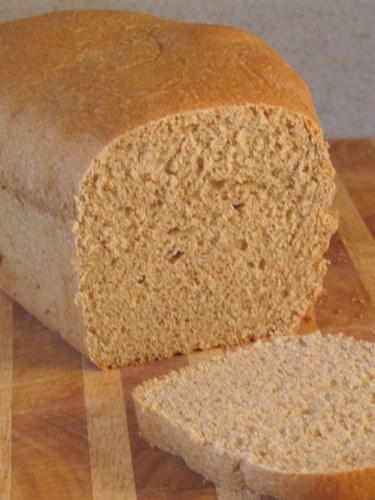 Quickest Whole Wheat Bread
(Makes 2 loaves)
I use hard white wheat grain for the whole wheat flour. It has a lovely mild flavor and is one of the best choices when first transitioning the family over to whole wheat.
Ingredients
3 cups warm water
2 tablespoons gluten
6 tablespoons sugar/sucanat/honey/molasses
6 tablespoons oil  (I use safflower or melted coconut oil)
7 cups whole wheat flour
1 tablespoon salt
1 tablespoon yeast
Method
In a 1 cup-measuring cup add 1 tablespoon honey or sugar/sucanat , yeast and ¼ cup of warm water. Stir to combine and allow to sit for 5 minutes.
It should look a little like this after 5 minutes (probably less puffy. I had to hunt for my camera after the 5 minutes was up. So this got a little out of control):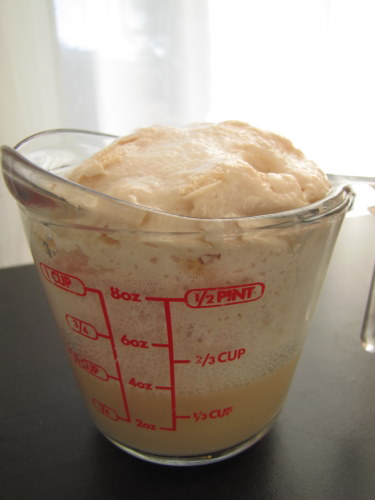 Meanwhile, place 4 cups flour, gluten, and  salt into a large mixing bowl.
Next add the remaining sugar or honey, remaining water, and oil.
Turn on mixer briefly to allow all ingredients to combine.
Add the yeast mixture.
Turn on the mixer and begin adding the remaining flour a ½ cup at a time.  Do this until the dough begins to pull away from the sides of the bowl. You may use all 7 cups of flour, but you may use a little less or a little more.
You will know you have the right amount of flour once the sides of the bowl start to look clean. Like this: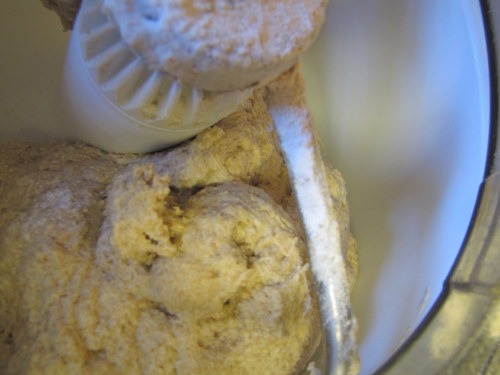 Once you reach this stage, knead the dough for another 5 minutes.
After 5 minutes, turn the oven to 200 degrees F. Once the temperature has been reached, allow to remain heated for 2 minutes, then turn oven off.
Shape dough into two loaves and place into two greased loaf pans.
Place loves into the warm oven and set timer for 15 minutes.
Once timer goes off, the loaves should be doubled in size. If not, leave for another 5 minutes.
Turn oven to 350 degrees F and bake bread for 25 minutes.
Remove bread from the oven and rub the tops of each loaf with butter. This is optional, but so yummy.
After a few minutes, take loaves from pans and place on a cooling rack.
Enjoy!