This post may contain affiliate links which won't change your price but will share some commission.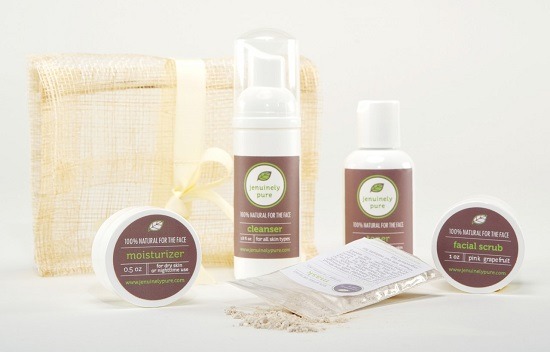 If you've read here long, you know I like to make my own skin care products whenever possible. But a busy mama can't do everything!
I supplement using my own products with some carefully selected items. If you were to look through my cabinet, you would find the only skin care products I've purchased come from a lovely company called Jenuinely Pure.
I love Jenuinely Pure for a number of reasons:
It was founded by a mom of three, Jenny Drew
The products are actually all-natural and safe (they don't just claim to be)
The products are handmade
The products are high quality and actually make my skin healthier!
The two products I use most often from Jenuinely Pure are the cleanser and moisturizing serum.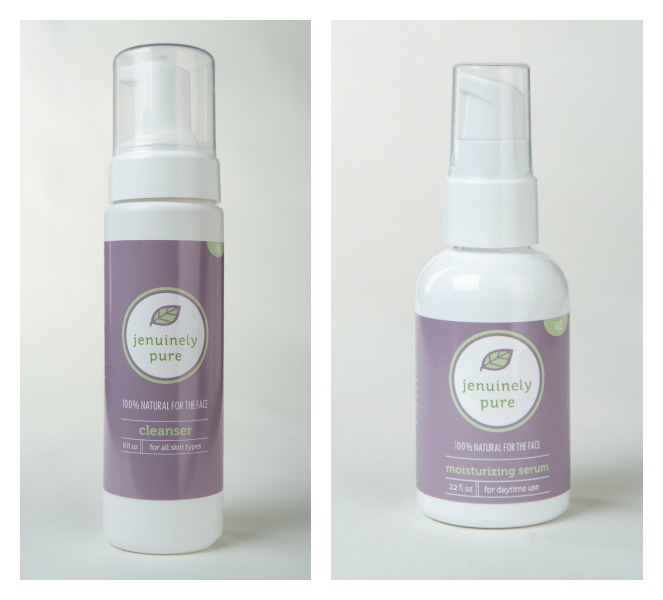 The moisturizing serum is probably my favorite. I have been using it for over a year now and absolutely love it. I sometimes use coconut oil to moisturize my skin, but this moisturizing serum feels much better! It is made with a combination of organic oils, vitamin E, and lavender essential oil. It is so luxurious and I can feel my skin drinking it up. I use it every day.
I am also head over heals for Jenuinely Pure's soap.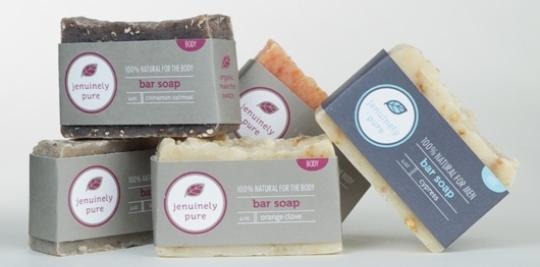 I have never tried soap that is this nice. Every scent smells heavenly, yet perfectly natural. No synthetic or chemical smells here.
Plus, the soaps look absolutely beautiful. I love the rustic edge and coloring of them. They also have a little texture and feel like they are smoothing my skin as well as cleaning it.
Whenever I use one of these in my shower I feel like I'm getting a little treat.
Just in time for Christmas, Jenuinely Pure Travel & Sample Kits.
Jenuinely Pure has just released some wonderful travel kits.
The travel kits come in three varieties: Face, Body, and Baby.
These give you the opportunity to try a number of their products (including my favorites, mentioned above) and they make excellent gifts!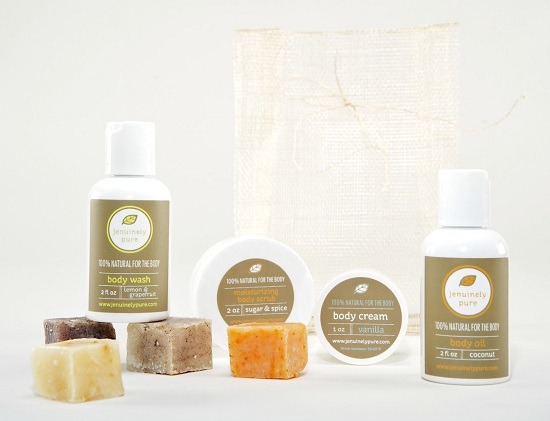 The body travel kit includes samples of the wonderful soaps. It's full contents include the following:
Bar soap (1 cube of each scent)
Body Cream, 1 oz (Cherry Sandalwood OR Sweet Orange)
Body Oil, 2 fl oz
Lemon & Grapefruit Body Wash, 2 fl oz
Sugar & Spice Moisturizing Body Scrub, 2 oz
This kit smells amazing as soon as you open the box!This would be an awesome gift for someone on your list. It's definitely got any of the other body products I've tried beat!
The Face Travel& Sample Kit includes my favorite cleanser and moisturizing serum as well as as a toner or astringent, facial scrub and mask (this kit is pictured at the top of this post).
The Baby Travel and Sample Kit includes:
Baby oil, 1 fl oz
Baby Cream, 1 oz
Baby Wash, 2 fl oz
What a lovely gift for a new little one. Perfect for a baby shower, too!
Enter to Win a Travel Kit from Jenuinely Pure!
Jenny has generously offered to give away a travel kit of your choice to two readers of A Delightful Home!
To Enter
Leave a comment on this post telling me which travel kit you'd get if you won ( RSS and email readers click through to comment)
For Bonus Entries
Do any of the following and leave a separate comment for each action you take:
Giveaway will end on Wednesday, December 12th, 2012 at 9pm PST.
Want to Order Something? Get 15% off until December 16th.
If these products look good to you (and they truly are) and you'd like to place and order, use coupon code ADH15 to get 15% off your entire order through December 16. (I'm ordering soap!)
Giveaway limited to US participants.
No purchase necessary to enter.