This post may contain affiliate links which won't change your price but will share some commission.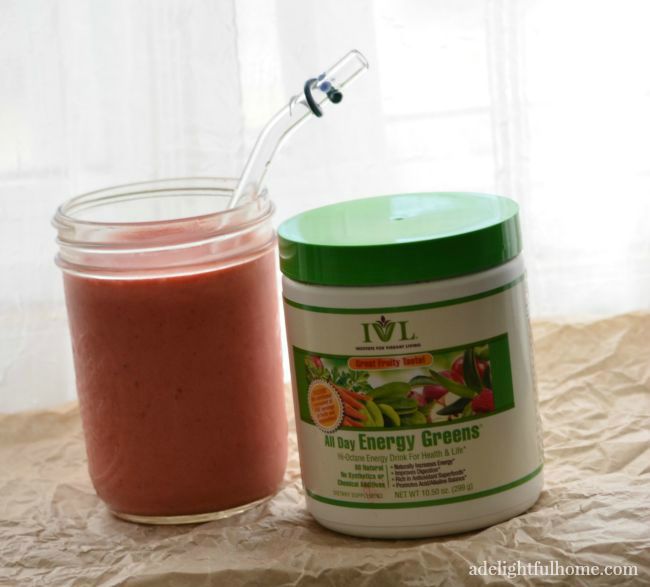 A few weeks ago I mentioned participating in the Vibrant Living Challenge. I wanted to give you a quick update on how it's going.
Highlights
So far, my favorite aspects of the Vibrant Living Challenge have been adding greens to my smoothies regularly and exercising more consistently.
I found these two steps to be fairly simple to add to my life since neither one was over top or outrageous. The suggested amount of exercise begins at 20 minutes, three days a week and builds from there. That's totally doable.
Adding a scoop of All-Day Energy Greens (from the Institute for Vibrant Living) was super easy to include in my daily regimen. I like knowing I'm getting a ton of extra veggies each day and I have begun to crave them. I enjoy the extra energy they give me too.
My Favorite Smoothie Blend
1/4 -1/2 cup coconut milk
1 cup water
5 frozen strawberries
1/4 frozen banana
1 scoop All-day Energy Greens or Go Ruby Go
Blend until smooth! Drink immediately.
Difficulties
As with any new set of habits, being consistent is my greatest struggle. It's easy for me to forget that I'm trying to add new habits to my life. So, it takes a while for them to catch on. As soon as I start to feel the benefits, it's much easier (as with the greens mentioned above).
What I loved
I most enjoyed the fact that the Vibrant Living Challenge was incremental. We were not asked to cut everything out on the first day and start exercising like a manic right away (or ever).
I believe that getting healthy is more like a marathon than a sprint, and this is something they also adhere to. I appreciate that view and am grateful this was not extreme.
Join the Challenge!
Take the pledge and the Institute for Vibrant Living will send you the Challenge Guide. It explains what to eliminate, how much exercise to add each week, and what supplements to take.
If you would like to purchase supplements from the Institute for Vibrant Living, use coupon code 25OFFBLOG to get 25% off. Discount applies to one month/trial orders.
LAST CHANCE TO WIN A FIT BIT & 4-MONTH SUPPLY OF SUPPLEMENTS – ENDS 8/14!

Want to win the following?

 All Day Energy Greens (for all day energy packed with a days worth of fruits and veggies in 1 scoop)
Go Ruby Go (superfoods and probiotic drink)
Daily Start Multivitamin
FitBit

Giveaway open to US residents only.
Here's to a happy, healthy week ahead! 
I received product and additional compensation from Institute for Vibrant Living in exchange for writing this post to help promote whole body health and the 30 Day Vibrant Living Challenge.The opinions of the products mentioned in this article and the results are my own.