This post may contain affiliate links which won't change your price but will share some commission.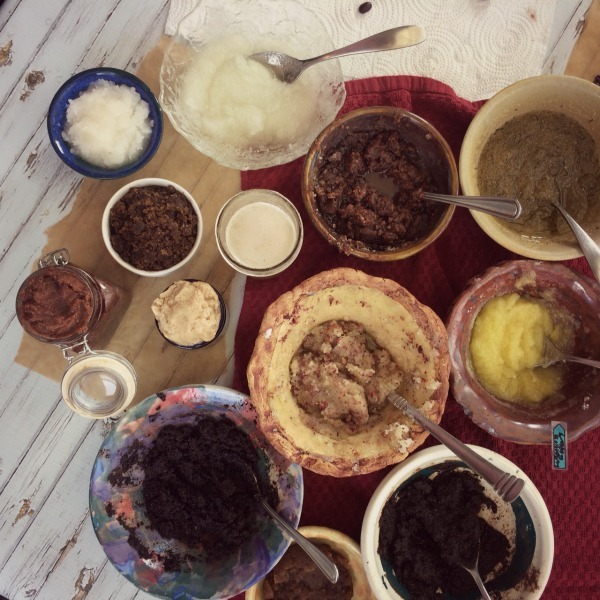 After a long break, I'm ready to start some new things here at A Delightful Home. I always like to know what to expect, and thought you might too. With that in mind, I'm sharing some details about what will be happening in this space over the coming months.
Simple Scrubs to Make and Give – Updated Edition
I've been working hard to create new scrub recipes and am adding them to Simple Scrubs to Make and Give. My very first eBook.  I have everything almost ready to go! I am thrilled about this update. The new revised and expanded version will be available very soon. If you have purchased the book in the past, you will automatically receive the new, updated version!
The picture above is one I took near the end of testing and photographing all of the new recipes! You should have seen my kitchen! Crazy MESS!
Bringing Back Delightful Links
The Delightful Links for the Weekend posts are some of the most popular. I love to share what I'm reading and learning through these round ups. It's a way to bring you helpful and inspiring information for people who say it much better than I ever could!
New Series: Getting it Together at Home
I've never been a wonderful housekeeper, nor have I been blessed with natural organization skills. BUT, I'm on a mission to get it together and will be sharing the details of how I'm achieving that goal. I think it will be fun to bring you along for the ride (plus, the accountability will help me see it through!).
If you have great organization or housekeeping skills, I hope you'll share your secrets with me!
Sharing my life – a little more
I'm a rather private person and don't like to tell too much about my ups and downs, although I have done some of that here, I want to share a little more from time to time. This will include my goals, health updates, and some insight into my family life.
Delightful Deals
I will be including a new segment along with the Delightful Links post on Saturdays called Delightful Deals. But, I'm also offering you the opportunity to sign up to be notified first (*via email) about any special deals and sales on products and resources that apply to creating a Delightful Home.
These could be sales on herbs, supplies for natural body care, eBooks, courses, or products that focus on healthy living and/or building the family. 
If you'd like to be the first to hear about deals like this, sign up for the special Delightful Deals mailing list using the form below:

A note about Subscribing for Updates
There are a number of options when it comes to receiving updates from A Delightful Home.
These are separate from the Delightful Deals subscription I mentioned above.
Daily updates – sign up for daily updates if you want to get an email with new posts the day they are published.
Weekly updates – sign up for weekly updates if you'd like to receive a weekly digest of all the posts that have been published on the blog over the past week.
Newsletter – The newsletter is a place for me to share some extra insight into my life, plus special tips and information I don't share on the blog. Newsletter subscribers are the first to get a peek at any new eBooks I'm writing, too. 
All subscriptions are free and you will also receive a complimentary copy of my DIY Hair Treatments eBook as a thank you for subscribing!
Or use this handy form to sign up below:

Fun Freebie this Thursday!
This Thursday I will be sharing a new freebie with you that I am super excited about. It is designed to get you eating more veggies! If you're anything like me, you might need some help in that area (hopefully not, but you know, maybe . . .).
 It is my hope that these changes will be enjoyable and beneficial to you. I can't tell you how much I appreciate you reading here! 
So, how have you been?
Oh, I almost forgot! The DIY Bundle is back for a flash sale, but you only have a few hours left to get it. If it's something you are interested in, check it out here.
This post may contain affiliate links which won't change your price but will share some commission.