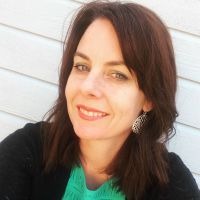 I know the feeling!
My skin was dry and lifeless, totally lacking in a youthful glow.
Enter body scrubs . . .
Just using them once or twice a week has transformed my skin. It's now soft, smooth, and vibrant and I'm not afraid to wear sleeveless shirts anymore!
As you've likely noticed, recipes abound all over the internet. The problem is, you never know which ones work and which ones don't. Sadly, that often results in wasted ingredients and money down the drain.
Now you don't have to worry! I've done all the research and trial-and-error for you!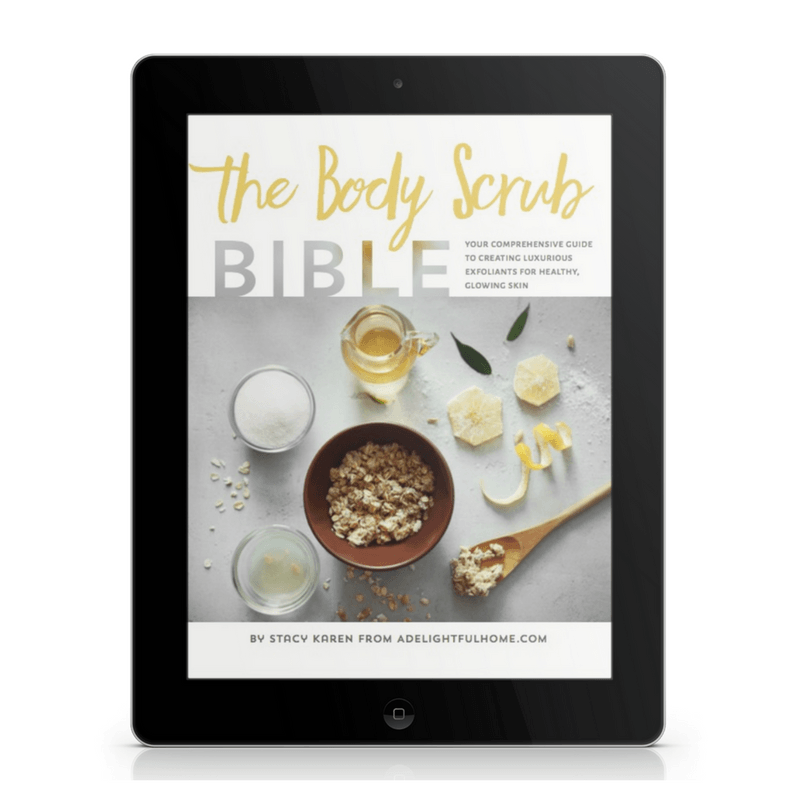 The Body Scrub Bible is a culmination of sixteen years of learning and experimenting with homemade natural body care!
When I first started, I felt completely unsure of what I was doing and made a lot of mistakes. I'm here to share what I've learned so you don't have to waste time and money!
If you've ever wanted to make your own natural body care, body scrubs are one of the best places to start.
In this comprehensive guide, you'll find the answers to just about any question you can dream up in regard to making and using all-natural body scrubs.
What's Inside?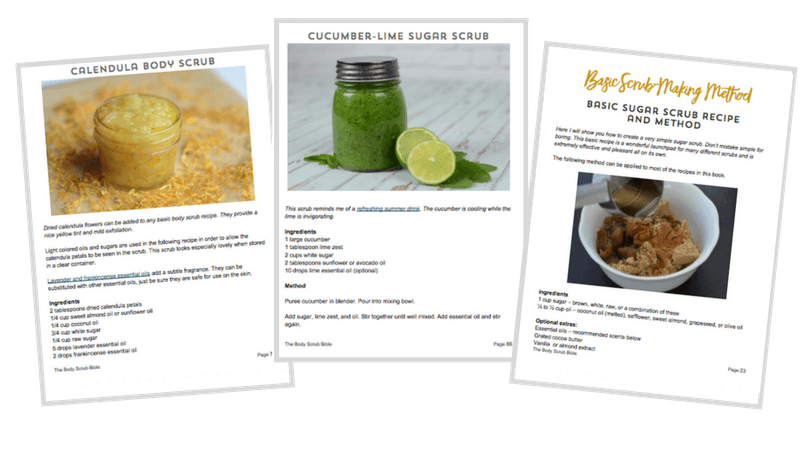 The Body Scrub Bible gives you tried-and-true recipes that give you soft, beautiful skin.
This comprehensive guide covers everything you need to know to make awesome body scrubs for you and your friends and family.
Here's a Sampling of What You Get:
Learn the Benefits of using Body Scrubs
When NOT to Use a Body Scrub
How to Preserve Body Scrubs
Will Scrubs Block the Drain?
Comprehensive Ingredient Guide
Essential Oil Guidelines
Buying Guide
Troubleshooting
Over 50 Recipes!
Sugar-based Scrubs
Salt-based Scrubs
Flower and Herb Based Scrubs
Whipped Scrubs
Fruit-based Scrubs
The Best Way to Store Scrubs
How to Gift Scrubs
Here's a peek at some of the luxurious scrubs you'll learn to make: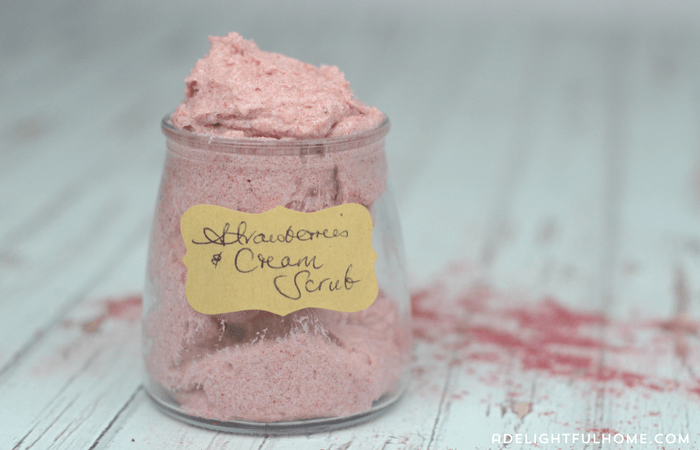 Strawberries and Cream Whipped Body Scrub is extremely moisturizing to dry skin. Plus, it smells amazing!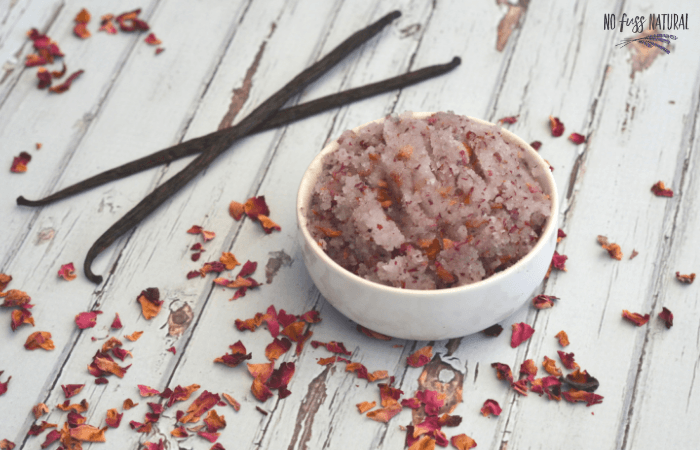 How about a Rose Petal Body Scrub for a nice treat or gift?
There's even more in the Bonus Section!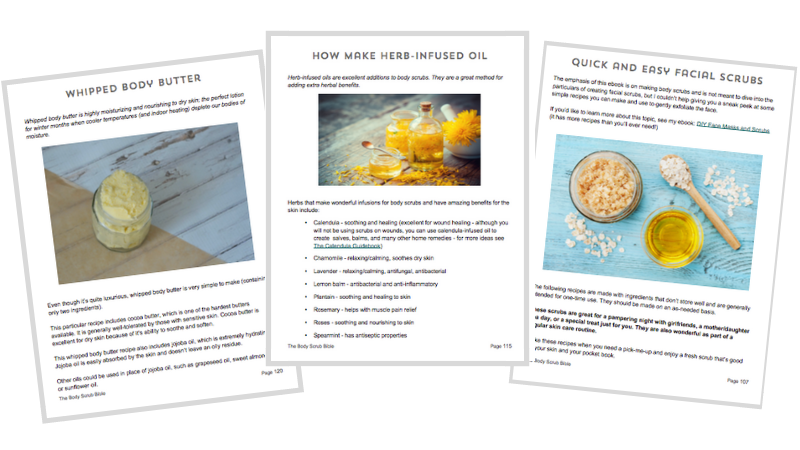 Ever wondered how to natural color sugar scrubs without using chemical-laden food dyes?
We've got that covered!
Want to know how to make infused sugars and oils for use in body scrubs and other natural skin care?
We've covered that too!
How about a recipe for all-natural body butter?
It's in there! As well as two other recipes for natural DIY full body moisturizers.
Even though this book is about body scrubs, would you like a few recipes for facial scrubs?
The Body Scrub Guide's got your back with a comprehensive guide to creating natural facial scrubs for a silky smooth complexion.
Want to Save Money on Expensive Spa Treatments?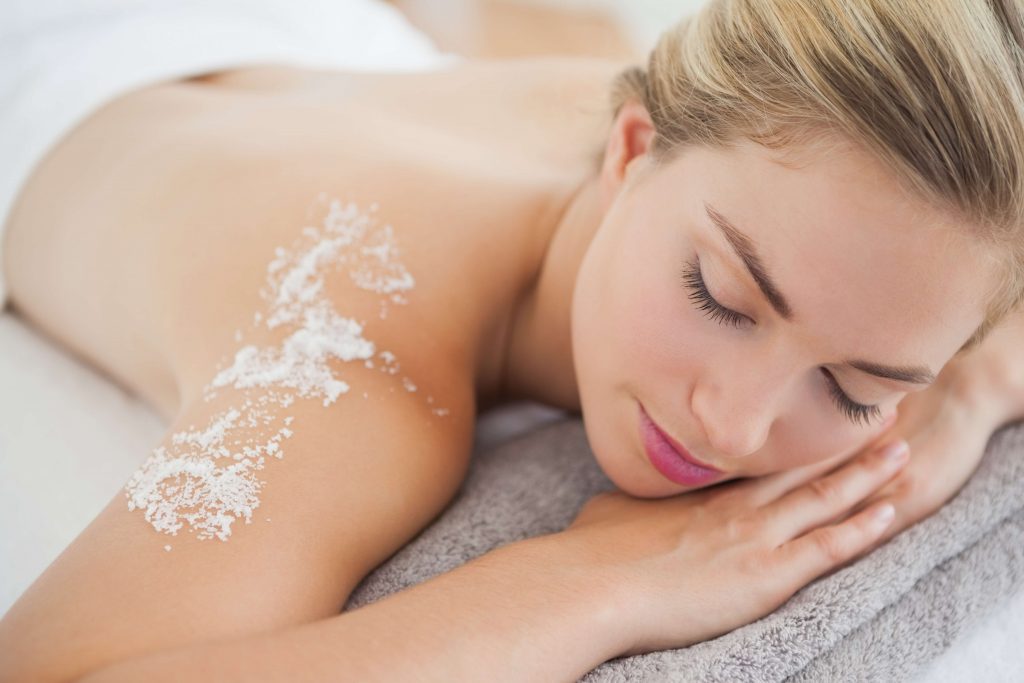 In The Body Scrub Bible, you'll learn how to perform high-end spa treatments like a "Salt Glow" and "Pink Himalayan Scrub and Soak".
Use this info to treat yourself for much less than a visit to the Spa!
Hey, why not perform some of these treatments on your friends or a loved one?
FAQs
What will I receive? Is this a physical book?
After purchase, you will receive and email with a link to download your ebook. This is a digital product, not a physical book.
Do you have a refund policy?
Refunds will be honored within 5 days of purchase.
How do I read my book?
This digital ebook comes as a PDF. It can be read on a desk top or laptop computer, iPad, Tablet, phone. It can also be printed.