You want to live a natural life, but it feels complicated.
Headline after headline announces the latest "harmful" ingredient. It seems that everything is bad for you these days!
You often wonder, which products should you use and which should you avoid?
"Is this food going to give me cancer?" "Am I harming my family by giving them xyz?"
Life is busy and you can't spend all day researching every. single. thing.
You want to feel healthy and whole and have confidence in your choices.
If only natural living could be easier.
I'm here to tell you that it can be. It NEEDS to be.
Natural living MUST be simple to be effective.
I'm here to tell you that have the ability to make the needed changes without a whole lot of stress.
At No Fuss Natural, we cover the important aspects of healthy living and figure out how to simplify those areas.
It's my mission to help you minimize toxins, and create a sustainable healthy lifestyle, so you can become the best version of yourself.
Imagine…
Imagine going to the grocery store and knowing exactly what to buy? Or heading to your carefully curated "medicine" cabinet to select just the right remedy when illness arises?
Imagine letting go of guilt and stress and feeling sure of your ability to nurture your health and the health of your family?
When you become a member of the No Fuss Natural community, you'll get the tools you need to live a stress-free natural lifestyle with confidence and clarity.
Sign up for access to my healthy living resource library and you'll also receive my free healthy living makeover email course.
From sick and stressed to healthy and thriving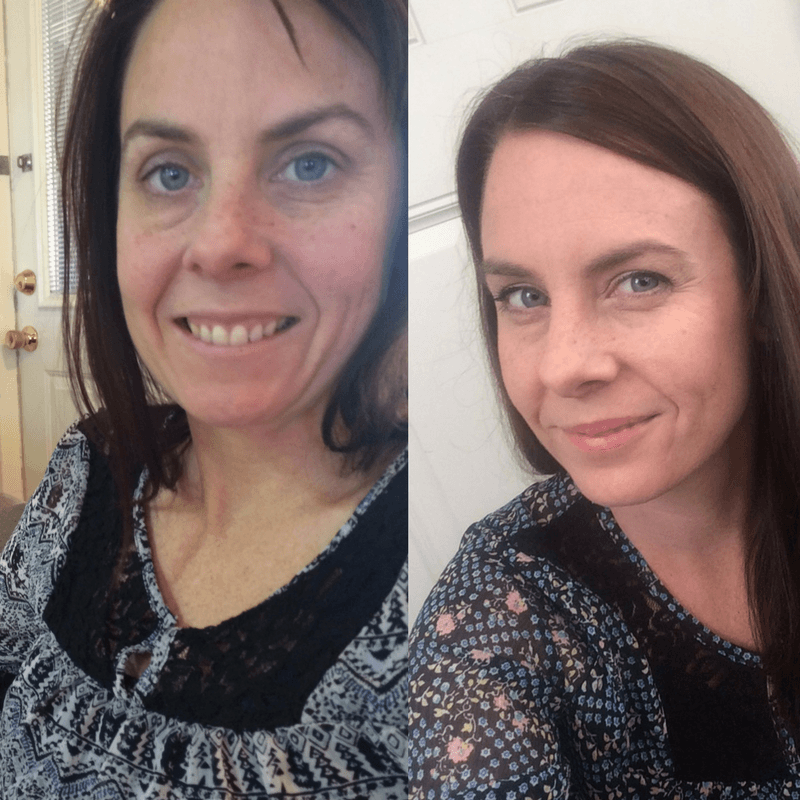 For many years I'd poured myself out, trying to create a healthy, happy home for my family, but it had taken a toll on me.
I was exhausted from working so hard, trying to protect my family from every toxin in the universe!
Exhaustion, guilt, and worry followed me like a cloud. I became bedridden with shingles. Soon after I ended up in the doctor's office with an autoimmune diagnosis.
I'm not going to lie: things got worse before they got better.
Eventually, I realized the only way to thrive was to simplify.
I didn't want to give up my passion for natural living but knew I had to let go and stop trying to do all. the. things.
So, I set about finding ways to make natural living easier. My methods were streamlined and some areas completely eliminated.
During this time I studied nutrition, herbalism, and skin care development. Throughout my studies, I discovered that simple was often better, and reduction in stress made it more effective too.
I now create homemade items in the quickest and easiest way possible. Shopping is less stressful and I no longer stand frozen with indecision at the grocery store. Now know how to find the healthiest options and what to do if I can't afford them.
I can breathe again.
The aching pit in my stomach is gone.
Finally, I am reaping the rewards of living a healthy lifestyle, without debilitating stress.
Here's what a few members of the No Fuss Natural community have to say:
"I've always enjoyed your stuff because #1 you do a super job at presenting helpful info and #2 you make learning that info enjoyable and fun." – Renee N.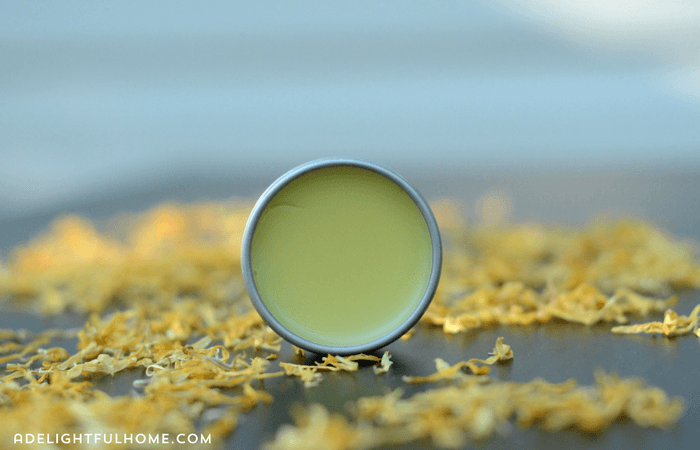 Diana says this about my recipe and tutorial for Calendula salve:
"I made this last year, and have shared it with others for cuts, poison ivy, general rash, post-tattoo healing, you name it, IT WORKED BEAUTIFULLY! Everyone I gave it to raved about how well it worked for them, better than anything else they tried, and so now it's time to make another batch."
Erin says:
"Stacy introduced me to clean healthy eating and cheered me on and encouraged me as I got started doing that. My horrible heartburn, reflux, and bellyaches are gone and I've finally been able to lose weight! I've enjoyed your healthy low sugar and grain free recipes.
Stacy has taught me how fun and easy it can be to make your own lip balm and lotion bars. She has inspired me to try natural homemade body care products and I've discovered I love them. They save money, I know exactly what is in them and they are healthy. There's no turning back for me!"
How I can Help You
This website is designed to provide actionable information so you can start living a healthy lifestyle right away. There are tons of articles and tutorials available for you purchase and implement when you are ready.
If you'd like a more structured format, check out my courses and ebooks below.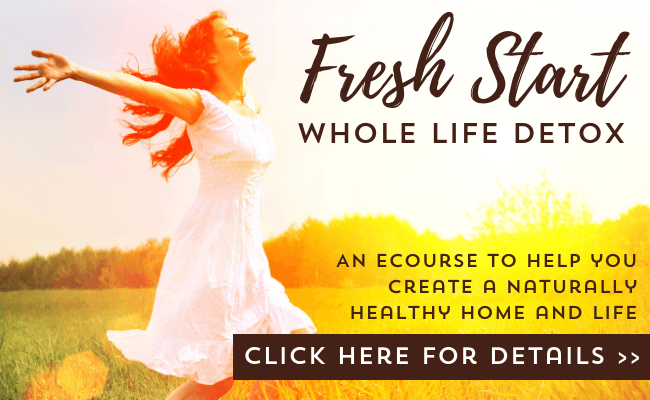 Fresh Start: Whole Life Detox
A Natural Living for Beginner's eCourse
This course is your one-stop-shop for creating a healthy, natural lifestyle.
Fresh Start covers everything from detoxing your home to green cleaning, real food, non-toxic personal care, and simple home remedies.
Here's what one of our students, Erin L., had to say:
"The information you need to lead a healthier life all in one convenient and easy to understand place! I look forward to learning new things as the lessons are available each week."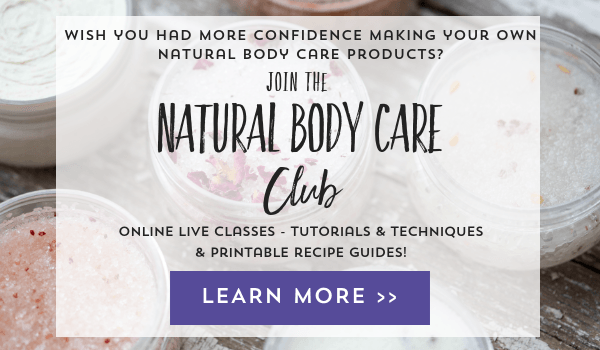 Natural Body Care Club
A fun, interactive program to help you learn to make simple, natural body care products that work.
The Natural Body Care Club is packed full of video and text tutorials, printable recipe guides, and exclusive discount codes (including 20% off at Mountain Rose Herbs! Woot!).
We also have live classes every month so you can see homemade body care creation in real time and ask questions.
I've been creating natural body care products for over 16 years and am excited to share my tried-and-true methods with you!
Renee of MadeOn Hard Lotion says:
"If I had to choose one person for you to follow and learn when it comes to DIY skin care products, it would be Stacy Karen. Her videos are professional, she gets right to the point, she shows you step by step how to make the product, and she gives you plenty of 'do this instead of that because …' "
Click here to learn more about the Natural Body Care Club. 
1:1 Health and Wellness Services
If you'd like one on one support and guidance, my health and wellness packages are the best place to start.
My 1:1 Health and Wellness services include nutritional therapy, personalized supplement recommendations, practical habit formation advice and instruction, and lots more.
Find our more about my offerings here.
DIY Remedies, Natural Beauty, and Healthy Living ebooks
Not ready to join start a course or join the club? I've got a number of helpful ebooks all about various areas of natural living, including:
Just want to look around the blog for a while? Here are my most popular posts:
Are you ready to simplify natural living and break free from overwhelm?
Sign up to get access to my free natural living quickstart email series. You'll also receive access to my free resource library of natural living printables and mini-ebooks.
For behind the scenes fun and extra tips and healthy living inspiration,
visit me on Instagram
.
Want to learn more about me? Click here.