This post may contain affiliate links which won't change your price but will share some commission.
At some point in your natural living journey, it's likely you will begin to look for ways to treat illness with natural remedies.
This can be overwhelming as it's often an area in which we have little experience. But with a little research. it's relatively easy to get your holistic and natural medicine cabinet set up and ready to go.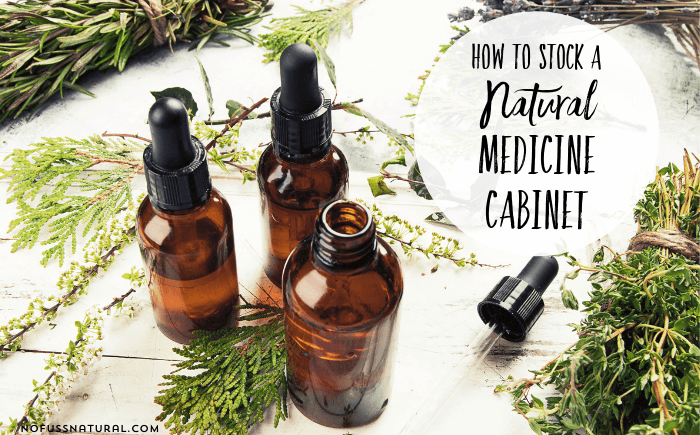 I know as I started to research and use natural remedies, I felt uneasy at times wondering if these natural versions would work.
I also wondered if I could do any harm. What if I chose the wrong remedy? What if I made things worse?
These are real concerns and ones to take seriously.
My best tips for starting to create a holistic medicine cabinet and start using natural remedies:
start slowly
address minor concerns first (scraped knees, mild cold, sore throat)
research remedies through reliable books (I'll list a few below)
take a research-backed online course (such as Herbal Academy of New England's Online Introduction to Herbs)
don't discount all conventional medicine – there is a place for it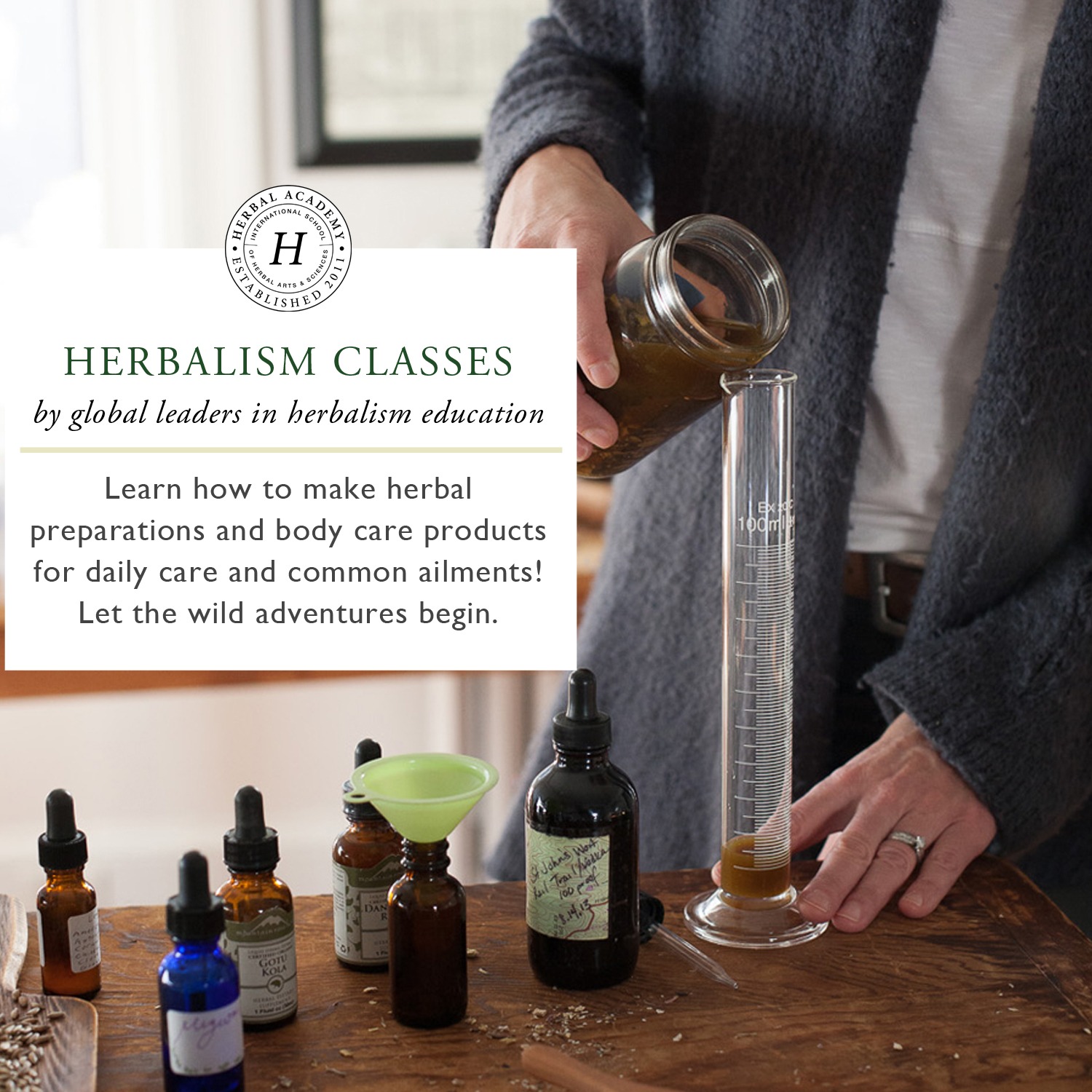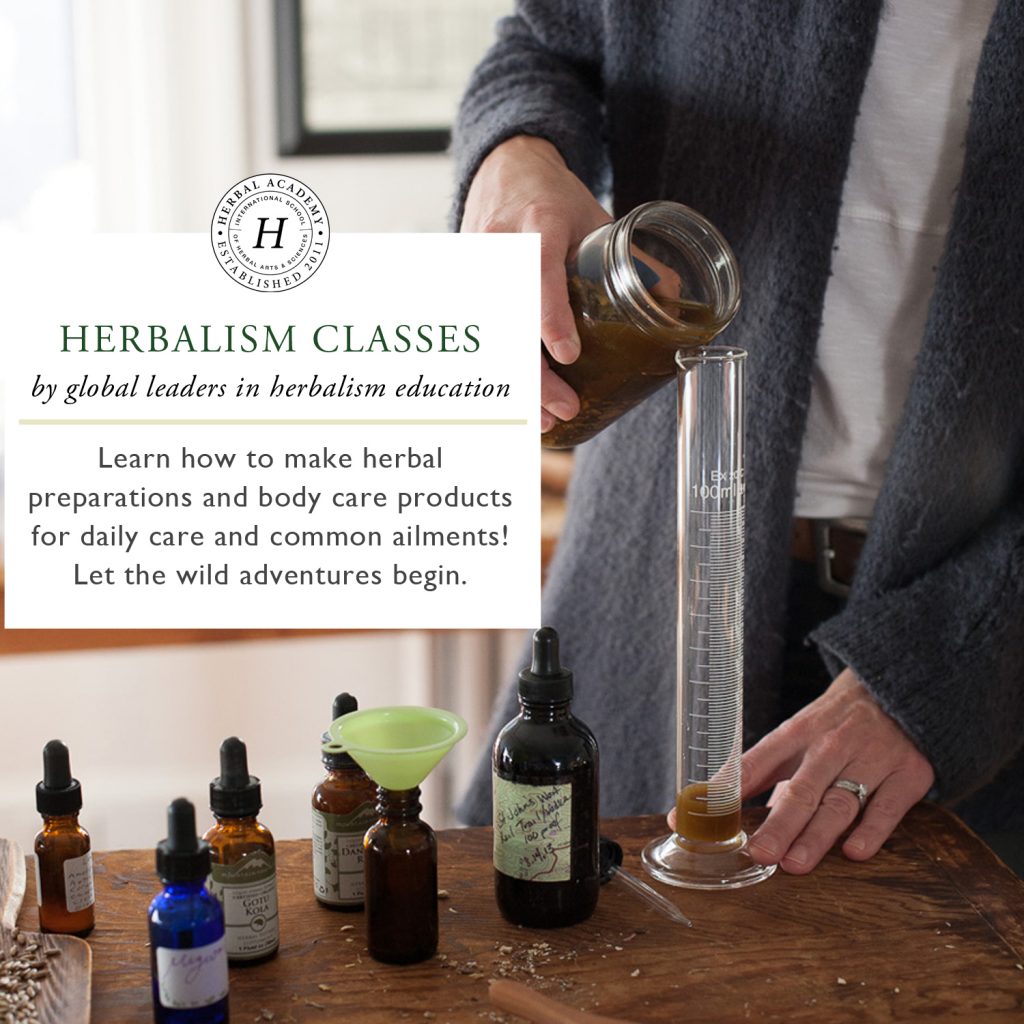 I've studied through a number of courses from The Herbal Academy
and find them enjoyable and informative.
---
What to include in A Natural Medicine Cabinet
So, now you're ready to start stocking your natural medicine cabinet, but what do you put in it?
The following are the most used items in my natural medicine cabinet. I think this is a great starting place since these remedies work well for common (sometimes frequent) ailments.
All are fairly simple to buy or make, so it's quick and easy to get your natural medicine cabinet up and running right away.
These items are grouped by ailment/use so you can find the things that are most important to your needs. Don't feel like you need every single item in each category. I'm listing a number of options so you have a few choices.
Remedies for Immune Support – Colds and Flu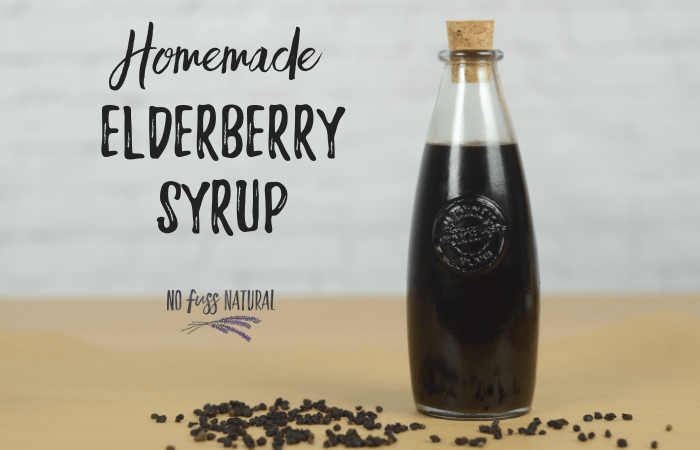 Elderberry Syrup – Homemade or store-bought
Great for boosting the immune system during cold and flu season. Can be purchased in many grocery stores and pharmacies nowadays.
It's easy to make your own! See my Elderberry syrup tutorial for instructions.
You also make Elderberry gummies for a sweet treat (and easy way to get kids to consume it).
Elderberry Elixir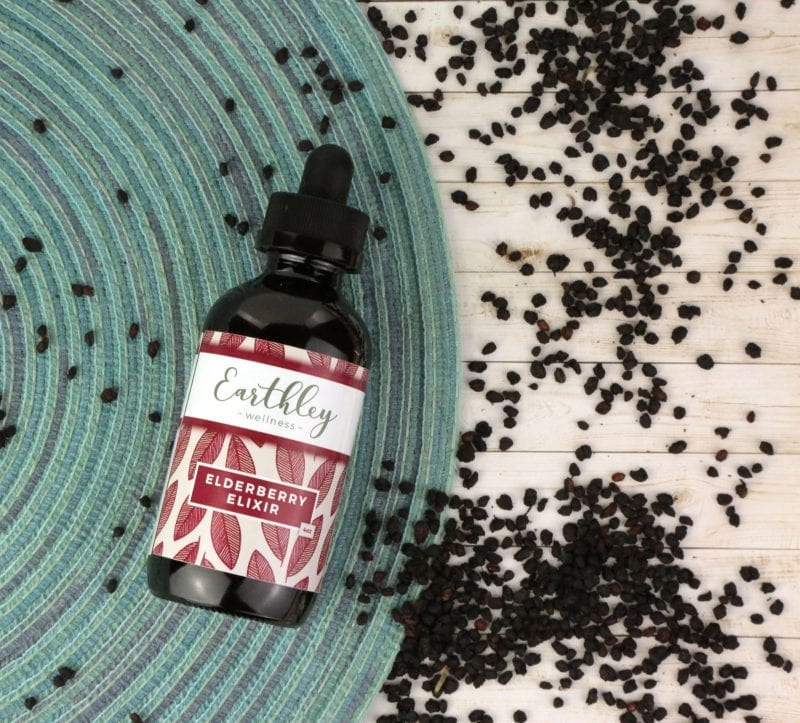 This Elderberry Elixir is a great alternative to elderberry syrup. It's concentrated and shelf stable (homemade syrup only lasts a few weeks). It's also easy to use, just add a few drops to a glass of water or juice.
The other benefit to this elixir is that it also contains astragalus root for additional immune support and mullein for respiratory support.
Buy Elderberry Elixir from Earthly.
Oil of Oregano
I take Oil of Oregano at the first sign of cold or flu and keep it up for the duration of the illness. Oil of Oregano has antibiotic and antiviral properties. It is not recommended during pregnancy or for children.
I use this brand of Oil of Oregano.
Echinacea Tincture
Another great option to take at the first sign of a cold. This is good to keep on hand year round. There are many options available for purchase, but it's also quick simple to make your own Echinacea tincture (you just need to plan ahead as it takes a few weeks to get ready).
Many people confuse the purpose of echinacea and use it as a preventative, but it is meant to be taken at the first sign of a cold or flu.
Links to buy or make your own echinacea tincture:
Remedies for Digestive Complaints
Activated Charcoal
Keep on hand for treating stomach bugs and food poisoning. It absorbs
Probiotics
We take these year round for digestive support. I like this brand.
Digestive Tonics
Digestive tonics and bitters can be helpful for easing stomach upset and indigestion. A swig of apple cider vinegar can also do the trick (take before and after meals).
Here are a few good options for digestive tonics:
Related: Improve Digestion and Reduce Bloating After a Meal
Digestive Teas
Teas are nice to have on hand for soothing digestive complaints. Here are my favorites:
Digestive Enzymes
Digestive enzymes can be helpful when taken at the beginning of a meal. They are not suitable or effective for everyone. Read this article to see if digestive enzymes are right for you.
Remedies for Cuts, Scrapes, Bites, & burns

Plantain Salve
Works wonderfully on cuts and scrapes. Is great for insect bites and stings too.
See this tutorial to make your own or buy some here.
Calendula Salve
Perfect for treating cuts, scrapes, and rashes. (You don't necessarily need both calendula and plantain, either one is great to have on hand).
Is available at health food stores and online.
Is also easy to make. See this tutorial to make your own.
Hydrogen Peroxide
Great for cleaning/disinfecting scrapes and cuts. Can also be used to treat ear infections.
Helichrysum Essential Oil
Helichrysum Essential Oil is very helpful for treating cuts, scrapes, burns, rashes, itching, and bruises. It has a lot of uses!
The only problem is, it is very expensive! BUT, you can buy this pre-diluted blend from Aura Cacia for a lower price. It works very well and since it is diluted, it's ready to use.
Hydrated Bentonite Clay
Clay usually comes in powder form, but you can also purchase it in a hydrated state. This makes it easy to apply.
Bentonite clay is great treating cuts, scrapes, and bites (and even doubles as a face mask for beauty purposes!)
When buying hydrated clay, I purchase Redmond's Clay Facial Mud.
The benefit of having hydrated clay is that it's always ready to use. You can also keep it in your bag for treating any skin issues on the go. I highly recommend keeping some in your backpack if you ever go hiking!
You can also buy clay in powder form and mix it up as needed. It's great for lots of things, including anti-itch cream, dry shampoo, diaper rash cream, and
Buy Bentonite Clay in powdered form from Mountain Rose Herbs or Amazon.
Related: Benefits and Uses for Bentonite Clay
Remedies for bruising, sprains, aches, and pains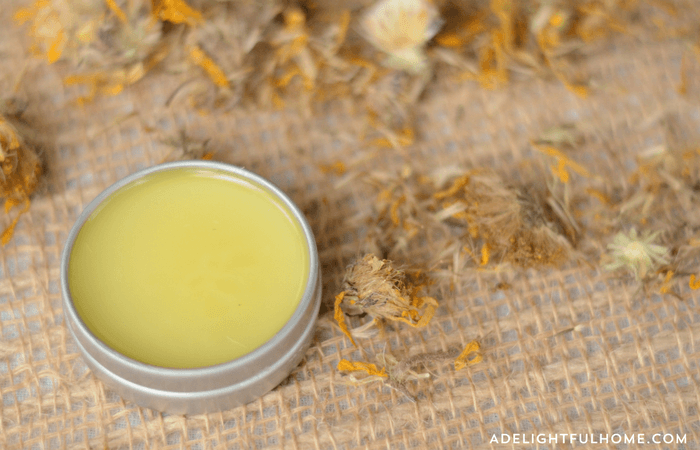 Arnica Salve
Made from the flowers of the Arnica plant, used for bruises, strains, sprains, and muscle soreness. Can also be found as a tincture or gel.
Buy from Amazon or make your own.
St. John's Wort Oil
Great for bruises, aches, and pains, St. John's Wort oil also works well for cuts and scrapes.
I like to purchase this infused oil since it is best made with fresh flowers (and I don't have access to those!). Most of my herbal infusions are made with dried herbs, and this is what I generally recommend to avoid any risk of contamination or spoilage, however, St. John's Wort is one that is best to infuse fresh in order to get the most benefit from the herb.
I recommend St. John's Wort oil from Mountain Rose Herbs.
Trauma Oil
Trauma oil is a mixture of St. John's Wort Oil, Arnica Oil, and Calendula Oil. This powerful combination is a beautiful red hue and contains anti-inflammatory and pain-relieving properties.
You don't really need both St. John's Wort Oil and Trauma Oil. If I had to pick one for bruises and sprains, it would be trauma oil.
I purchase trauma oil from Aromatics International. I really like this company as they provide reports for all of the essential oils they carry. I love transparency! Use this link to get $15 off your first order of $100 or more.
Do not use trauma oil on broken skin as it contains Arnica oil which should not be used internally in any way.
Aloe Vera
I like to keep an aloe vera plant on hand so we can use it fresh if possible (just cut off a chunk, cut it open, and rub the gel on the desired area). Buuuut… I tend to kill aloe vera plants for some reason, so a good aloe vera gel is important to keep in our natural medicine cabinet.
Be careful when buying aloe vera gel as many contain unnecessary additives.
A couple of good options for all-natural aloe vera gel:
Remedies for Eachaches and Ear INfections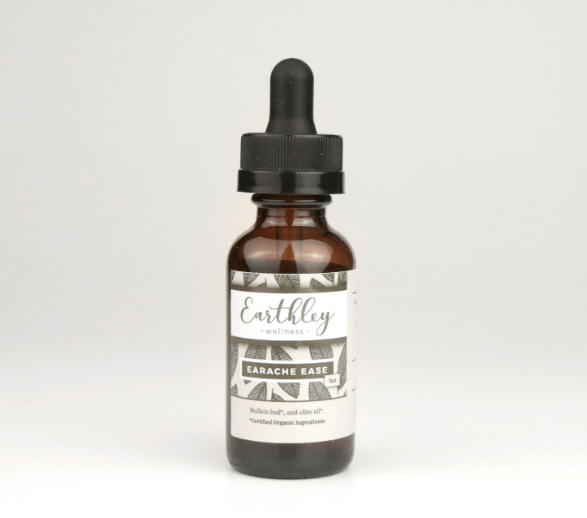 Garlic Ear Oil
Willow, mullein, and garlic work wonders in the ears!
For treating ear infections:
You can also make your own garlic ear oil. See how here: How to Make Garlic Ear Oil.
Remedies for Respiratory Complaints (Coughs and Congestion)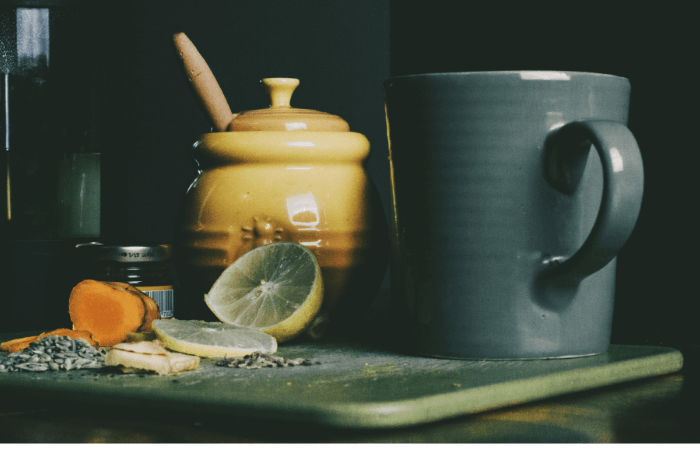 Honey and Ginger
Hot water with honey, ginger, and lemon is also helpful for coughs and sore throats.
Natural Vapor Rub
I suggest replacing conventional petroleum-based vapo rub ASAP! This is a super easy swap.
Buy a pre-made non-toxic chest rub, such as Maty's Vapo Rub.
Or you can make your own quite easily. See DIY Vapor rub recipe.
Natural Cough Syrup
So far I like Maty's cough syrup.
Humidifier
Cool mist humidifiers are great for soothing dry coughs.
Remedies for Constipation
Tea
Traditional Medicinals Smooth Move Tea contains senna and works quite well to relieve occasional constipation. Drink some before bed. It usually works overnight.
Triphala
Triphala – very gentle and effective. Triphala is a combination of three Indian fruits (Amalaki, Bibhitaki, and Haritaki) which work to moisten the intestinal lining. This stuff is really awesome. I recommend it to any of my friends who venture to tell me they are struggling with constipation!
Magnesium
Magnesium is helpful in relieving constipation and promoting regularity. Natural Calm is a popular option and also helps with relaxation and sleep. Just don't overdo it! Build up to the full amount slowly or else you'll have the opposite problem!
Remedies for Sleep
Sleepless nights are no fun! They make life much more difficult. Here's what I recommend for getting the best sleep:

Magnesium Lotion
Magnesium lotion can help the body and mind relax and usher in sleep. It's not too difficult to make your own magnesium lotion, but you can also purchase it. Earthly Good Night Lotion is a good option.
Tryptophan
Tryptophan is an amino acid that's helpful in promoting relaxation and sleep.
It's kind of a roundabout way to get there as tryptophan doesn't directly do this, but "Tryptophan is needed for the body to produce serotonin. Serotonin is used to make melatonin, a hormone that helps to control your sleep and wake cycles." (Source)
I've had good results using tryptophan to help me sleep. It's not aggressive by any means, but seems to help me relax and drift off to sleep (and stay asleep).
Purchase tryptophan on Amazon.
Counting Sheep Essential OIl Roller Bottle
This kid-safe essential oil blend has been the best solution for my youngest child who had trouble falling asleep. It includes Patchouli, Lavender, Sandalwood, and Ylang Ylang in a base of 98% Fractionated Coconut Oil.
Recommend Books for learning about home herbal remedies