This post may contain affiliate links which won't change your price but will share some commission.
Echinacea is excellent for supporting the immune system during a cold.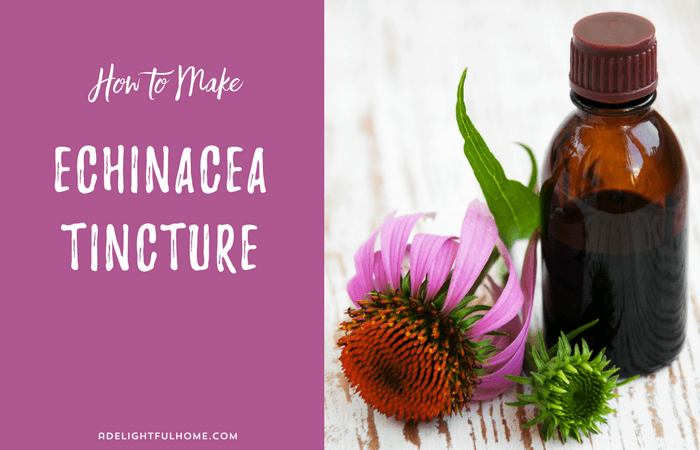 As a teenager I was involved in dancing, acting and singing and went to auditions every now and again. The day before a very important (to me) audition I came down with a severe cold and could barely breathe through my nose! I felt terrible. Singing at an audition the next day seemed out of the question.
The local health food store suggested Echinacea. I took Echinacea tincture throughout the day and woke up well in the morning! This was my first experience with Echinacea and I was sold.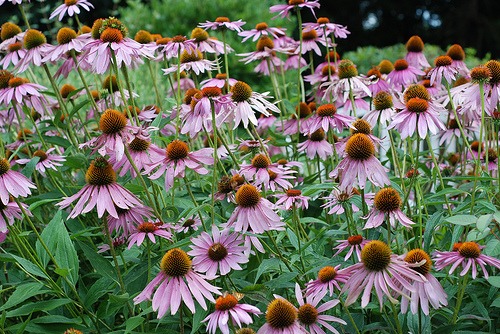 I was a little disheartened each time I became ill and wanted to buy more tincture. While it is not exorbitantly expensive, it is not cheap either. (Especially for a struggling artist.)
Thankfully I've discovered that takes very little time and money to make my own. It's about as easy as preparing a cup of tea. Most anyone can do it.
Today I'm going to share the simple steps for making a traditional tincture with Echinacea. You can also make it with glycerin, for those who wish to avoid alcohol.
It is probably more beneficial to make a tincture with fresh Echinacea, but it is often easier (and still highly effective) to make it with dried material since not everyone grows or has access to fresh flowers and roots. When using dried Echinacea try to find some that has been dried recently and as always, organic is preferred.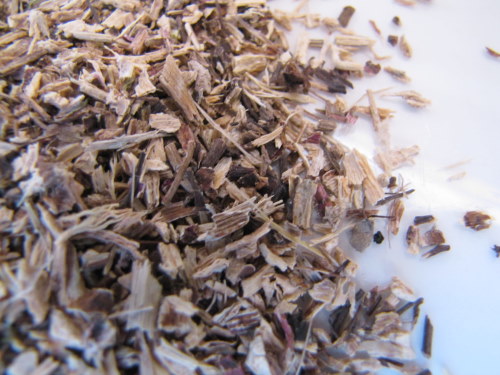 How to Make Echinacea Tincture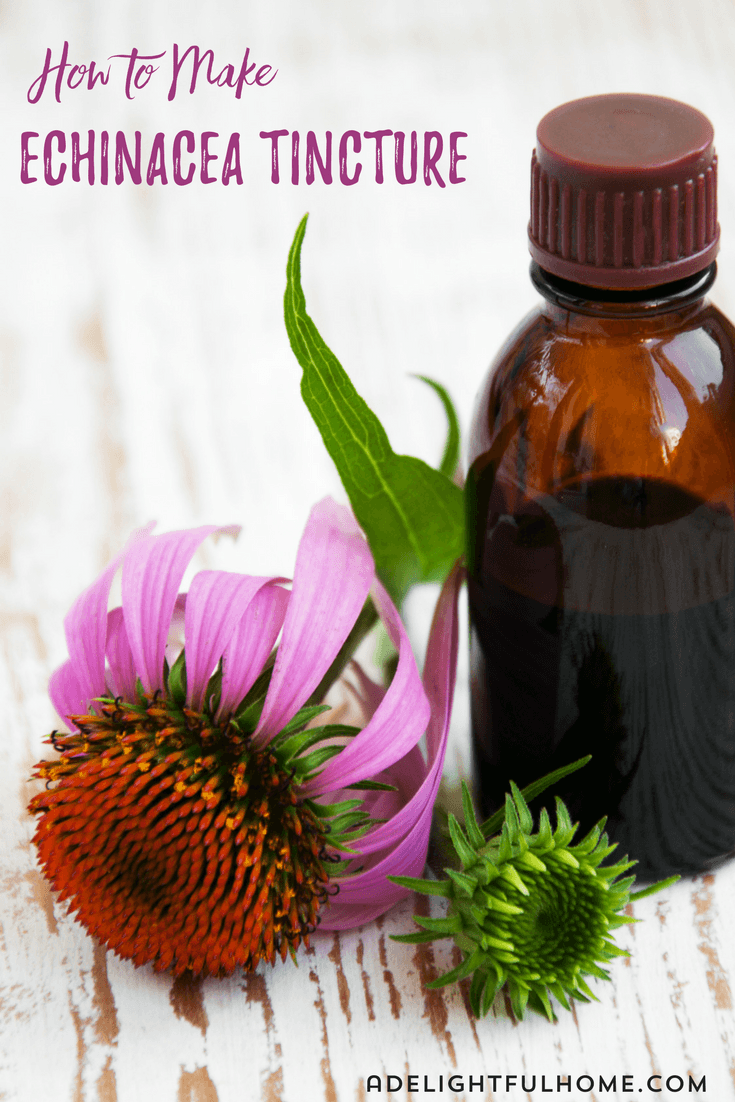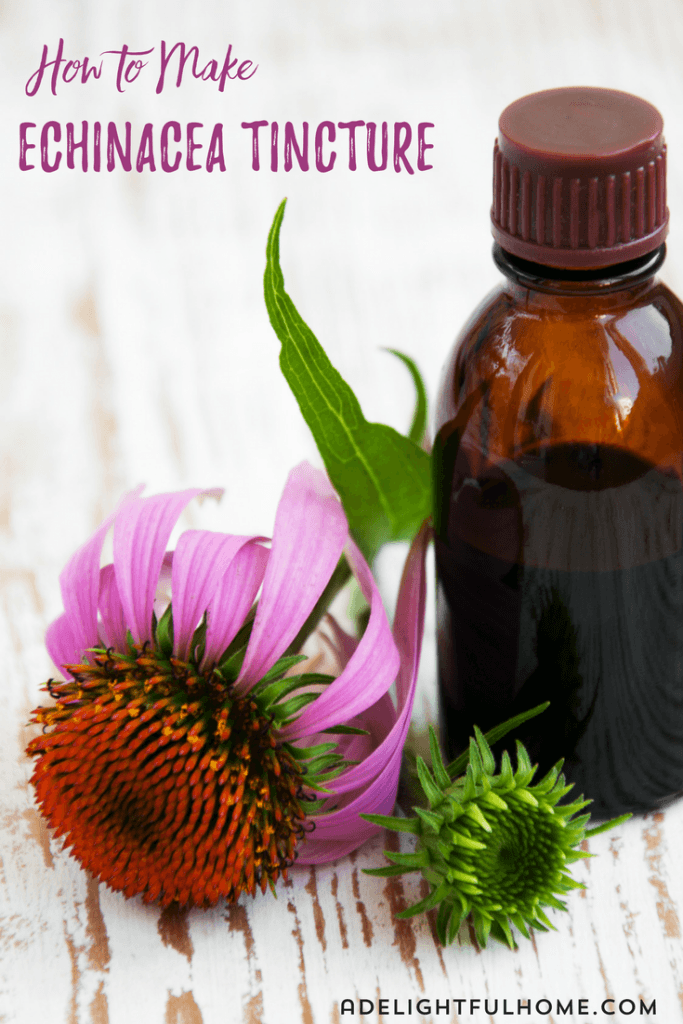 You will need:
Wide mouth canning jar (make sure it is clean and sanitized)
dried Echinacea – (where to buy)
Vodka (with at least 40% alcohol – 80 proof)
Note: if using fresh herbs, you will need a higher percentage of alcohol (95%)
Method:
Place dried Echinacea in the jar until the jar is about half full.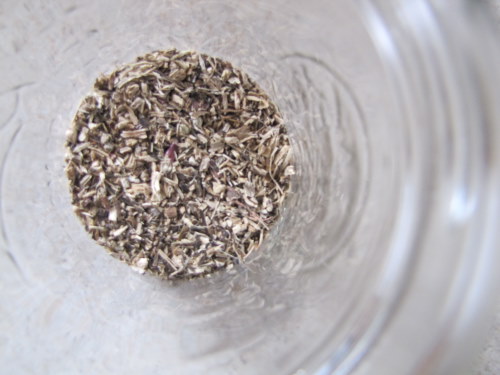 Pour vodka over the top. Fill to the shoulder of the jar so there is a little room at the top. The dried herbs will swell over the coming weeks.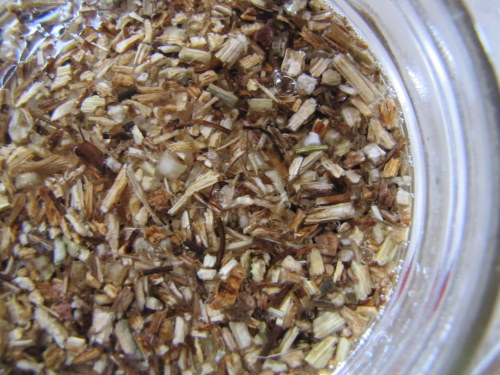 Seal tightly with lid.
Label jar with the date and the expected date your tincture will be ready. Also, include the ingredients on your label. You probably think you will remember, but trust me, that doesn't always happen!
You have now created a menstruum. Leave menstruum at room temperature for four to six weeks. Shake every few days.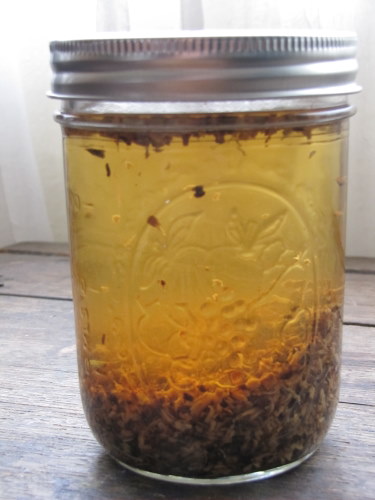 (The above picture is of some tincture I started this morning. It begins to turn brown very quickly)
After the four to six weeks has passed, strain the herbs out of the vodka.
To strain the herbs:
Place a layer of cheesecloth over a mesh strainer and set over a large measuring cup or bowl. Pour menstruum slowly into the cheesecloth and allow to drain for a few minutes. Then use your hands to wrap the cheesecloth around the herbs and squeeze out the excess liquid.
Discard the herbs.
You now have Echinacea tincture! Woo hoo! (Isn't this fun?)
Pour tincture into dark, glass bottles for storage. Don't forget to label them.
To use:
At the first sign of a cold or throughout a cold take ½ to ¾ of a teaspoon 3 to 4 times a day. per day.
Important note About when to use echinacea:
Echinacea has shown to be most beneficial at the beginning and for the duration of a cold. It is not intended as a long-term preventative.
Please remember I am not a certified Herbalist, just someone who is crazy about herbs and natural living. It is important you do your own research.