This post may contain affiliate links which won't change your price but will share some commission.
Table of Contents

[Hide]

[Show]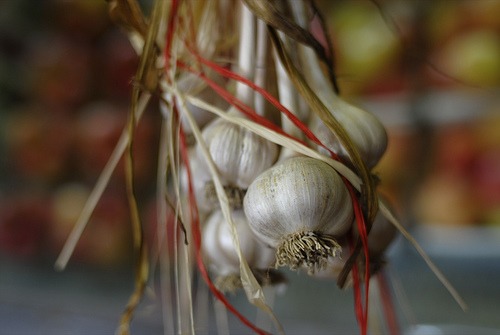 You've most likely heard how wonderful garlic is for you . . .
And you probably know how to eat it . . .
Do you know how to take a garlic bath? Hmmm, yeah, I thought it was crazy, too!
I'm sharing how and why to take a garlic bath and a few other ways to get this powerful herb into your system over at Frugal Granola today.
To read the post, click below:
Garlic has an amazing reputation as one of the most powerful natural antibiotics around.
It is useful in addressing a myriad of health issues. Such as:
Reducing cholesterol
Lowering blood pressure
Treating bacterial, viral and fungal infections.
Colds
Strep throat
Ringworm
Candidiasis
and many, many more!
The wonderful thing about garlic is that it can be used in everyday cooking. Using garlic liberally in your meals is a simple and effective way to reap the benefits garlic has to offer.
Garlic is well-suited to a variety of foods, such as pasta, soup, stew, and stir-fry. Many times it can be thrown in even if the recipe doesn't call for it!
For the times when you want (or need) to get more garlic into your system, try some of the following:
Eat it raw
Garlic eaten raw is superior to cooked garlic (although cooked is still good). When treating an acute illness it is beneficial to include some raw garlic because of its potency.
Minced garlic mixed with a little honey is one of the fastest ways to get it down. Just put it on a spoon and swallow.
A medicinal honey can be prepared in advance by placing six cloves of sliced garlic in four ounces of honey. Cover tightly and allow to sit for a week to 10 days. Use the garlic honey in teas to treat colds and flu. The garlic slices may be spread on toast.
Mix a few cloves of freshly minced garlic into some mayonnaise and use it as a sandwich spread. This is an especially tasty option when all the other sandwich fixings are added.
Make an extra garlicy guacamole.
For a photo demonstration of eating raw garlic with honey, and a few other great ideas, check out this post: 7 Ways to Eat Raw Garlic.
Image credit
Drink Garlic Lemonade
I first heard of this little treat (snicker) when I attended a herbal seminar for children a few years ago. My kids are not fans of it, but I have used it for myself during illness.
To make Garlic Lemonade you will need:

2 cloves garlic
Water
Lemon
Honey, to taste

Put one quart of water on to boil.

Finely mince the garlic cloves and place into the bottom of a 1-quart mason jar.

Fill the jar to the top with boiling water.

Cover jar and allow to sit for 30 minutes.

Strain out the cloves and add the juice of one freshly squeezed lemon. Sweeten with a little honey, to taste.
The recipe is from Naturally Healthy Babies and Children and is intended for children. It is especially recommended for treating chills, but would be helpful in any situation where garlic is needed.
I drink this when I have a head cold and sometimes increase the garlic by an extra clove. I don't drink the whole quart at once, just drink a cup warm ad sip the rest throughout the day (or save and reheat later in the afternoon).
Take a Garlic Bath
Is that one of the strangest things you have ever heard? I know I thought it was crazy the first time I heard this suggested!
A garlic bath is simple to prepare:
Add 1/2 to 1 cup of powdered garlic to a tub full of hot water. Jump in and soak for 30 minutes.
If you don't want to smell like garlic, keep your hair out of the water. It holds onto the smell more than then skin will.
Lalitha Thomas (10 Essential Herbs) suggests taking a garlic bath as a preventative measure when nursing a sick friend or loved one who is contagious.
A garlic bath is a great way to get garlic into the body when eating it is not an option. A garlic poultice is another excellent choice for getting garlic into your system without taking it by mouth. Both methods are suitable for children.
You