This post may contain affiliate links which won't change your price but will share some commission.
This Rose-infused body scrub gently exfoliates and removes dead skin cells to reveal softer, smoother skin. It also aids in stress reduction and helps the skin absorb more moisture (so your lotion works better!).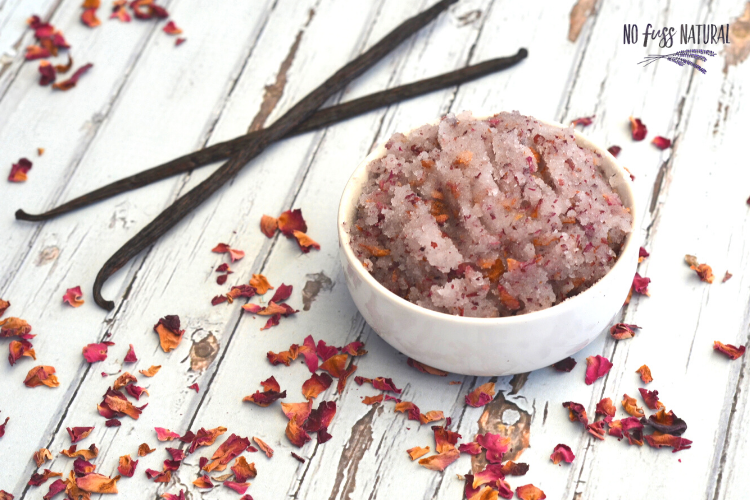 This scrub is made in two steps:
Create Rose-Infused oil
Make body scrub
You can always skip the oil infusion if needed, but it definitely takes this body scrub up a notch.
Rose-Infused Oil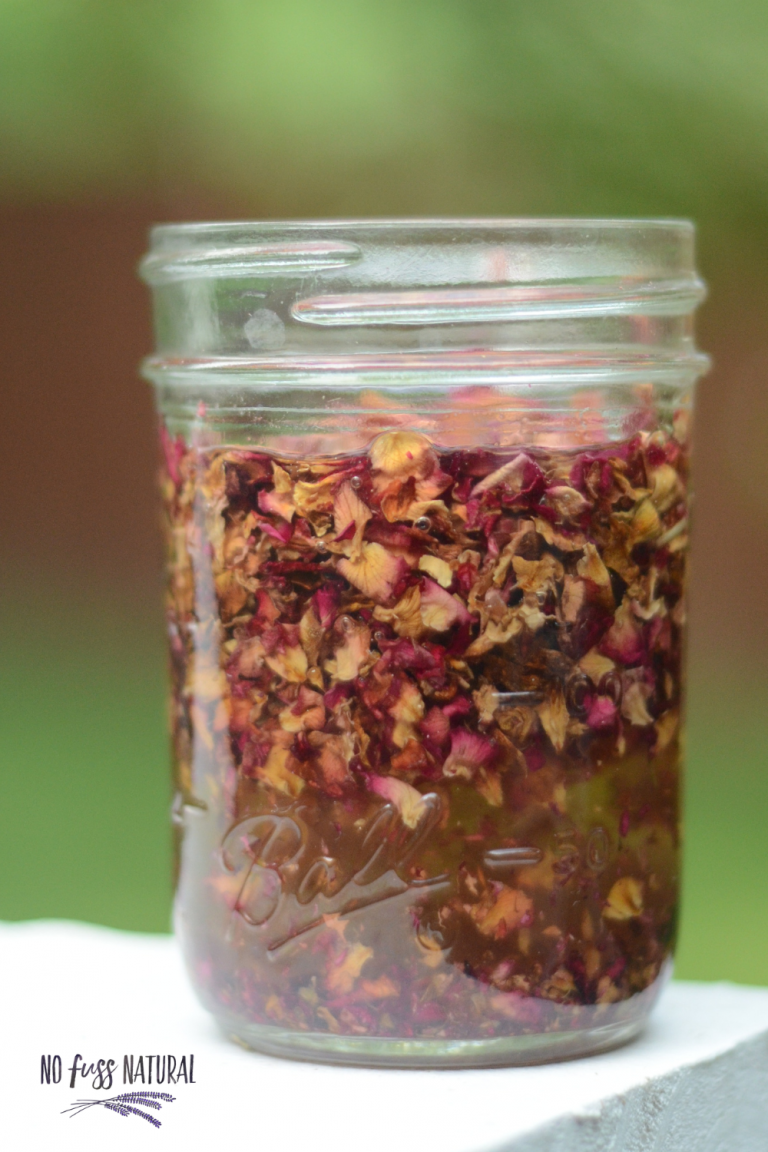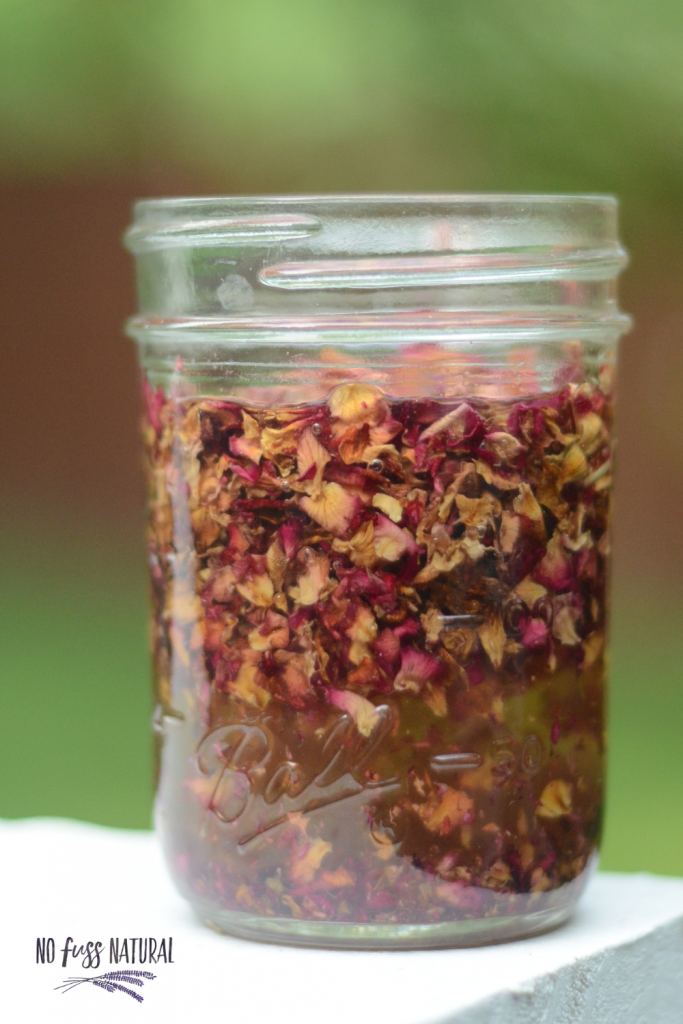 Ingredients
⅓ cup dried rose petals
1 cup oil (use Sunflower oil, Avocado oil, Sweet Almond oil)
Note:
This amount will allow you to have some oil left over for other projects. If you would prefer to make just enough and have none leftover, then use approximately 5 tablespoons dried rose petals and ½ cup oil.
The ratio of roses to oil does not need to be extremely precise. In fact, I measured mine in order to share the amount with you, but I generally just fill a jar about one-third to half way full of dried rose petals and then fill almost to the top with oil. Leave a little room for the roses to expand as they absorb some of the oil.
Use dried roses in order to prevent any possibility of introducing bacteria or mold into your infusion. The water content in fresh flowers can cause the oil to spoil quickly.
If you have fresh roses, simply spread them out on a baking sheet lined with paper towels and let dry for a couple of days. Once they are completely dry, you can proceed with the oil infusion.
Directions
Slow method (Cold-infusion method):
Place dried roses in a clear jar and pour oil over the top. Close tightly with lid and leave to infuse for about 3 weeks.
Gently agitate the jar every once in a while.
Strain out roses through a fine mesh strainer lined with cheesecloth. Press with the back of a spoon to remove as much oil as possible. Gather cheesecloth around the roses and squeeze to remove as much oil as possible. You now have a rose-infused oil.
Quick method (Hot-infusion method):
Place roses and oil in the top of a double boiler and warm for over low heat for an hour or two. You will need to keep a close eye as you do not want the roses to burn or the water to completely evaporate from the bottom of the double boiler.
You can also preheat the oven to 250 degrees F. Place the oil and roses in a glass loaf pan and place in the oven. Then, turn the oven off. Leave to infuse for 3 hours or more.
Strain as mentioned above.
Rose-infused Body Scrub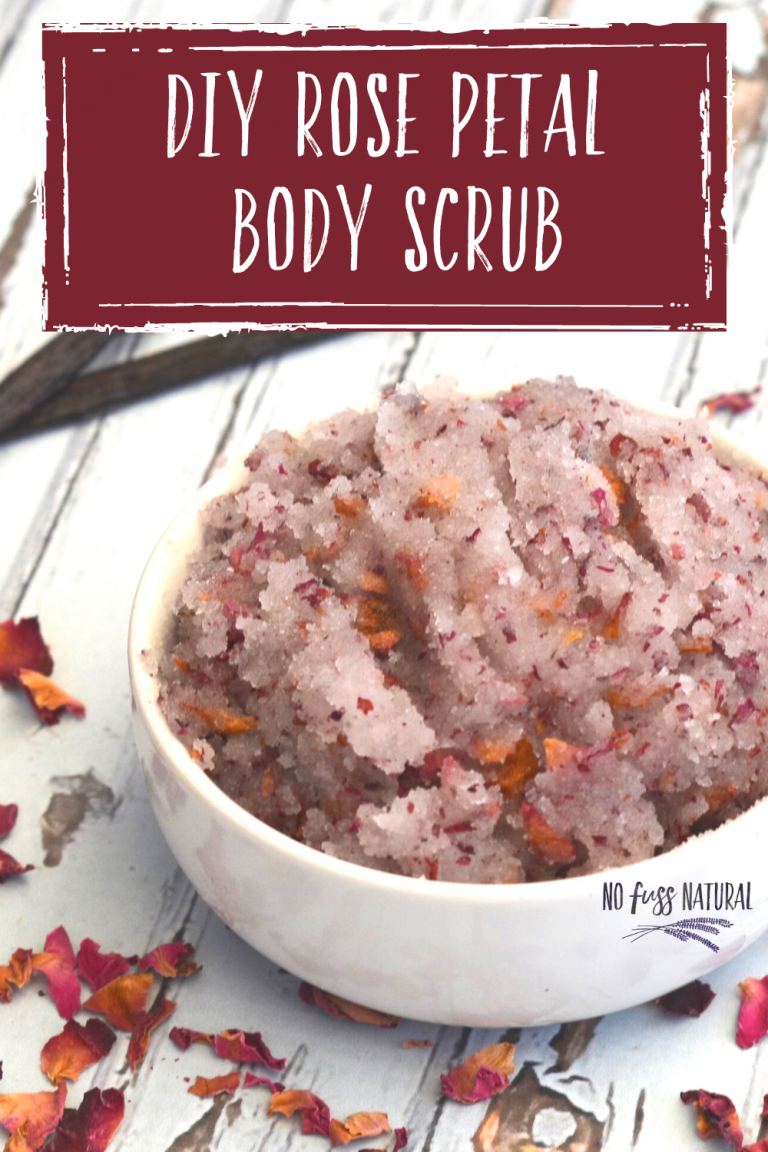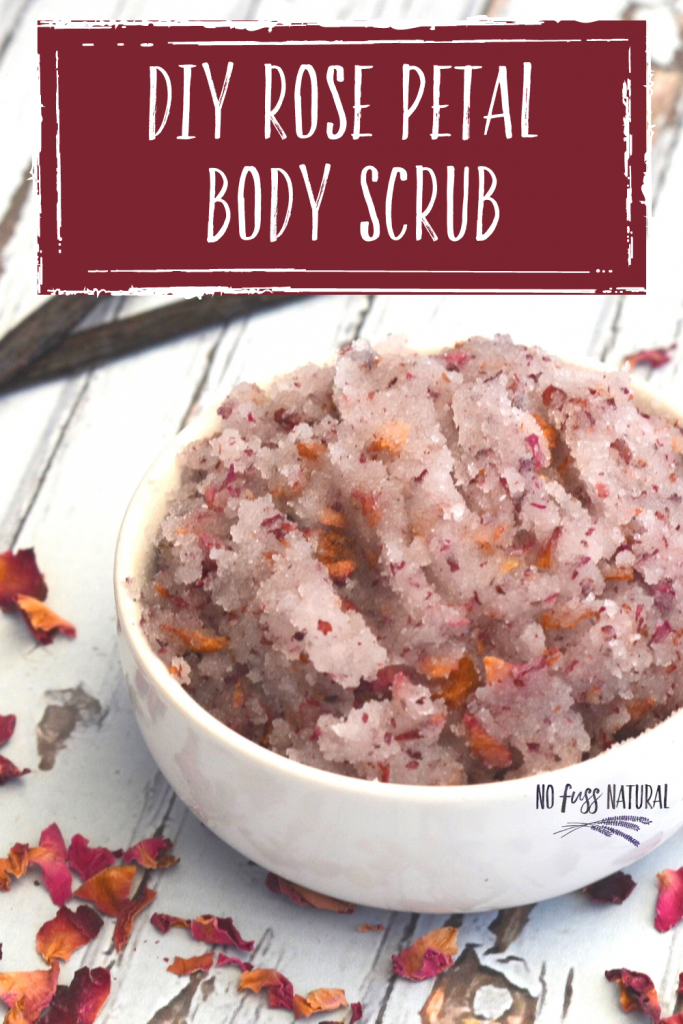 Ingredients
½ cup rose-infused oil (recipe above).
1 cup white sugar
5-10 drops essential oil (lavender, rose geranium, sweet orange, grapefruit, mandarin, neroli)
Optional extras: 1 tablespoon dried rose petals
Directions
Crush dried rose petals and lavender buds in a mortar and pestle.
Place sugar in a bowl and add the rose-infused oil. Sprinkle rose petals and lavender over the mixture and stir to combine.
Check consistency of scrub. It should hold together and not be too runny (so it slides right off your hand) or too thick. If scrub is too runny, add more sugar. If too thick, add more oil.
Add essential oils and stir to distribute evenly.
Store in a clean jar.
Cautions:
This scrub is intended for use on the body not the face. Do not use on broken or damaged skin. Do not use on skin that is sunburned, windburned or chapped.
Keep water out of the jar as it could introduce bacteria or cause scrub to spoil quickly.
Scrub should keep for 3 months.
Honey & Rose Body Scrub Recipe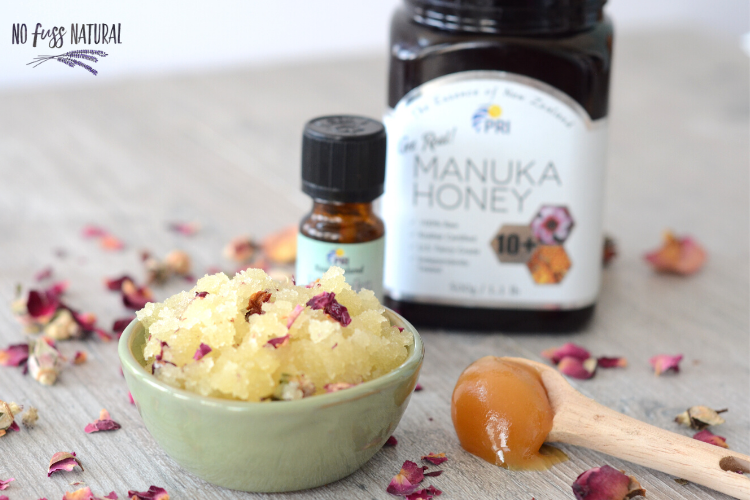 This recipe is intentionally small and intended for one or two full body applications.
Ingredients
⅓ cup white sugar
Dried rose petals, as desired
1 tbsp Manuka honey
2.5 tbsp avocado oil
1-2 drops Maunka oil, optional
Directions
Mix all ingredients in a bowl until well blended. If you want to blend it really well, give the mix a quick pulse in the food processor. This will help it turn more of a pinkish-red too!
Apply to the body in gentle, circular motions. Wash off with warm water.
Want more body scrub recipes?
Check out my ebook, The Body Scrub Bible!