This post may contain affiliate links which won't change your price but will share some commission.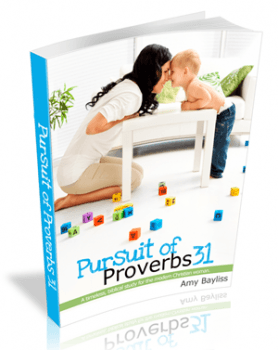 Have you ever read Proverbs 31 and ended feeling sad, mad, or, dare I say, jealous? Or maybe even defeated?
I have!
Yes, it's partly my immaturity, I know, but I'm certain I'm not the only one who has felt this way.
If you can relate, or simply just want to be the best woman you can be, then you'll enjoy reading the new ebook, Pursuit of Proverbs 31 by Amy Bayliss (keep reading to find out how to win a copy).
Pursuit of Proverbs 31 is different to any other book or study I have read. Amy shares candidly about her personal journey and speaks as a friend alongside you. She does not treat this chapter of the Bible as a checklist, but rather dives deep into uncovering the true meaning and intention of the passage.
This is a serious Bible study.
Amy goes through the verses explaining what she has learned through Biblical research (i.e using her concordance, looking up Greek words and finding their definitions, etc.).
Each chapter ends with questions for the reader to ponder, scripture memory, as well as other actionable steps to take.
There are tons of practical suggestions, from tips for better Bible study to money management! (I'm always hungry for practical tips and really appreciated the ones Amy shared.)
Here's a peek at the Table of Contents:
Shattering the Myths
Before you tear the entire chapter of Proverbs 31 out of the Bible, read this.
The Real Woman of Proverbs 31
So, who is this wonderful, amazing, everyone wants to be like her woman?
Living in Relationship With God
To live a fulfilled life we must know Him, walk with Him, live with Him, breathe Him.
Be His Wife; His Helpmate
A happy woman is she who marries the man she loves. A happier woman is the one who loves the man she marries.
Create a Biblical Marriage
There is one thing that can spoil a marriage faster than any other: selfishness.
Being a Mother
I'd be the perfect mom if it weren't for these rascally kids!
Home and Family Management
I'm a homemaker but my name ain't Susie
Pocket Full of Resources
It's best to have an umbrella ready because eventually it will rain.
A Woman of Ministry
We don't go into ministry; it's who we are.
Matters of the Soul
When you finally come to the end of yourself, you find Him.
This ebook will help you look carefully at this woman of the Bible, but more than that, Pursuit of Proverbs 31 will encourage you to seek God first and give Him the place of honor in your life.
I need to be honest with you and say that I generally don't feel comfortable recommending a lot of Bible study material. I know this may seem strange coming from a preacher's wife, but the truth is, knowing and learning the word of God is such a serious matter, I don't want to steer anyone wrong by pointing them in the direction of something that may contain error.
I'm happy recommending that you read your Bible, but I get nervous after that. One reason I feel comfortable recommending this study is because Amy so clearly states that you must read the Bible for yourself, saying:  "Don't take someone else's word about what is in the Bible. All to often, God's word is misinterpreted or taken out of context."
Amen.
Please, always read with caution and check your Bible.
Enter to Win One of Three Copies of Pursuit of Proverbs 31
To enter: Leave a comment below.
For optional extra entries:
Please leave a separate comment for each.

Click over and watch the video (it goes for less than two minutes)
Tell me which chapter sounds most intriguing to you
Like Pursuit of Proverbs 31 on Facebook
Giveaway will end on Monday, March 19, 2012 at 9pm PST.
Three winners will be selected at random.

If you would rather buy a copy right away, it's only $4.99!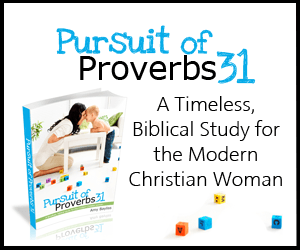 This post contains affiliate links.