This post may contain affiliate links which won't change your price but will share some commission.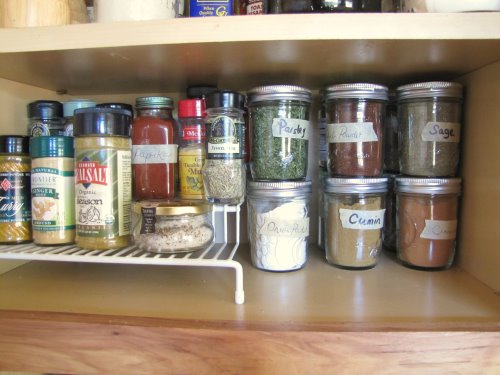 This week Tsh challenged us to tackled the fridge and pantry. I didn't get to the fridge, but took on the pantry and the spice cabinet.
I don't actually have a pantry, as in a big cupboard, but I do have tall cabinets in my kitchen (and they are working fairly well).
Here is my before of the spice cabinet (embarrassing!):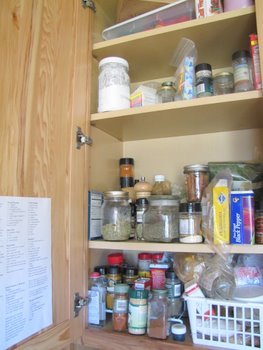 What can I say, I like to cook!
This cabinet has been frustrating me for a long time! It's too full and difficult to use. I also don't like having so many spices in bags.
I put most of the bulk spices into half-pint mason jars. They stack nicely and look pretty. (Although it would be lovely to have attractive labels. But we are going with masking tape for now.)
The extra spices that didn't fit into the jars are in the freezer, so they will stay fresh. Hopefully I won't forget to look there when I need to refill a jar!
I was shocked at the extra space this made: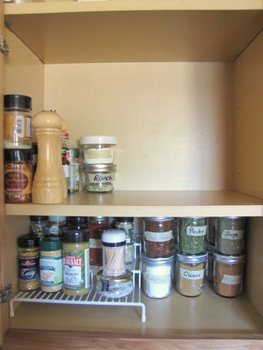 So I moved over my oil and vinegar collection from the pantry. This is a much more logical place for the oil and vinegar since they are often used along with spices.
Here is the Spice Cabinet, after: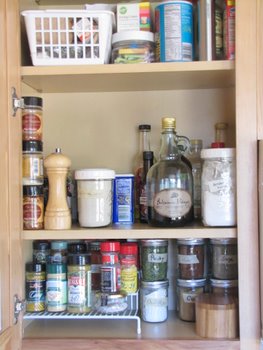 I also decluttered my utensil holder: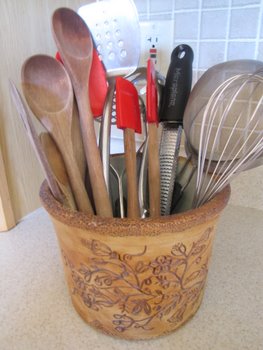 Isn't it cool? My mother-in-law made it. I love the carving!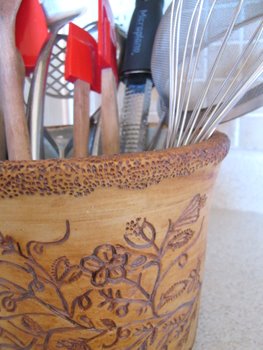 The Pantry, before: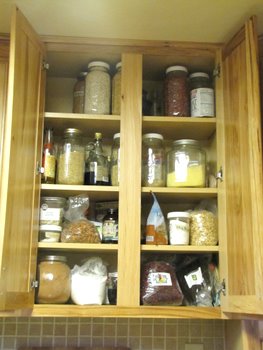 Obviously I buy in bulk!
Pantry, after: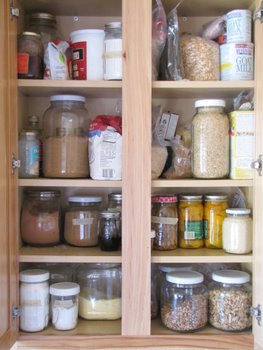 It doesn't look as tidy as I thought it did. But at least it is more functional and organized. I obviously focused in the bottom two shelves 🙂
Also, I recently moved some of my bulk grains and beans out of the pantry to provide more room. I think they look nice on display: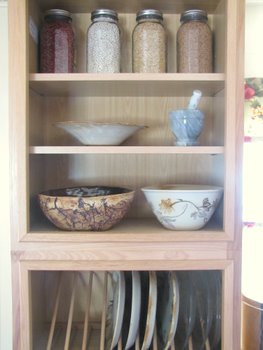 So there you have it, a mini kitchen makeover.
A bunch of busy ladies have been working in the kitchen this week and are linking up at Simple Mom's Project Simplify.  If you are nosy like me, you must go and take a look at what everyone has been up to!
What are your tips for keeping the kitchen organized?