This post may contain affiliate links which won't change your price but will share some commission.
There was so much buzz about the Ultimate Blog Party at 5 Minutes for Mom that I had to see what it was about. It looks like an awesome way to meet a lot of other bloggers, so I am joining in!
If you are visiting for the first time, I'm really glad you are here! I mean it 🙂
This is me and my bald-headed baby: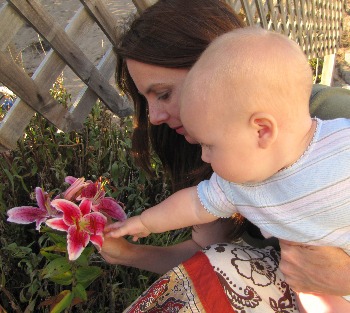 I'm Stacy. Wife to a preacher and homeschooling mom of 3.You can find out more about me on my about page. Basically I'm crazy about making things from scratch (especially herbal remedies and homemade body products), love healthy, natural living, and am slightly obsessed with finding good things to cook.
This blog is intended to encourage moms to delight in their days. To find and create peace and joy at home, with God at the center.
The writings of a perfect mother is not what you will find here. I try to be good, but I fail daily. I do hope you will walk along side me as we strive to become better mothers.
You can also find me:
On twitter: @DelightingDays
On facebook
At my fitness website (with my sister): Real Fit Moms
Thanks so much for visiting my little home on the web.
If you want to stay up to date on the happenings around here, you might like to subscribe in a reader or via email (but you don't have to, of course!).