This post may contain affiliate links which won't change your price but will share some commission.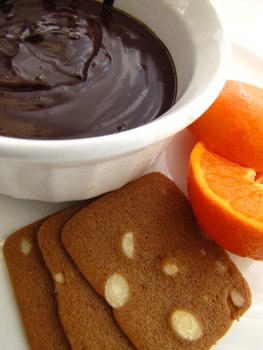 Tonight I splurged and made this decadent treat. Actually, it was so rich, I couldn't finish my serving. Which is saying something, let me tell you!
The ganache is super quick and easy to make, only requiring a few ingredients. I purchased the cookies because I was going for simple tonight. We used wafer thin almond cookies from Trader Joes. They are good. The original recipe called for Palmiers (or any other nice cookie).
I think this ganache would also be a perfect frosting for a cake! I'll be trying it out in the future.
I'd venture to say it could even be rolled into balls for truffles once hardened! that would be good too.
This is a desert for lovers of dark chocolate. There is no sugar to sweeten it up, so it stays very bitter.
The recipe comes from one of my new cookbooks: Jamie Oliver's 30 Minute Meals. I am really enjoying this book. There are tons of great tasting recipes in it.
I love how Jamie always takes things to the next level by including something special. For example, this ganache has the zest of one clementine. Yum.
I got my book in Australia, which was very lucky since it was sold out everywhere! (It is available for pre-order on Amazon now).
Here's the recipe:
Rich and Dark Chocolate Ganache

Ingredients:


200 grams of dark chocolate (70%)

2 Tablespoons of butter

300 ml heavy whipping cream

pinch of salt

3 or 4 clementines

12 fancy cookies of your choosing (for dipping)

Method:

Get a large pot of water ready to boil on the stove. Place a large heatproof bowl on top. Make sure the bowl is not touching the water.

(The cool thing is, you can have this water going for something else – like pasta! That's what we did. I made Jamie's Jool's Pasta recipe for dinner. It was a good way to multitask.)

Break chocolate into chunks and place in the bowl.

Add the cream, butter and salt.

Grate the zest of one clementine and add to the bowl.

Stir and let melt.

Once melted, stir well again.

Pour into six ramekins or small cups (I did this and would actually consider dividing it up into 12 servings next time – it's SO rich!).

If making close to serving time, leave out. Putting this in the fridge will cause it to harden. It can then be spread on cookies with a knife, but leaving soft will allow the cookies to be dipped.

Slice the clementines and arrange on a platter along with the cookies and bowls of ganache. Eat and enjoy!
How's that for an easy, indulgent treat?