This post may contain affiliate links which won't change your price but will share some commission.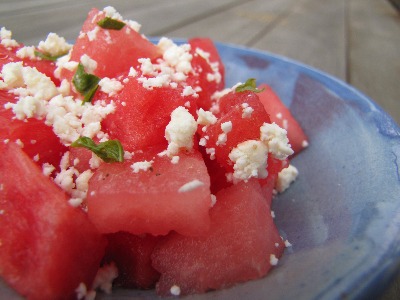 Watermelon and Feta Salad has intrigued me for some time.  Even though I thoroughly enjoy both watermelon and feta separately, combining them was not something I could imagine.
Finally deciding to give it a try, I was pleasantly surprised.  It is fresh, sweet, and salty.
My five year old son also enjoyed it.  However, I can't say the same for my daughter and husband.  I guess it is an acquired taste.
If you are daring enough to give it a try, I'd love to hear what you think of it.
Watermelon Feta salad

This recipe is a hybrid of Deborah Madison's recipe from Vegetarian Cooking for Everyone (page 167) and one found in the August  issue of Family Fun magazine (page 54).

1 pound watermelon

1 tablespoon chopped basil, or mint

¼ cup crumbled feta

1 tablespoon olive oil

1 tablespoon lime juice

Salt and pepper

Cut melon into bite-sized pieces.  Crumble feta over and carefully stir to combine.

Mix oil and lime juice together, then add salt and pepper to taste.  Pour over salad and gently toss to distribute dressing throughout.

Garnish with basil or mint.

Alternately:

Create individual servings by arranging watermelon on plates, sprinkle with feta.  Pour on a little dressing and lightly stir.  Garnish with a few pieces of basil or mint.
This post is included in Two for Tuesdays and GNOWFGLINS, Tuesday Twister.  Two great real food events!
I'm also linking it up to Monday Mania at The Healthy Home Economist – a new Real Food roundup.