This post may contain affiliate links which won't change your price but will share some commission.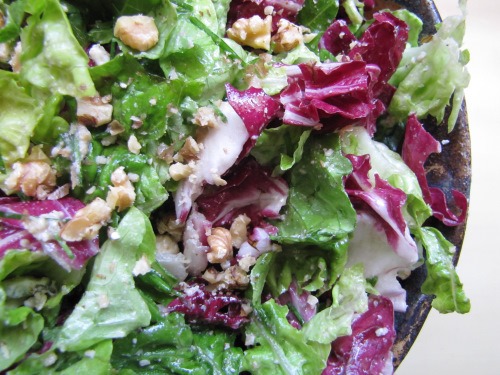 Salad can be so refreshing. It can also be downright boring!
It is always nice to find a new and interesting salad combination. Adding nuts and some type of fancy cheese is my default way to spice up a salad. Using a variety of greens, leafy vegetables or herbs is also an excellent way to make salads more appealing.
The following salad includes Gorgonzola, one of my favorite cheeses. You could leave it out if you don't like it, or substitute another cheese of your choosing.
Gorgonzola and Toasted Walnut Salad

This recipe is adapted from the Betty Crocker Cookbook, p. 380

This salad uses a total of 2/3 cup of walnuts that have been chopped and toasted.

To toast the walnuts: place nuts of an ungreased cookie sheet with sides. Pre-heat oven to 350 degrees F. Bake for 6 to 10 minutes, until they have browned slightly. Stir occassionally.

Toasted Walnut Dressing

1/2 cup olive oil
1/2 cup coarsely chopped walnuts, toasted
2 tablespoons lemon juice
1 clove garlic
1/8 teaspoon fine sea salt
Dash of pepper

Salad

1 head radicchio, torn into bite-size pieces (about 4 cups)
1 head lettuce, Bibb or similar type
1/2 cup crumbled Gorgonzola (about 2 ounces)
1/8 cup fresh chives, chopped (Original recipe calls for 1/2 cup. Use that much if you like chives and have them available)
1/3 cup walnuts, coarsely chopped and toasted
1 Pear, sliced and tossed in a little lemon juice to stop it from browning

To Make Dressing: Place all dressing ingredients in a blender or food processor. Blend on high until smooth, about one minute.

To Make Salad: Toss all salad ingredients together in a large bowl. Pour the dressing over the top and toss again. Serve immediately.
Perfect for lunch or dinner, as a side or a light main dish.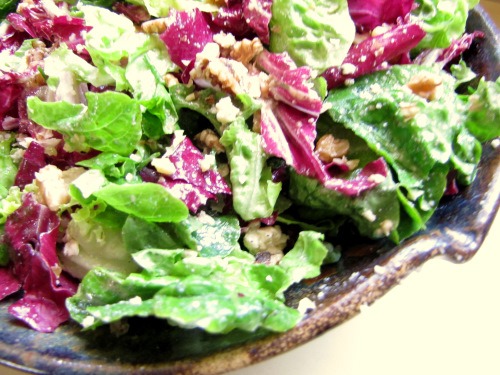 I'm linking up with the Hearth and Soul Blog Hop and Tasty Tuesdays.