This post may contain affiliate links which won't change your price but will share some commission.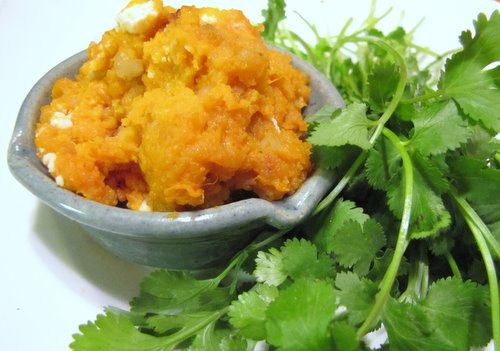 During our recent trip to Australia, we had the pleasure of watching Jamie Oliver's 30 Minute Meals a number of times. The kids absolutely loved watching him cook. And I'm pretty sure I yelled out, "Yum," at least 10 times each episode (while my Dad said, "hold off on the oil Jamie!").
Anyway…
The very first show we watched featured a delicious looking sweet potato side dish. In his cookbook (Jamie's 30 Minute Meals), it's called, Dressed Potatoes. But I like to call it Sweet Potato and Feta Mash. It's been on my mind for weeks now, and we finally ate it tonight. Let me tell you, I didn't yell "Yum" in vain. It was very tasty.
The original recipe calls for cooking the potatoes in the microwave (remember it's a 30 minute meal), but I decided to use the crockpot instead (I'm not a microwave fan). I also left out the fresh red chilli, which would probably be very good. I just didn't have one.
Sweet Potato and Feta Mash

Ingredients

1 medium potato

2 or 3 sweet potatoes (I used 2 very big ones)

1/2 a lemon

50 grams (or just under 2 ounces)  feta cheese

bunch cilantro

dried red pepper flakes (optional)

Oil for drizzling (sorry Dad)

Method

1. Drizzle 2 teaspoons olive oil in bottom of a large slow cooker.
2. Cut the sweet potatoes and potatoes into large chunks and place in crockpot.
3. Drizzle remaining olive oil on top of potatoes and toss to combine.
4. Place the 1/2 lemon among the potatoes.

5. Cover and cook on high for 3 or 4 hours (until soft).
6. Once the potatoes are soft, remove the lemon and mash the potatoes directly the slow cooker.
7. Squeeze the lemon juice over the potatoes.
8. Sprinkle with feta cheese and red pepper flakes (if using). Stir to combine.
9. Serve with a garnish of cilantro.

We had this with roast chicken, and it was a perfect side dish.

Here is the full 30 minute meal with the original recipe if you want to try it that way.
I know we will be making this one again. It's easy, warm, and delicious. Couldn't ask for much more than that.