This post may contain affiliate links which won't change your price but will share some commission.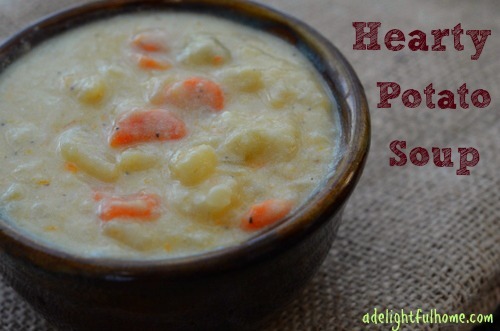 This is a favorite potato soup recipe that my family enjoys.
It can be made on the stove top in under an hour or pop it in the slow cooker for about three hours. Put the soup in just after lunch and it will be ready for dinner.
This soup freezes very well and is easy to double or triple.
Hearty Potato Soup
Serves: 8 ½ cups of soup
6 potatoes, peeled and cut into ½ inch cubes (2 ½ pounds)
2 medium onions,
diced 2 carrots, thinly sliced
2 celery ribs, thinly sliced
4 C chicken broth
2t. dried basil
1t. salt
½ t. pepper
8 oz. sour cream
1can green chilies
1 cup jack and/or cheddar cheese, shredded  (optional)
On the stove top:
Combine first eight ingredients in a large stock pot. Cover and cook over medium-high heat until the vegetables are soft.
Add sour cream, green chilies and shredded cheese and stir until evenly distributed and heated through.
In a slow cooker:
Combine first 8 ingredients in a 4 ½ quart slow cooker. Cook, covered, on High for 3 hours or until vegetables are tender.
Stir sour cream, green chilies and cheese into soup. Cover and cook 30 minutes or until thoroughly heated.
Cooked bacon, stirred in at the end, is also very good!
Do you enjoy potato soup?
I'm sharing at Sunday Night Soups