This post may contain affiliate links which won't change your price but will share some commission.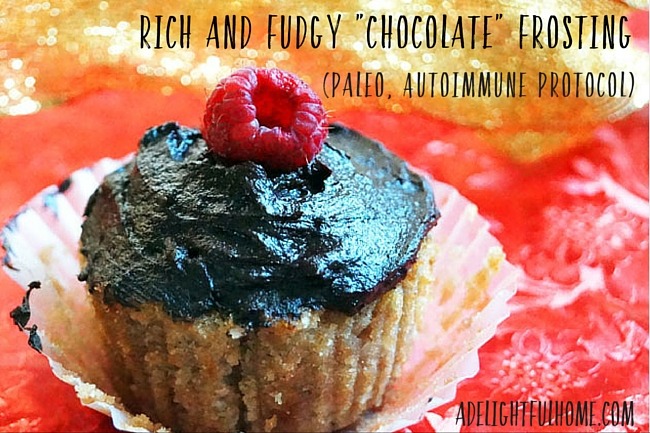 By Amanda and Davina @ The Curious Coconut
This is hands down the BEST ever dairy-free chocolate replacement frosting out there – perfect if you're on the Autoimmune Protocol (AIP) or are otherwise sensitive to chocolate but miss the taste!
Rich and Fudgy "Chocolate" Frosting (Paleo, Autoimmune Protocol)
Ingredients 
 3 TB coconut oil
 3 TB palm shortening
1/2 cup plus 2 TB sifted carob powder
 1/4 cup plus 4 tsp maple syrup (dark robust, formerly called grade B)
1 and 1/2 tsp alcohol-free vanilla extract
1/8 tsp unrefined salt
2 TB coconut milk
Instructions 
1. After sifting carob powder (see note above recipe), blend it with oil and shortening with electric mixer.
2. Add vanilla, salt, and 1/4 cup maple syrup, mixing well.
3. Add coconut milk and beat well.
4. Finally, add remaining maple syrup until reaching desired consistency and sweetness.
Prep Time: 5-10 mins.
Total time: 5 mins. to 10 mins.
A few recipe notes
This frosting perform best when you whip it up and immediately frost your dessert. Do not put the frosting in the fridge for later – re-whipping it or even just disturbing it after it is "set" can result in separation which is unsightly. Make it, frost it, don't mess with it until you're gonna devour it!
VERY IMPORTANT: When sifting carob powder and adding to oil and shortening, add a little carob at a time to avoid the airy powder drifting all over your kitchen! You may want to place your hand or a kitchen cloth over the sifter to hold it in.
Want more Allergy-Free Holiday Recipes?
This delicious frosting recipe comes from Amanda and Davina of the Curious Coconut. They have created a wonderful new ebook that's perfect for those of us with food allergies. It's called The Allergy-Free Holiday Table.
This recipe book includes baked goods for those adhering to a Paleo or Autoimmune diet. Many of the recipes are also vegan.
Here's a peek:
It's not just breads and desserts! You'll find some awesome casseroles and side dishes as well. 
Honestly, these kinds of books make me so happy these days!!
As someone with multiple food allergies, it's a wonderful gift to open a cookbook and be able to make just about everything inside!
I am thrilled with the variety of recipes included in this book and so thankful for the straight-forward (and thorough) instructions.
The Allergy-Free Holiday Table is saving me so much time and giving me back my holiday joy!

Pin to Pinterest: