This post may contain affiliate links which won't change your price but will share some commission.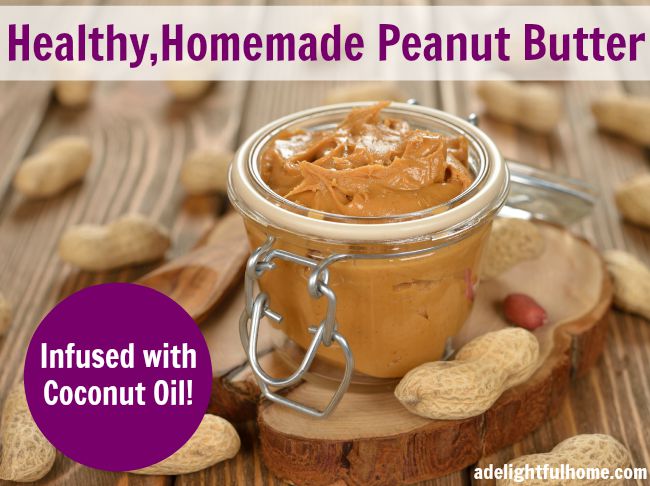 The first time I made this peanut butter, my daughter and I just stood around eating it by the spoonful exclaiming, "This is the best peanut butter ever!"
If you are not yet making your own peanut butter, I encourage you to give it a try. It is very simple and so much better for you than the store bought kind full of hydrogenated oils.
The following is adapted from the Nut Butter recipe in Nourishing Traditions
and can be used to make other nut butters (like almond or cashew butter).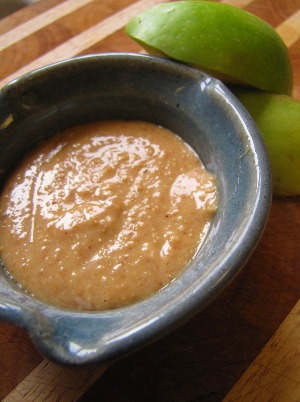 Although I have not yet done so, soaking the nuts in salt water overnight and then dehydrating is recommended. This increases their nutritional value and makes the nuts easier to digest. I plan to do this in the near future and will update here with the results. I love the taste of roasted nuts and wonder how I would like this peanut butter without that added flavor.
This peanut butter needs to be refrigerated and will become quite hard. However, since coconut oil liquifies around 76 degrees, it softens up rather quickly. It can be removed from the fridge a little while before it's needed, scoop a little into a bowl and let soften there or spread some of the hard butter on warm toast and it will become soft.
My favorite part of this recipe is the inclusion of coconut oil. It is so good for you! The honey and salt also make sur eit is anything from boring!
Nourishing Peanut Butter
2 cups peanuts ( I like mine roasted. However, soaking and dehydrating is the most nutritious – instructions are at the end of this post)
3/4 cup coconut oil (I purchase unrefined, organic coconut oil from Mountain Rose Herbs. They have the best price I've seen anywhere)
2 Tablespoons raw honey
1 teaspoon sea salt ( I use Celtic Sea Salt®, Fine Ground
)
Method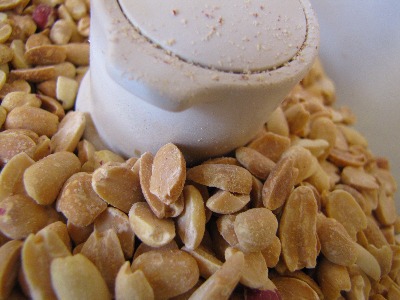 Put nuts and sea salt in food processor. Grind until nuts become a fine powder, like so: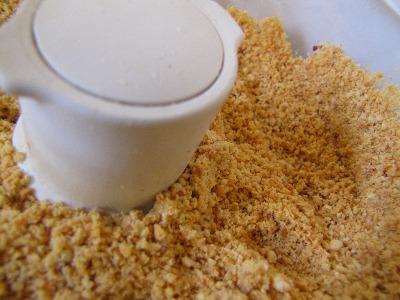 Add coconut oil (melted on very low heat if solid) and honey. Blend until smooth.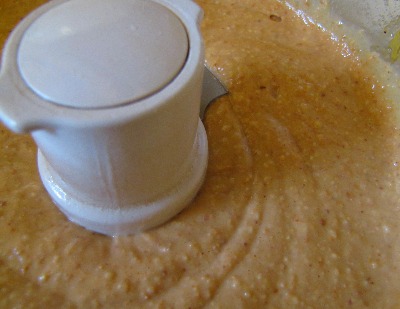 The peanut butter will be quite runny at this point, but will harden once placed in the fridge. Before refrigeration, the butter is perfect as a dipping sauce for apples and such (shown above). Oh, perhaps it could be used for Gado Gado too! (Yum, love that stuff.)
Store in the refrigerator in an airtight container. This recipe makes enough to fill a one-pint canning jar.
Instructions for soaking and dehydrating peanuts for this recipe:
Place 2 cups raw peanuts (skinless) in a jar with 1/2 Tablespoon of sea salt. Cover nuts with filtered water and let sit for 7 hours, or overnight. Drain, spread on a baking pan and put into a warm oven of no more than 150 degrees F for 12 to 24 hours. Occasionally turn the nuts over, leaving in the oven until completely dry. Alternately the nuts could be dried in a dehydrator.