This post may contain affiliate links which won't change your price but will share some commission.
I love to tape frequently used recipes to the inside of my spice cabinet. It is just so handy to have them right there.  The problem with my little cabinet is that it was getting out of control: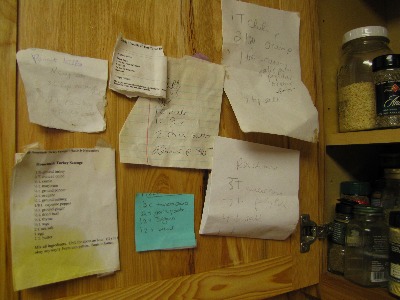 So I made a recipe cheat sheet.  Since it is typed, I could fit more on one page than if I were to write it out by hand! More is better 🙂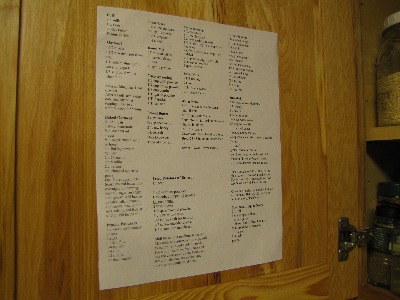 I am not a computer whiz by any stretch of the imagination, and made this by using text boxes in Word. It's not fancy, but it is useful.
Many of the recipes were already on the computer or bookmarked online, so a lot of it was simple cut and paste.
The recipe instructions are whittled down to the bare bones; some only include ingredients and no method at all.  These are the ones that are made often and are almost memorized, but not quite.
The cheat sheet includes some of my go-to recipes and also a few spice mixes, salad dressing, marinara sauce, peanut butter, and our favorite breakfast and dinner meals.
You can take a peek at mine if you like*
I'm planning to make another cheat sheet that includes traditional food preparation techniques.  We love to eat real food and I am striving to prepare it in the most nutritious way possible. Cutting down the time it takes to find exactly how much whey I should put in with the oats for soaking, and so on, might help make this happen more often.
It would be fun to create a few themed cheat sheets: breakfast, lunch, easy dinners, and snacks.
I'm not sure if I am terribly lazy or just plain busy to need my recipes taped to the cabinet.  But it works very well for me, saving lots of time, energy, and brain strain!  It also helps keep the crumbs out of my laptop!
*If you download my cheat sheet, remember that it is for my personal use, so some of the recipes may not make complete sense!  Also, note that the Stromboli and turkey sausage recipes come from [email protected] Heavenly Homemakers and the Potatoes and Broccoli Cheese are from Modern Alternative Mama.
This post is linked to Works For Me Wednesday at We are THAT Family.
Click image below to see my cheat sheet!