This post may contain affiliate links which won't change your price but will share some commission.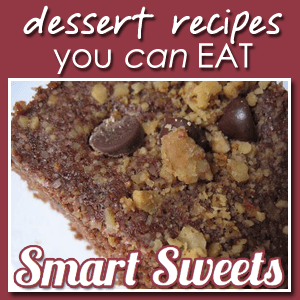 My daughter has a new favorite cookie.
And it's made with whole wheat flour! Woo hoo! (Recipe below)
Thanks to Smart Sweets we have an abundance of healthy treats available that actually taste good. And I don't have to cringe as I pass the cookies!
Isn't it nice to serve (and eat) sweets that are made with real food ingredients?
It certainly gives me peace of mind knowing my kids are eating treats that have some nourishment factor!
My favorite thing about Smart Sweets is that it is for everyone. Katie provides so many options that the die-hard natural foodist will be happy while those still using white sugar here and there will have plenty to work with.
Smart Sweets is a great educational tool rather than a simple collection of recipes.
Katie clearly explains each type of sweetener and also shares details about different flours.
After each and every recipe Katie shares variations, faqs, and notes from the kitchen. These sections offer a lot of detailed information. I mean a lot!
For example:
After the coconut macaroon recipe, you'll find links to recipes for using the leftover egg yolks.
After the Sourdough Chocolate cake recipe you'll find out how to make a dairy free version.
After the Chocolate Chip Cookie recipe, cookie dough lovers will be warned that using sucanat will not make a pleasing dough for muching on!
And so on. . .
I hope I'm conveying the message that this book doesn't skimp on details!
Smart Sweets doesn't skimp on recipes either. There are 30 recipes in this book. For me it is a great mixture of new and delicious treats and healthier versions of beloved favorites.
Some of the recipes that caught my eye:
Cider Doughnut Spiced Cupcakes
Fudgy Brownies with Chocolate Chips
Peanut Butter Bars
Kelly's Probiotic Fudge Bars
Pumpkin cookies (my daughter and I made these yesterday. They just melt in your mouth! Really yummy).
And these three are perfect for gift-giving:
Peppermint Coconut Bark
Dark Chocolate Truffles
Peanut Butter Kisses
See the complete list of recipe here.
Now, onto the cookie recipe and giveaway: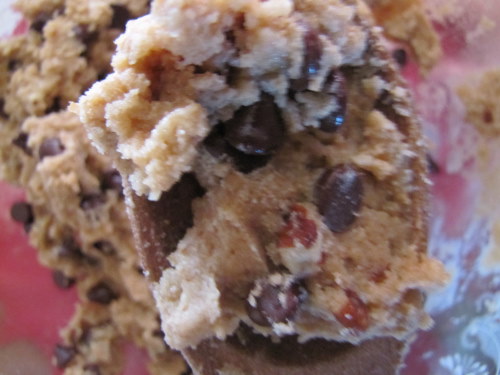 Isn't that some good looking dough?
Whole Wheat Chocolate Chip Cookies
(from Smart Sweets by Katie Kimball)

Makes about 30 cookies

1 ½ cups sucanat ( or ¾ cup white sugar and ¾ cup brown sugar, packed)
½ cup butter,
½ cup unrefined coconut oil, melted
1 tsp. vanilla
2 cups whole wheat flour
1 tsp. baking soda
¼ tsp. salt
1 cup chocolate chips
optional: ½ – 1 cup walnuts (or pecans – our addition)

Method

Heat oven to 375 degrees F.

Cream sugar, butter and oil in a large bowl until light and fluffy.

Add egg and vanilla and beat again until well combined.

Add flour, baking soda, and salt, beating again until evenly distributed. Stir in chocolate chips and nuts.

Drop rounder teaspoons of dough onto ungreased cookie sheet, leaving about 2 inches between cookies.

Bake for 8 to 12 minutes (we rarely went over 8 minutes) until light, golden brown. Take out of the oven and allow cookies to rest on cookie sheet for 2 minutes before moving each cookie to a cooling rack.
The Giveaway
To enter: leave a comment on this post.
For Optional Bonus Entries (please leave a separate comment for each ):
Giveaway will end on Monday at 5pm PST.
A Discount Code
If you'd rather not wait and want to get baking right away, use discount Code Delightful25 to get 25% off. Code expires Dec. 23. 2011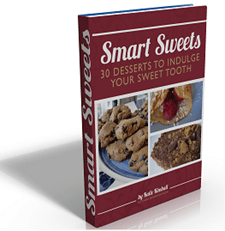 https://www.e-junkie.com/ecom/gb.php?ii=1018358&c=ib&aff=121480&cl=114298
Disclosure: I received a free copy of Smart Sweets for review. I baked recipes from it and I liked it 🙂
This post contains affiliate links.