This post may contain affiliate links which won't change your price but will share some commission.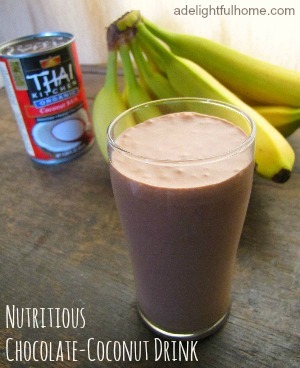 One day soon I will write a post about the health benefits of coconut!  In the meantime, I thought you might enjoy this little recipe.  It is one our family's favorite healthy drinks. Thick like a milkshake, this beverage truly satisfies.
The basic recipe contains coconut milk, bananas, cocoa powder, maple syrup and vanilla. It is sweet, but not too sweet.  Creamy, cold and chocolatey, it's perfect for a summer afternoon.
The ingredient amounts may vary to suit your tastes, and the liquid portion is adaptable to whatever you have on hand.
Originally made with half kefir and half coconut milk, I have also used  milk and yogurt, or coconut milk alone (a great non-diary alternative).
When using coconut milk, use whole milk.  Not lite!  When it comes to coconut, the fat is where it's at! Whole coconut milk actually contains coconut oil, which is wonderful and healthy.  Coconut oil is a good fat. Don't be scared.  Apparently it can help you lose weight by raising body temperature, boosting your metabolism.  It also supports thyroid function.
OK Stacy, just share the recipe already!
Alright, alright. Here goes….
(But I really will be posting more about the health benefits of coconut oil soon.)
Nutritious Chocolate Coconut Drink

As I said, this is an easily adaptable recipe.  The following is what I prepared for 2 adults and 2 small children. Servings were small (sorry I didn't measure the exact amount, will do that tomorrow and update)

Ingredients

2 – 3 frozen bananas (can use un-frozen bananas too)

1 1/2 cups whole coconut milk (1 can)

-or 3/4 cup kefir and 3/4 cup coconut milk
-or 3/4 cup milk and 3/4 cup yogurt
-or 3/4 cup milk and 3/4 cup coconut milk
-or try using coconut kefir
-or use 1 1/2 cups of kefir or milk

3 Tablespoons cocoa powder (can add more for stronger/darker chocolate flavor)

1/2 to 1 Tablespoon maple syrup (adjust to desired sweetness)

1/2 teaspoon vanilla

Method

Place all ingredients in blender.  Blend until thick and creamy and well-combined.
I came across this recipe a few years ago on one of my favorite blogs, High Desert Home.  Susan, the author, no longer blogs there, but has graciously left her work for us to read and enjoy. I learned a lot from Susan and highly recommend you visit her blog!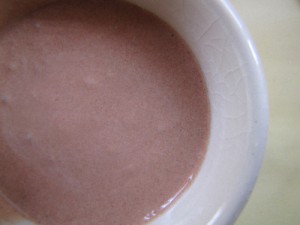 Mmm Yum!