This post may contain affiliate links which won't change your price but will share some commission.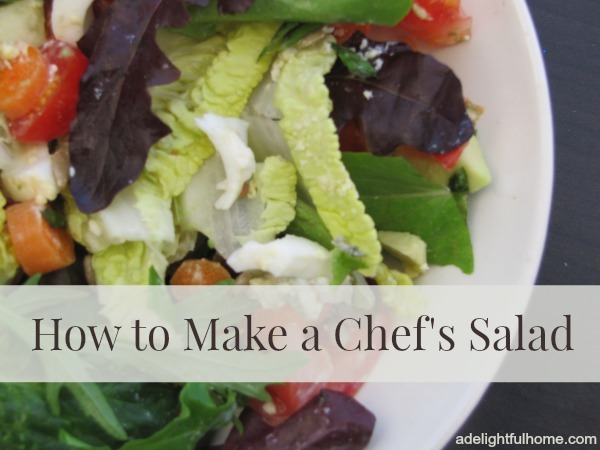 One of my favorite healthy meals is a Chef's salad. It's so easy to put together and can be tweaked to use whatever ingredients are on hand (including leftovers).
A traditional Chef's salad includes a bed of lettuce topped with meat (such as turkey, ham, or chicken), cheese, tomato and a hard-boiled egg.
When making a Chef's salad and serving as a main course be sure to include a good portion of protein. A palm-sized piece of chicken sliced into strips is a perfect example.
To make the most healthful salad, focus on veggies and protein, add a sprinkling of cheese and drizzle with vinaigrette.
Adding fresh herbs to the mix is an excellent way to boost flavor.
To build a Chef's salad to serve 4 you will need:
1 ½ pounds of lettuce or mixed greens
6-12 ounces meat (may use a mixture of meats such as roast beef, grilled chicken, ham, turkey)
2 hard-boiled eggs, sliced
1 large cucumber, sliced
½ cup grape tomatoes, halved
1 avocado, sliced
2-3 ounces Swiss cheese, cut into small strips
Optional extras to consider:
(Some of these ingredients go beyond the traditional definition of a Chef's salad, but work beautifully.)
Fresh herbs
Nuts
Boiled eggs
Bacon, cooked and crumbled
Onions (red onions add a nice flavor)
Shredded carrot
To prepare the salad:
Wash and dry lettuce or mixed greens and tear into bite-sized pieces. Toss with ½ cup of dressing.
Divide lettuce between four plates.
Cut meat into ½ inch strips and arrange over lettuce.
Place cheese, avocado, and boiled eggs over lettuce. Sprinkle tomatoes and other veggies over the top.
Drizzle with extra dressing, if needed.
My favorite dressing: Balsamic Dressing with Thyme 
Do you enjoy a Chef's Salad? If so, what's your favorite way to build it?