This post may contain affiliate links which won't change your price but will share some commission.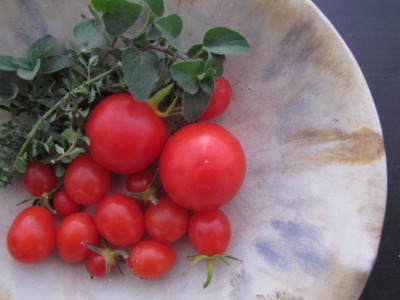 My garden is not very plentiful this year.  A move and a new baby left me with few spare moments for planting!  But I did manage to get a few things in the ground: lettuce, tomatoes, thyme, oregano, parsley, spinach, peas, and zucchini.  Not much of each, but enough to provide some fresh additions to our every day meals.
Having a few fresh herbs available is very cost effective. Buying fresh herbs from the store is usually quite expensive, not to mention the flavor being inferior to home grown varieties.
The following salad dressing is one I make often.  It can be made with fresh or dried herbs.
When I first tried this dressing I was surprised at how strong the thyme flavor was. It really stands out.  This combination has become one of my favorites and is often drizzled over a bed of lettuce, avocado, tomatoes, and my favorite salad nuts. A sprinkling of feta or goat cheese is also a lovely addition.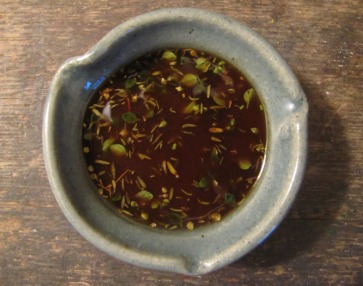 Balsamic Dressing with Thyme

(adapted from Renee Loux's Balsamic Vinaigrette in The Balanced Plate, page 203)

4 Tablespoons balsamic vinaigrette

1 Tablespoon maple syrup

2 cloves garlic, pressed (I use this awesome garlic press!)

1 ½ Tablespoons fresh thyme, chopped or 2 teaspoons dried

2 teaspoons fresh oregano, chopped or 1 teaspoon dried

½ cup extra-virgin olive oil

¼ teaspoon sea salt

Pepper to taste

Add all ingredients to a jar with a tight fitting lid.  Shake until well combined.  Taste and add extra salt and pepper if needed.
This post is included in Two for Tuesdays and GNOWFGLINS' Tuesday Twister. For more great recipes visit both!