This post may contain affiliate links which won't change your price but will share some commission.
With canning season upon us, it seemed like  a good time to share this little tutorial. I was so happy to learn this new skill a few years ago.  It is much easier than trying to cut the skin off a fresh peach, and saves a lot of  time!
Step One
Put a large pot of water on to boil.
Once boiling, immerse the peaches in the water for about 30 seconds (this is blanching).  Make sure each peach is mostly covered by the water.
Step Two


Remove with a slotted spoon or tongs (Not your hand! I was working so fast on so many things that I actually stuck my fingers in the boiling water!)
Step Three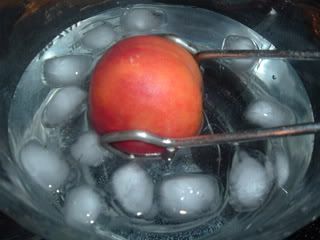 Submerge peach in a bowl of ice cold water for about 20 seconds.
This stops the cooking and makes the peach cool enough to peel.  20 seconds is not a magic number. You can, and probably will, leave them in the water longer than that.
By all means,  do more than one at a time!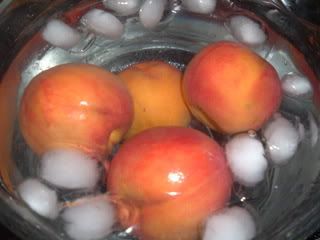 If you are working on a lot of peaches the water will gradually get warmer and will need to be replaced with cool.  You can also continue to add ice cubes as needed.
Step Four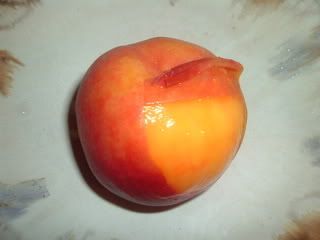 Remove peach with slotted spoon or tongs and peel the skin off with your fingers or a small knife.
The skin should slip off easily.  If not, repeat the process.
You should now have a nicely peeled peach. Beautiful, isn't it?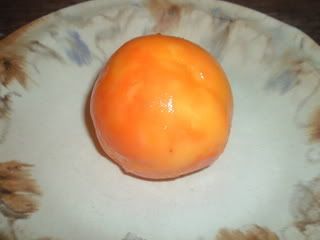 The same technique can be used to peel the skins from tomatoes.  Occasionally the blanching time will need to be increased to 45 seconds or a minute for tough skinned tomatoes.
What would you do with a load of freshly peeled peaches?  Cobbler?  Can?  Freeze?  All of the above?
This post is linked to Raising Homemakers, Homemaking Link-Up and Works For Me Wednesday at We are THAT Family.