This post may contain affiliate links which won't change your price but will share some commission.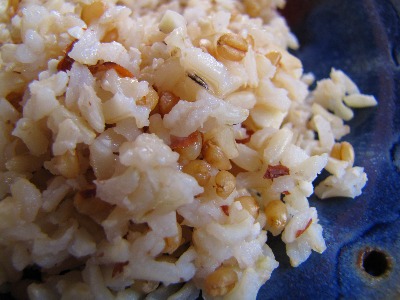 Almond Brown Rice is a simple, yet surprising variation for brown rice .  It can be used in most recipes calling for plain rice.  Lovely as an accompaniment to chicken and vegetables, it is also great in casseroles and excellent as a base for rice salad.  The addition of wheat berries or wild rice makes this very unique.
Almond Brown Rice

Adapted from Sue Gregg's Main Dishes Cookbook (page. 206). Yields 4 cups.


1 cup brown rice

2 3/4 cups water

1/4 cup wheat berries (grain) or wild rice

1/4 cup almonds, sliced, slivered, or chopped

½ to 1 tsp. Salt, to taste

Optional soaking step for added nutrition: Combine rice, wheat berries and almonds with 2 cups of water and 2 tablespoons of raw apple cider vinegar.  Soak for at least 7 hours (or overnight).  Add an extra cup of water and cook as directed below.  Check to see if rice is tender after about 25 minutes (it may take a little longer, but should be less than 40 minutes)

Combine all ingredients in a medium saucepan and bring to a boil over moderately high heat. Gently boil for 5 minutes, then turn to low and cover tightly.

Simmer for 40-60 minutes, until soft.  (To avoid sticky rice, keep covered for the first 40 minutes.)

Optional:

For extra flavor and crunchiness: Saute almonds in 1 tablespoon unsalted butter.  Add to rice when cooked.

For added color: Saute chopped green onions along with the almonds.
This recipe is linked to  Two for Tuesdays.