This post may contain affiliate links which won't change your price but will share some commission.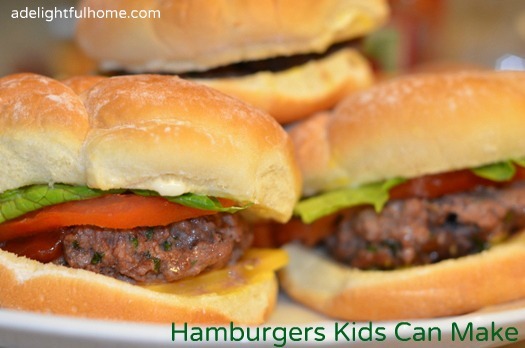 The past year I have been blessed with a daughter who has taken off in the kitchen. It is such a help and quite honestly, I'm still amazed at the things she can do!
Last night she made burgers.
The burger patties are baked in the oven, so there is no need to worry about hot oil spraying her in the face (that always happen to me when I try to make burgers on the stove top!).
If you child is old enough to know about the safe handling of raw meat, then they can make these burgers. You might need to help with getting them in and out of the oven, depending on their age.
Hamburgers Kids Can Make
Ingredients
2 green onions
2 tablespoons coconut oil or safflower oil
1 garlic clove, minced
1 pound ground beef (grass fed is best)
1/3 cup flat-leaf parsley
1 egg
6 hamburger buns
Hamburger toppings: lettuce leaves, sliced tomato, cheese, mayo, mustard
Method
Slice the spring onions into small pieces.
Heat oil in pan over medium-low heat. Add the spring onions and garlic. Cook, stirring occasionally until soft. About 5 minutes.
Place the cooked onions and garlic in a large bowl with the ground beef.
Chop the parsley into small pieces.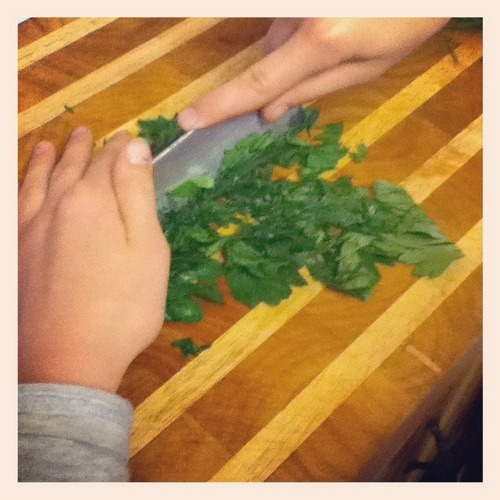 My daughter and I learned proper chopping technique from the raw food made easy DVD. I assume there are free videos on Youtube as well. I am amazed at how good cutting technique speed up the preparation process. If only I'd learned them sooner!
Add parsley to bowl with the ground beef, onions and garlic.
Crack the egg into a bowl and beat with a whisk or fork. Add to the beef mixture.
Mix the beef, egg, parsley, onions and garlic together with clean hands.
Shape into 6 patties and place on a tray that will fit in the fridge. Cover with plastic wrap and refrigerate for 30 minutes.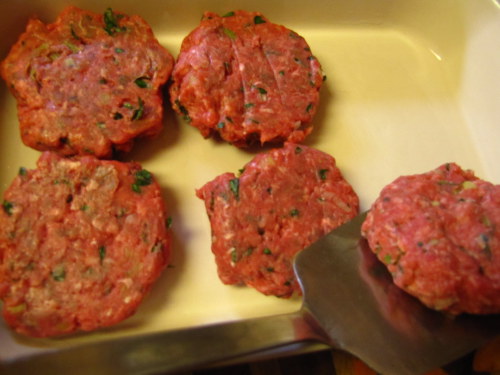 Preheat oven to 375 degrees F.
Brush an over tray with a little oil. Make sure the tray has sides as the burgers will release juice as they cook.
Place patties on the tray.
Bake in the oven for 12 minutes.
Use oven mitts to remove the tray. Turn the patties over with a spatula. Return to oven.
Bake for 12 more minutes or until cooked through.
Remove from the oven with oven mitts and place on prepared burger buns.
Prepare buns while the burgers are cooking. Spread with mayo and mustard or whatever your family enjoys.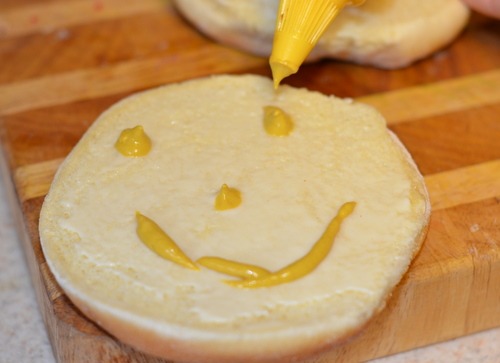 Have a little fun, too!
My daughter will be 11 next week and she did very well with this. It's the first time she has made burgers, although she has shaped raw meat before for meatballs. It took me a while to be comfortable with her dealing with raw meat, but she is getting the hang of it nicely and washed her hands very well after! Maybe too much. Ha!
What kid of food do your kids like to make?
I'm linking up with Kids in the Kitchen, and Rediscovery Domesticity.