This post may contain affiliate links which won't change your price but will share some commission.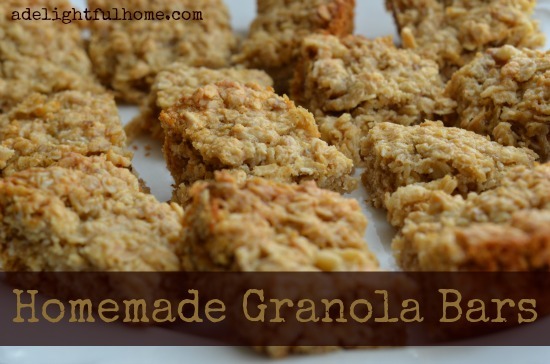 Have you ever looked at the back of a box of store-bought granola bars?
The ingredient list is quite lengthy.
Products that have more than 6 to 8  ingredients usually cause me a little concern. Especially when some of them are not recognizable as real food in the slightest.
Thankfully, it is easy to make your own granola bars and it doesn't take much time at all. It's so simple you could probably teach your kids to do it for you!
(In fact, this is the recipe I used in a recent real food class for girls. They were excited to see how easy it was.)
The following recipe is a great basic granola bar. It can be customized to suit your taste by including different add-ins such as chocolate chips, dried fruit, coconut flakes, and/or nuts.
It is also possible to make these chewy or crunchy (instructions are in the recipe below).
Simple, Homemade Granola Bars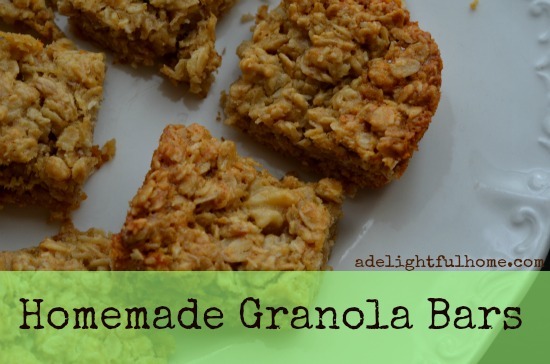 This recipe comes from Kitchen Stewardship in the Big Woods – A Family Camping Handbook by Katie Kimball.
Ingredients:
 1 c. butter, softened
1 c. honey
4 1/2 c. rolled oats
1 c. whole wheat or spelt flour
1 tsp. baking soda
1 tsp. vanilla
2 cups of add-ins: mini semi-sweet chocolate chips, chopped walnuts, dried fruit, sunflower seeds, coconut, other nuts…
Method:
Lightly butter a 9"×13" glass pan. In a large mixing bowl, combine butter and honey first and mix well.
Tip: If your butter isn't softened, use a rolling pin and roll it between two sheets of wax paper. Then add all ingredients except add-ins. Beat well until combined. Stir in add-ins by hand.
Press mixture hard into pan. (You can use your hands!) Bake at 325 degrees for 15-20 minutes until golden brown. They do not have to look or feel "done" but will be quite moist – remember that there aren't any eggs in the recipe. Allow to cool for at least 10 minutes before cutting into bars.
Let bars cool completely in pan before removing and serving. Store at room temperature or freeze for longer freshness.
For crispy bars: Slice fully baked bars and spread apart slightly on a cookie sheet. Bake again at 200F for 30-60 minutes until crispy but not browned.
YUM!
Kitchen Stewardship in the Big Woods – A Family Camping Handbook provides tons of information about how to have a successful camping trip.

It includes real food adaptations of standard camping fare so you don't have to compromise your family's diet while you're out in the woods!
So, tell me, do you like granola bars to be chewy or crunchy?