This post may contain affiliate links which won't change your price but will share some commission.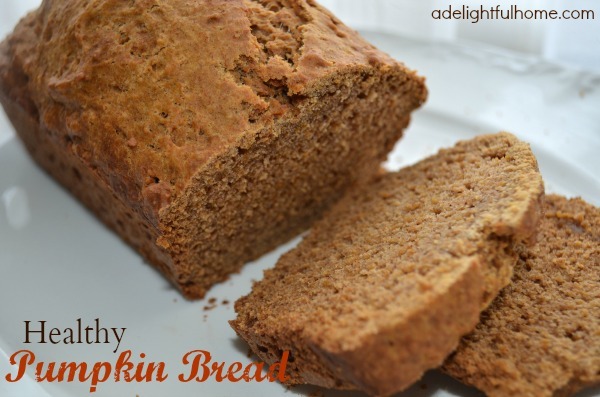 Fall is the perfect time to whip up a batch of pumpkin bread. It makes the house smell wonderful and tastes delicious.
My kids love this pumpkin bread (and so do I).
The recipe is from Wholesome Comfort, (which is one of the 86 eBooks included in the Ultimate Healthy Living Bundle sale)
Healthy Pumpkin Bread
Ingredients:
2 c. sprouted flour (wheat or unbleached white flour will work if you are not able to use sprouted flour)
½ tsp. sea salt
¾ tsp. baking soda
1 tsp. cinnamon
½ tsp. cardamom
½ tsp. nutmeg
¼ c. butter
½ c. maple syrup
2 tbsp. raw honey
1 egg
1 c. pumpkin puree
Directions:
Preheat oven to 350 degrees F.
In a medium bowl, combine flour, sea salt, baking soda, and spices. Set aside.
In a large bowl, cream butter (softened), syrup, and honey. Add egg and pumpkin and stir until completely combined.
Add the dry ingredients to the wet and stir gently just until moistened.
Bake in a buttered loaf pan, as muffins for about 50 minutes.
Serve warm with a smear of real butter.
Makes 8 – 10 servings.
Get Wholesome Comfort and 85 other health and wellness books (along with a 12-week mentoring program and tons of free products) in the Ultimate Healthy Living Bundle. Available from November 4-9.
Do you like pumpkin bread?