This post may contain affiliate links which won't change your price but will share some commission.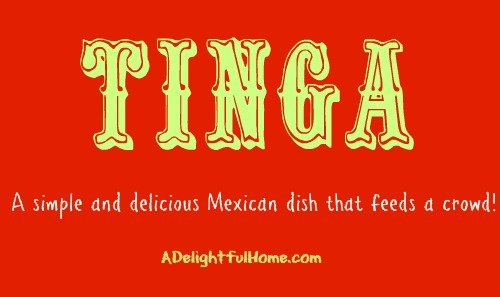 This is a delicious Mexican dish that I learned to make while at the Bible school.  One of our wonderful teachers had been a missionary in Mexico and was taught how to make it while she was there.
This recipe feeds a crowd. It's perfect for a simple dinner with friends. Pair it with a salad and you have everything you need.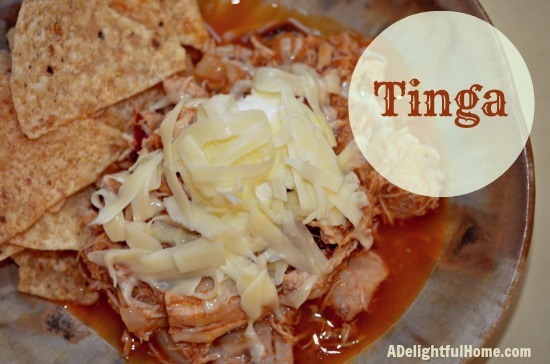 Tinga
12 Chicken Breasts, cooked and shredded (or the equivalent. I sometimes mix thigh meat and breast meat, or use a whole chicken, or two)
1 quart chicken broth (sometimes I add a little more)
6 large onions, sliced
1 can Chipotle Peppers in Adobo sauce ( you can purchase this at most grocery stores)
3 Cups ketchup
2 garlic cloves
1/2 cup cooking oil
corn chips
sour cream
cheese, grated
Boil chicken, cool and shred.
In a deep pot heat the oil and saute the onions and garlic until tender.
Chop the chipotle peppers and add to the  pot (also add the sauce from the can of peppers).  These are HOT don't rub your eyes after you touch them!  It is a good idea to chop them up with kitchen scissors while they are in the can.
Stir well.
Add ketchup.
Stir well.
Add chicken right away and stir.
Pour in broth.  Stir.
Turn to medium heat and simmer until almost boiling.
Turn down to low and cook for about 1 hour.
Serve on top of corn chips.  Add sour cream and grated cheese on top and you are ready to eat!
You can adjust the ingredients to suit your taste.  I often add more garlic and broth.  Some people cut down on the onions.
The smaller version:
When making it for my family I use:
3 chicken breasts
4 – 6 cups broth
1 onion
1 – 2 garlic cloves
1 cup ketchup
1 1/2 – 2 chipotle peppers
enough oil to cook the onions and garlic.
This is also great to stock in the freezer.
Yum!