Health Benefits of Raspberries (and 39 Real Food Raspberry Recipes)
This post may contain affiliate links which won't change your price but will share some commission.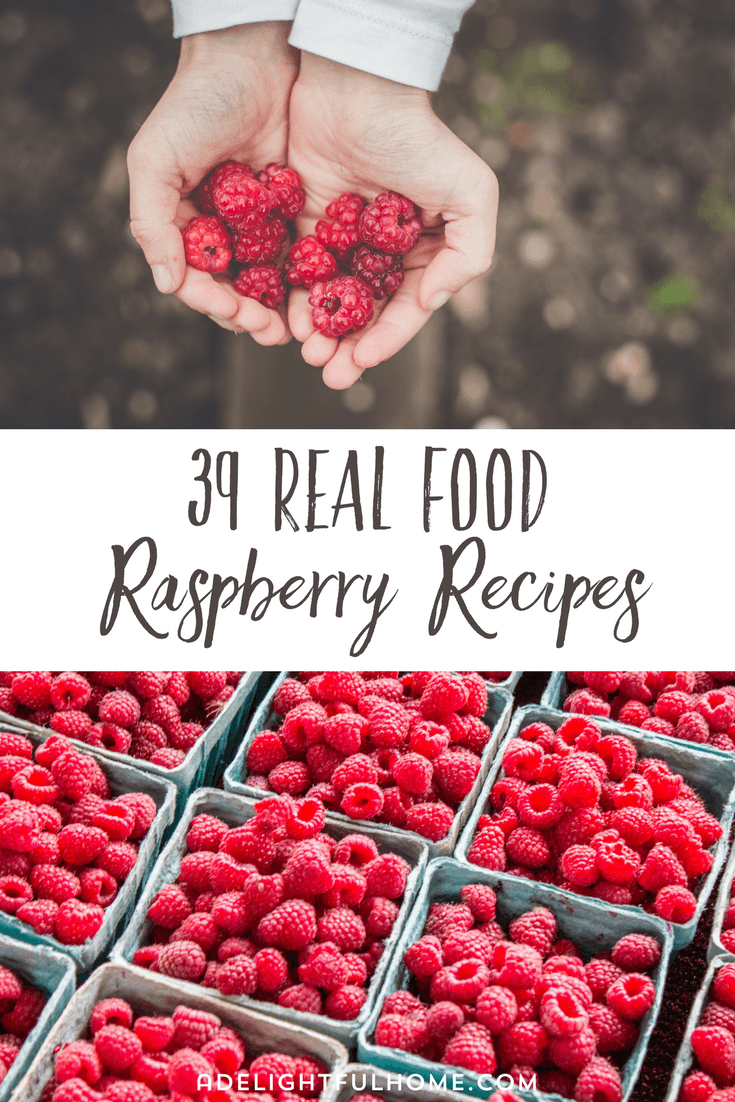 I love all the fresh berries available this time of year, especially raspberries.
Raspberries are not only tasty, they also contain lots of health benefits.
Some of the health benefits raspberries provide include:
Raspberries are an excellent source of vitamin C
Raspberries contain fiber
Raspberries are a good source of vitamin B2 and other B vitamins, such as folic acid, niacin, and vitamin B6
Raspberries contain flavonoids, which act as powerful antioxidants
Raspberries are an excellent source of ellagic acid (a cancer-fighting compound)
Source for above information: Encyclopedia of Healing Foods by Michael Murray, N.D.
Raspberries are a naturally sweet treat (we like to think of fresh berries, and all fruit, as God's candy). There's not a lot that needs to be done to enjoy raspberries, simply wash and eat. Or try stirring a few into your favorite yogurt or smoothie recipe.
Quick tips:

Wash raspberries right before eating or preparing to use them in a recipe. This prevents them from becoming water-soaked and perishing.

Buy raspberries in small amounts and use within a day or so (unless freezing).

To prevent molding: Remove raspberries from container and store in a single layer in a glass dish or pan. Place a damp paper towel over the top. Store in the refrigerator.
Since raspberries are so delicious and good for us, I've compiled a list (with the help of some blogging buddies) of real food recipes that feature raspberries. Hopefully, you'll get a great deal on raspberries this season and be able to make a few of these delicious treats!
Storing Raspberries
Easiest Way to Freeze and Store Berries @ Whole New Mom
Cakes, Pies, and Tarts
Lemonberry Tart @ The Nourishing Home
Raspberry Coconut Macaroons @ Meaningful Eats
Grain-free chocolate raspberry birthday cake @ Real Food Forager
Triple Berry Cobbler @ Whole New Mom
Berry Pie @ Don't Waste the Crumbs
Paleo Raspberry Chocolate Truffle Pie @ Living Healthy with Chocolate
Raspberry Peach Crumble @ Lexi's Clean Kitchen
Drinks
Raspberry Pin Colada Smoothie @ Keeper of the Home
Raspberry Kvass @ Real Food RN
Raspberry Chia Seed Lemonade @ The Sprouted Life
Muffins and Pancakes
Berry Cream Muffins @ Stacy Makes Cents
Lemonberry Muffins @ The Nourishing Home
Grain-free Coffee Cake Muffins with Raspberry Jam Filling @ Paleo Savvy
Paleo Raspberry Banana Muffins @ Writing in White
Raspberry Coconut Flour Pancakes @ Livin' Paleo
Dips, Sauces, and Creams
Yogurt Fruit Dip @ The Happy Housewife
Custard w/Summer Berries @ The Nourishing Home
Dairy Free Berry Mousse @ Whole New Mom
Berry Sauce @ 100 Days of Real Food
Melted Apricots with Fresh Raspberries @ Nourished Kitchen
Raspberry Blackberry Coconut Parfait @ Cook Eat Paleo
Bars
Raspberry Jam Bars @ Real Food. Real Deals
Paleo Raspberry Almond Bars @ From Our Hiding Place
Raw Chocolate and Raspberry Bars @ Amazing Paleo
Raw Raspberry Bliss Bar @ Fast Paleo
Gluten-free Vegan Raspberry Streusel Bars @ Elana's Pantry
Jams
Raspberry Jam @ Real Food Forager (GAPS friendly)
Fermented Raspberry Preserves @ GNOWFGLINS
Raspberry Jam without Pectin @ 100 Days of Real Food
Raspberries and Chocolate
Chocolate Raspberry Paleo Fudge @ Edible Harmony
Chocolate Raspberry Panna Cotta @ Paleo Digest
Chocolate and Raspberry Pot de Creme @ The Food Lover's Kitchen
Chocolate Raspberry Cheesecake @ The Paleo Mom
Ice cream and Sorbet
Dairy Free Raspberry Sorbet @ Grass Fed Girl
Raspberry Swirl Ice Cream @ Modern Alternative Mama
Salads
Raspberry and Spinach Salad @ Paleo Diet Lifestyle
Raspberry Vinaigrette @ Keeper of the Home
Spinach Raspberry salad with Honey Roasted Walnuts and Gorgonzola @ Laylita's Recipes
Stacy is a DIY obsessed, healthy living advocate. A preacher's wife and mom of three, she loves to encourage others to live a natural lifestyle.
Latest posts by Stacy Karen (see all)