This post may contain affiliate links which won't change your price but will share some commission.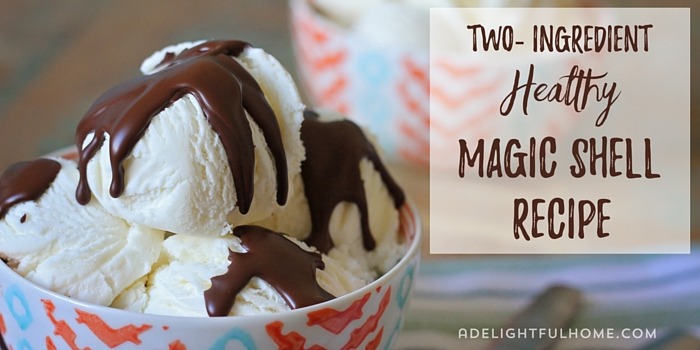 One of my favorite ice cream toppings as a kid was chocolate magic shell.
It always amazed me how an ice cream topping I squeezed out of a bottle could immediately form a hard chocolate shell.
The kind we used was from a store and probably not very good for me! But, hey, we didn't know any better!
The great thing about ice cream is, that the topping possibilities are endless.
And while, yes, ice cream is high in sugar, you can top it with an array of real food toppings to make it nourishing and delicious.
Fresh strawberries and nuts have always been a favorite, but recently the kids have been enjoying their ice cream covered in chocolate. I mean really, who wouldn't, am I right? And it's not just any chocolate, it's magic.
Have you ever ordered an ice cream cone dipped in chocolate that hardens before you get to take your first bite? That magic chocolate sauce is called Magic Shell, and it's so easy to make yourself. With just two ingredients you can turn your next after dinner dessert into a delicious science experiment!
The awesome thing about this homemade magic chocolate shell recipe is that it uses only real food ingredients. No weird additives, flavorings or preservatives! 
This is a far cry from the magic shell I ate as a kid!
How to Make Healthy Magic Shell Ice Cream Topping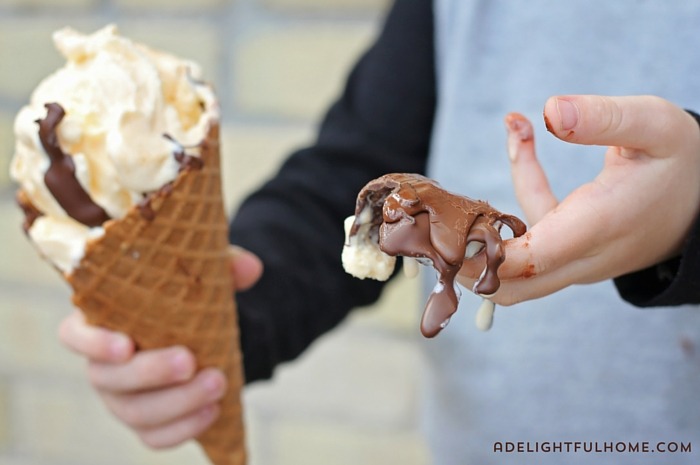 Magic Shell Ingredients
1 heaping tbsp of coconut oil (buy at Mountain Rose Herbs or Amazon)
¾ cup of dark chocolate (chopped or purchased as chips)
Directions
1. If your chocolate is in the form of a bar, start by breaking it into small pieces.
Using a microwave:
2. Put the chocolate and coconut oil into a microwave-safe bowl and heat in 20-second increments, stirring each time. Continue until melted.
Using the Stovetop:
2. Using a double boiler* method, melt the chocolate and coconut oil. Stir often.
*A double boiler is a method to heat up substances without burning them. Place water in a pan and bring to a boil. Place the chocolate and coconut oil in a heat-safe mixing bowl or second pan and set on top of the bottom boiler. Allow the mixture to heat via the steam from the boiling water.
3. Pour into a serving bowl and spoon onto frozen desserts such as ice cream. Enjoy!
Considerations
Choose organic, fair-trade, all natural dark chocolate that is 70% or higher cacao.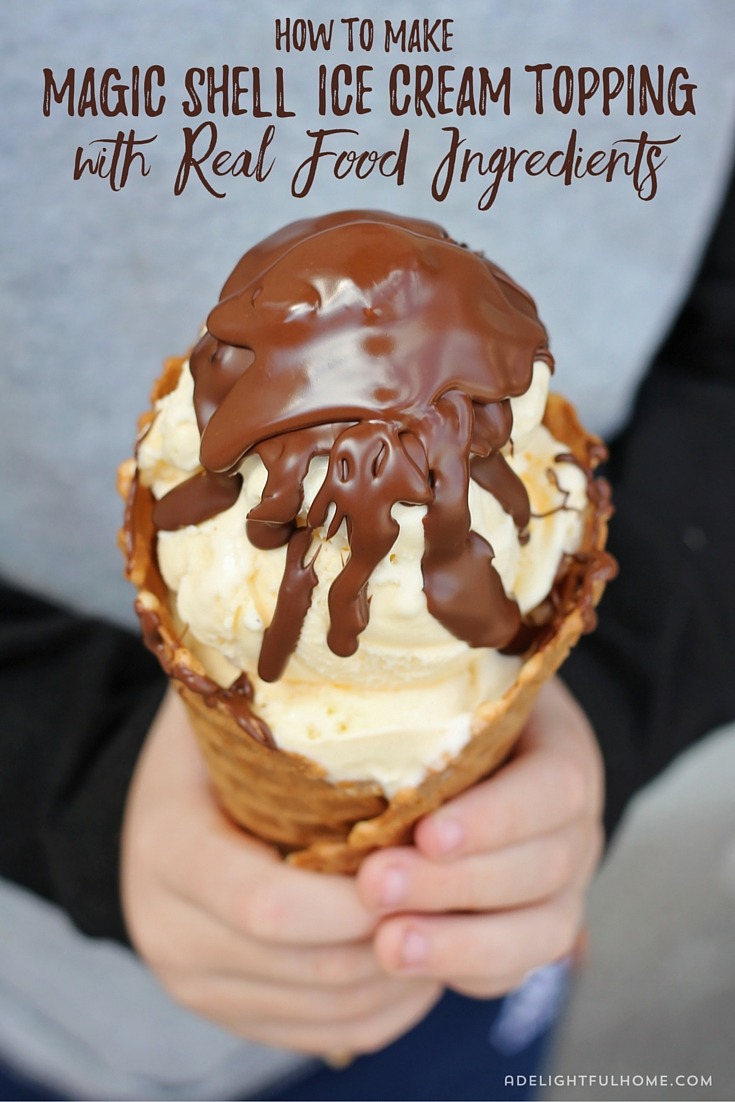 This post may contain affiliate links.