This post may contain affiliate links which won't change your price but will share some commission.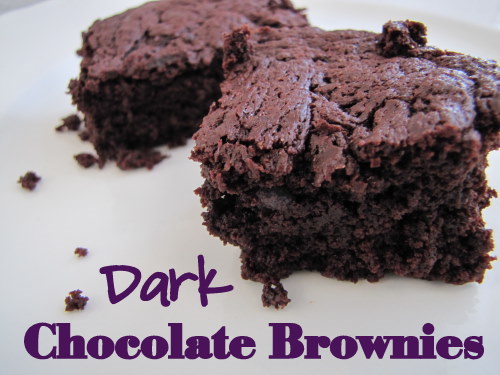 These are my husband's favorite brownie. I've made lots of different recipes, and this is the one he likes best.
I have tried it with whole wheat pastry flour and it works fine. But for an every now and then treat, I just go ahead and use unbleached white flour.
I also use white sugar.
The things we do for love.
My hubby says to be sure and tell you this brownie is for lovers of dark chocolate. If you are a milk chocolate fan, these are not the brownies for you.

Dark Chocolate Brownies
Adapted from Fifteen chocolate brownies on page 384 of Cook with Jamie by Jamie Oliver
Ingredients
1 cup plus 2 tablespoons unsalted butter
7 oz good quality dark chocolate (We use 70%), broken into large chunks
3/4 cup cocoa powder
1/2 cup unbleached, all-purpose flour
1 teaspoon baking powder
1 3/4 cup sugar
4 large eggs
1/2 to 1 cup walnuts, chopped
Method

Preheat oven to 350 degrees F.
Grease or line a 12 inch rect angular baking pan with parchment paper.
Place a butter and chocolate in large, heat proof bowl. Place bowl over simmering water and melt chocolate and butter until smooth.
Add nuts and stir.
In a separate bowl, stir together the flour, cocoa powder, baking powder, and sugar.
Add this to the chocolate. Stir well.
Beat the eggs and add to the chocolate mix, stir until combined. You will have a nice, silky consistency.
Pour batter into the prepared baking pan and bake for 25 to 30 minutes. They should be still be somewhat gooey in the center when you remove them from the oven.
Allow to cool completely before cutting. We find these actually cut and taste better the next day, if you can wait that long!
If you used parchment paper, lift brownie out onto a cutting board and slice into squares. It is also fine to keep the brownie in the pan and slice as needed (only do this if you used a glass baking dish. A knife will scratch an aluminum one).
Wonderful served with real, vanilla ice cream, or coffee ice cream. A little ground coffee in the batter would also be nice.
What do you think? Does my husband have good taste in brownies?
Sharing at: Tempt My Tummy Tuesdays