This post may contain affiliate links which won't change your price but will share some commission.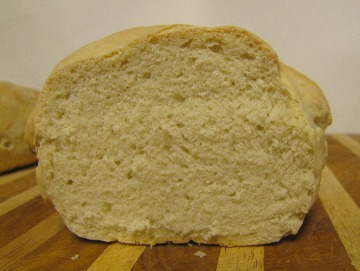 My husband had a wonderful Grandmother.  I mean, really wonderful.  I count her as one of the most amazing women I have ever met.
When she died last year, I knew I would miss her.  Lots of people do.  She was the adopted Grandma of so many I couldn't begin to count.
One thing I always enjoyed discussing with her was food and cooking.  She was an awesome cook.  My husband says her food tasted so good because she didn't scrimp on fat!  I think he is right.
As a newly-wed I was extremely inexperienced in the kitchen.  She showed me how to make a number of things and answered many of my questions over the phone.  I often had trouble following her recipes because she really didn't use recipes! I remember her showing me how to make pie crust…she just scooped the Crisco out of the container with her hand and said, "You need about this much."  The same thing when she demonstrated her method of cooking oatmeal: "Just fill the pot with some water and then start sprinkling the oats over it."  How much water?  How many oats?
Her methods were her own, and they worked very well.  I still wish I could ask her advice (and not just about cooking either!)
Recently I decided to try making some San Francisco style sourdough bread (it's my husband's favorite).  I started hunting recipes.  To my surprise, I found a big sheet of paper filled with instructions for making San Francisco Sourdough from his Grandma.  And in her very own handwriting too. She had sent them to me years ago, but I had not yet tried it.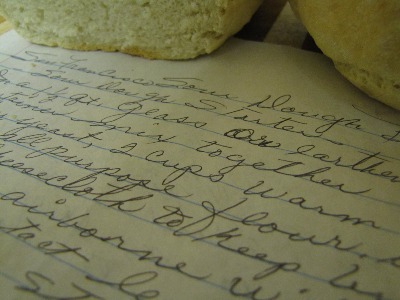 I got to work on the bread and it turned out well.  Actually, there are two recipes in the instructions.  I've only made one so far and plan to try the other later this week.  It was a real treat to read her words and follow her advice.  Her handwriting is unmistakable, so I couldn't help but think of her sweet character each time I looked at the page.
We enjoyed the bread and I am making it again today.
I didn't plan to share the recipes because I wanted to post mostly healthy, "real food" recipes on this blog.  But I changed my mind.  The truth is, we eat real food most of the time, but do enjoy treats on a regular basis 🙂
I usually grind my own wheat and make this soaked, yeasted loaf from Sue Gregg. It is good, but I have read that sourdough is better for you than yeasted bread (here is an informative article from The Nourishing Gourmet).  However, so far my whole wheat sourdough has been a flop.  But I am working on it.  Actually, Wardeh from GNOWFGLINS is starting a sourdough e-course this week.  I am excited to participate in it and hope to get very comfortable with sourdough.  I figure homemade sourdough with white flour is still better than store bought.
Here is Grandma's recipe.  She called it Sourdough Jack. (I'll share her second recipe after I try it.)
Sourdough Jack

Makes Extra Sourdough Bread

Put 1 cup of sourdough starter into a large bowl.

Stir in 1 cup of warm water and 2 cups of flour.

Mix well.  Let stand, covered, for 14-36 hours.  The longer it stands, the more tang it will develop.

Work in:

2 cups flour (more if mix is sticky)

Turn dough onto board and knead until silky smooth.

Let rest 10 minutes.

Shape into 1 or 2 loaves.  (I did 2 loaves and they were quite small.)

Let rise on cookie sheet for 30 minutes in a warm place. (I let mine rise a little longer than this.)

Put shallow pan of water in oven on lower shelf.

Preheat to 400 degrees.

Make diagonal slashes on bread.

Bake for 40 to 50 minutes, until crust is medium/dark brown.

Set on rack to cool.
I purchased my San Francisco Sourdough starter from Cultures For Health and am very happy with it (and with Cultures for Health for that matter).  You can make your own.  But I have not done so yet.
Finding this recipe was certainly a Finer Thing!  This post is linked to Finer Things Friday at Amy's Finer Things.  Hop on over there to be encouraged!