This post may contain affiliate links which won't change your price but will share some commission.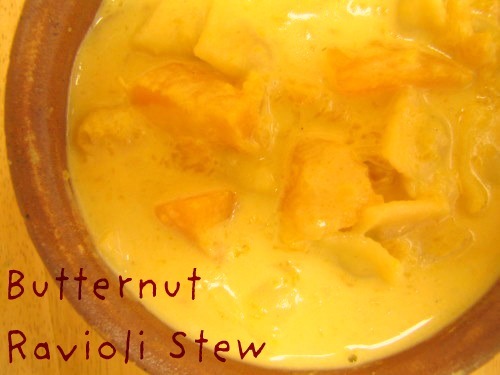 This stew is surprising and delicious. It is a lovely way to warm up on a cold winter evening.
When I came across this recipe it was so interesting I just had to try it. The whole family enjoyed this stew so much I made it again the following week.
It's nice and creamy and completely satisfying.
Butternut Ravioli Stew
Recipe adapted from Saving Dinner
Ingredients
2 tablespoons butter
2 onions, chopped
3 pounds butternut squash
½ cup white wine
5 1/2 cups chicken broth
1 pinch nutmeg
1 pinch cinnamon
1 pinch ginger
1 pound cheese filled ravioli (I used the mini ravioli from Trader Joe's. It's in the dry pasta section)
¾ cup cream cheese
¾ cup half and half
Salt and pepper to taste
Method
Cook butternut squash. Do this one of two ways:
Slice squash in half and scoop out the seeds. Place face down in a baking tray filled with a ¾ inch of water. Bake at 400 degrees for about 40 minutes (until tender). Allow to cool and then scoop out the soft meat.
Peel and slice squash into cubes, cook in boiling water for about 10 to 15 minutes. Until tender.
Melt butter in a large soup pot. Saute onions in butter until translucent.
Add the cooked squash, wine, chicken broth, and spices. Simmer for 10 minutes.
Meanwhile, cook ravioli in a separate pot according to package directions.
Allow stew to cool slightly then blend half of it in a blender along with the cream cheese. Once smooth, add back to stew.
Stir to combine.
Add cooked and drained ravioli and half and half. Stir gently to incorporate.
Heat through and add salt and pepper to taste.
Serve.