This post may contain affiliate links which won't change your price but will share some commission.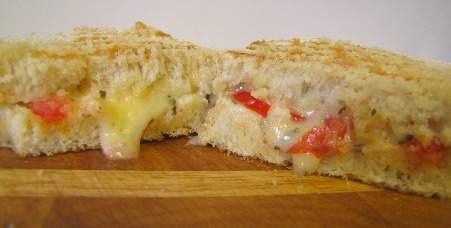 I love a good sandwich!  Really, I do.  I could eat one every day.
I'm always on the look out for a tasty combination and am very happy with the following.  The garlic basil mayonnaise has a nice tang and pairs beautifully with the cheese and tomato.
It was also fun since I was able to pick the tomatoes and basil from my garden for this.  There is just something wonderful about preparing food that has grown in your own yard!
Tomato Provolone Sandwich
with Garlic Basil Mayonnaise

This recipe is adapted from the Tomato and Provolone Sandwich featured in the July/August issue of Eating Well Magazine.

For the Mayonnaise

1 garlic clove, minced
2 Tablespoons chopped fresh basil, or 1 teaspoon dried
1 Tablespoon lemon juice
1/3 cup mayonnaise (Delouis Fils, Hain or homemade)
1/4 teaspoon pepper
Pinch of salt

Mix all of the above ingredients together until smooth.  Try to use fresh basil if possible – it is sooo good this way!

For the Sandwich

8 slices of good sandwich bread.
(I used Grandma's sourdough for the above pictured sandwich, but I generally recommend whole wheat.)
Provolone cheese, sliced
Fontina cheese, sliced (optional)
2 large tomatoes, sliced

Spread four slices of bread with the mayonnaise. Top with cheese and tomato slices.

Place remaining bread on top of filling to make a sandwich.  Toast in a Panini Pressor sandwich maker.  Be sure to use some butter to grease the Panini press first! (Eating Well magazine may not approve, but your taste buds will, as will your body.  Butter is not bad…more on this later.)

If you don't have a Panini press, the bread could be toasted under the broiler until lightly browned, then turn over 4 pieces and top with the cheese, then toast for 1 to 2 minutes, until cheese is melted. (Be sure to keep a close eye on your bread, I have burnt too many pieces to count under the broiler!)  Spread the other pieces of bread with the mayonnaise and tomato and top with the toasted cheese bread slices.

Enjoy!
What are your favorite Sandwich combinations?
This recipe is linked to Tuesday Twister at GNOWFGLINS.  Hop on over there to add yours and read what others are cooking up in their kitchens this week.