This post may contain affiliate links which won't change your price but will share some commission.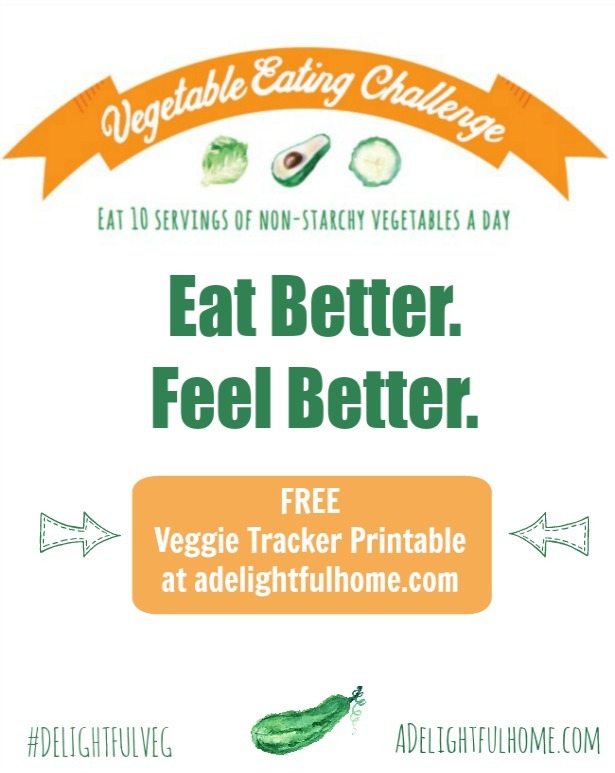 In all my years of researching and experimenting with various diets for optimal health, the common theme I've found among them all is the inclusion of lots of vegetables.
Vegetables are foundational for good health and many of us don't get enough of them.
Eating more vegetables is a great way to fill up on nutrients rather than empty calories; fueling our bodies with a myriad of powerful healing properties.
I was intrigued (and surprised) when reading the The Calorie Myth by Jonathan Bailor — in it he suggests eating 10 servings of vegetables a day! 10.
I decided to give it a try and quickly realized that I wasn't eating nearly that many.
But once I started to pay more attention (and plan ahead), it was not that hard to do.
After seeing Jonathan Bailor recommend this high amount of vegetables, I noticed that Dr. Sara Gottfried also recommends her patients eat 1 pound of vegetables a day (check out her book, The Hormone Reset Diet for hormone related help).
So then I got curious. WHY so many vegetables?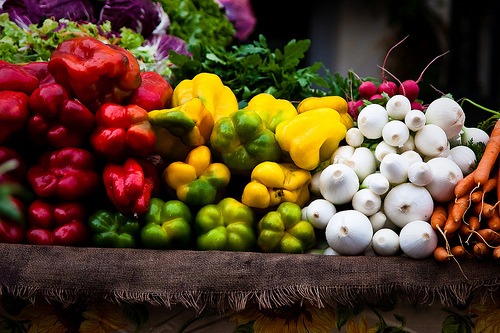 Benefits of Eating Vegetables
Well, as it turns out, there are a lot of great reasons for consuming veggies. Here are a few:
overall feeling of well-being
helps maintain healthy weight
relief from constipation
better hormone balance
clearer skin
create an alkaline environment in the body (which is the state we want! The other option is acidic – which is where diseases like to grow)
reduce risk of heart disease
may reduce risk of cancer
balances blood sugar
and much, MUCH more!
Why Non-Starchy Vegetables
Starchy vegetables are not completely off the table, but since they are higher in carbohydrates, and generally lower in fiber, the should be eaten mindfully. Starchy vegetables are often easy to overeat.
Non-starchy vegetables are usually higher in fiber than starchy vegetables and contain fewer simple sugars and carbs. They are also lower in calories. 
Non-starchy vegetables are especially helpful for those battling high blood sugar or who have weight to lose. They provide an low-calorie, low-sugar, nutrient-rich way to fill up.
Examples of Non-Starchy Vegetables
This is not an exhaustive list, but it gives you a pretty good idea of some of the most common non-starchy vegetables:
Alfalfa Sprouts
Artichoke
Arugula
Asparagus
Avocado
Bean Sprouts
Beets
Bell Peppers
Bok Choy
Broccoli
Brussels Sprouts
Cabbage
Carrots
Cauliflower
Celery
Chard
Cucumber
Dandelion Greens
Eggplant
Endive
Garlic
Green Beans
Kale
Leeks
Mixed greens
Mushrooms
Mustard Greens
Onion
Peas
Peppers
Pumpkin
Romaine Lettuce
Sauerkraut
Shallot
Snow Peas
Spinach
Squash
Sugar Snap Peas
Tomatoes
Zucchini
The Challenge
For the next ten weeks, I'm going to firm up this vegetable eating habit and thought you might like to join me.
I'll be posting an update plus a veg-heavy recipe or suggestion each Thursday.
All you have to do is aim to eat 10 servings of non-starchy vegetables a day. Don't feel like you have to eat that many on the very first day! Gradually build up to it. (That's why the challenge is ten weeks long!).
Maybe all you will do this week is eat one extra serving on vegetables a day. Whatever you feel you can actually stick with is the way to go.
What is a Serving Size?
A serving size of most non-starchy vegetables is about 1 cup (raw). This doesn't include leafy greens. It takes about two to three cups of raw leafy greens to make one serving. (But as you probably know, two to three cups of leafy greens, such as spinach, can cook down to less than half it's originally size.)
Free Veggie Eating Tracker
Download and print the vegetable eating tracker to help you keep track of how many veggies you are consuming.
Click this link or the image below to download.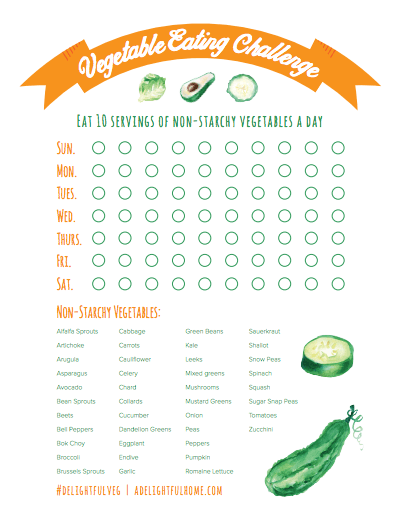 Note: The list of non-starchy vegetables listed on this printable is not exhaustive. There are other non-starchy veggies!
Use the hashtag #DELIGHTFULVEG
Share your pictures, progress, struggles, and triumphs on social media using the hashtag #DELIGHTFULVEG. I'll be following a long and commenting on as many posts as I can.
I can't wait to see what you're eating!
How many servings of vegetables do you eat a day?
P.S. Leave me a comment and let me know if you'll be joining me in this challenge.
We can do this!
This post contains affiliate links.