This post may contain affiliate links which won't change your price but will share some commission.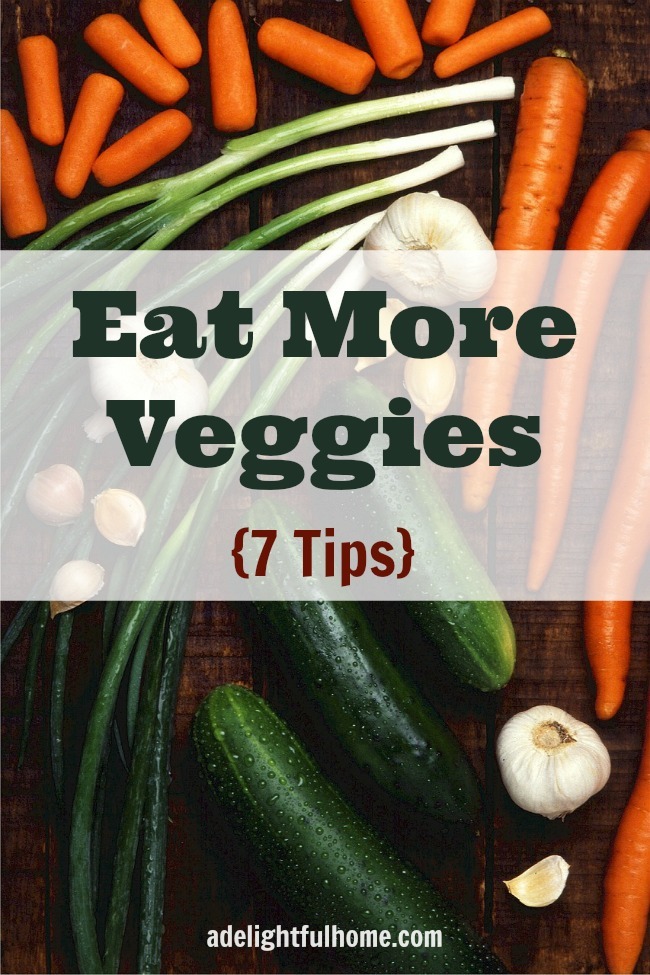 I am thrilled to see so many of you joining me for the Vegetable Eating Challenge! It's much more fun to do this with friends!
I find eating veggies one of the hardest habits to stick with. I'm not sure why. Maybe it's because of the multiple steps involved in preparing them or perhaps it's just that I like other foods better! Whatever the reason, I'm determined to continue improving this area of my life. I believe consuming a large amount of veggies frequently is foundational to good health.
(If you want to be inspired by the power of vegetables to heal your body, check out Dr. Terry Wahl's amazing transformation which she discusses in her awesome Ted Talk.)
Here are a few tips for eating more veggies on a consistent basis:
1. Keep them on hand
Yes, I know. That is kind a given, BUT, it's important because grocery shopping takes planning. On the weeks where I don't do a dedicated grocery shop, and just dash to the store for this and that, we eat much worse! Fewer vegetables are consumed, and I notice a big difference in how I feel.
It can be hard to always have the right types of food on hand when you are busy and have kids underfoot, so it's important to plan ahead for shopping trips.
Now may be a good time to research delivery options in your area. I have a wonderful local CSA that actually delivers to my door! It's amazing!
I also order from Azure Standard, which delivers once a month. This helps me keep a well stocked pantry and freezer.
Frozen veggies are a great option that allows you to have some type of vegetable on hand year round. Many frozen vegetables are frozen at the peak of freshness and may even be more nutritious than veggies at the store (the ones that have traveled far and been sitting there for days and days).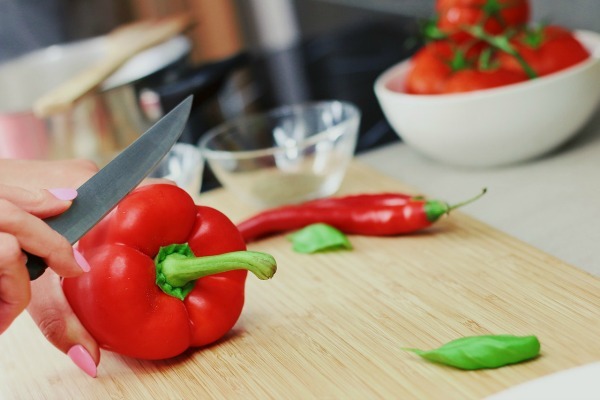 2. Prepare veggies ahead of time
Any way you can prepare veggies so they are easy to grab when hunger strikes, is good!
Here are a few ideas:
chop carrots, cucumber, and peppers for a quick snack
prep. a salad or soup at the beginning of the week that will last a few days
saute onions and mushrooms to freeze for later use
blend avocados with a little lemon juice and freeze in ice cube trays for use on salads (thaw out when ready to eat– it's almost like salad dressing)
3. Replace pasta with vegetables
This took a bit of getting used to, but I love it now!
Some quick ideas:
cook up some broccoli and pour a meaty pasta sauce over the top for a hearty meal
have roasted veggies on the side instead of macaroni and cheese
get a spiralizer and make zoodles (zucchini noodles) to use in place of spaghetti
try spaghetti squash in place of pasta too
4. Add a Green Smoothie to Your Daily Rotation
A great breakfast or snack, green smoothies allow you to easily add a serving or three or veggies to your day.
If you've never tried a green smoothie before, you might be surprised how un-green they can taste. Start by adding a little spinach to a smoothie made with a frozen banana, strawberries and water. Just blend up the water and spinach first so it will be nice and smooth. Find out everything you want to know about green smoothies here.
5. Snack on Veggies
Snack time should be viewed as a way to add more nutrition to your diet. It's often the moment we grab something unhealthy, just because it's not meal time. Instead, plan ahead and have some vegetables chopped and ready to go.
You might even like to have something that resembles a mini-meal instead, like a small bowl of soup!
6. Make a Meal Plan
The best way to know you are going to eat enough veggies is to plan for it. Creating a simple meal plan will help you stay on track and also let you know what you need to get at the grocery store!
7. Tape the Veggie Eating Tracker to the Front of Your Fridge or Cabinet!
Seriously! If you are anything like me, you might actually forget that you are trying to increase your vegetable intake. I have to be reminded constantly!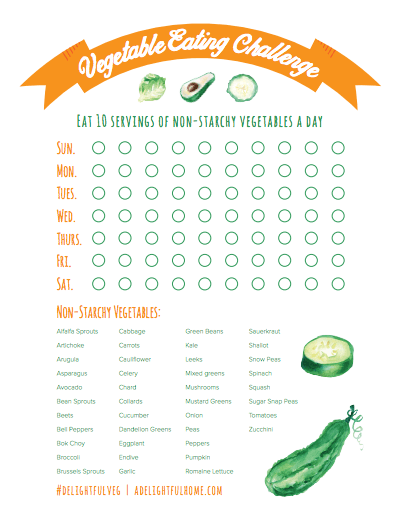 Print out the veggie eating tracker and put it somewhere you will see it often. I tried to make sure it was pretty so we could all put it up in a prominent place. Maybe you'll even inspire others in your home to eat better!
My Veggie Challenge Update
I did terribly this week! What a way to start out! I know it was because I did not do many of the things mentioned above. The week started out on a whirlwind and I let it get the best of me! But, I'm ready for this week. I've got some veggie-heavy soups on the menu and planning to have a green smoothie each day.
How did you do this week? Did you eat more veggies than usual?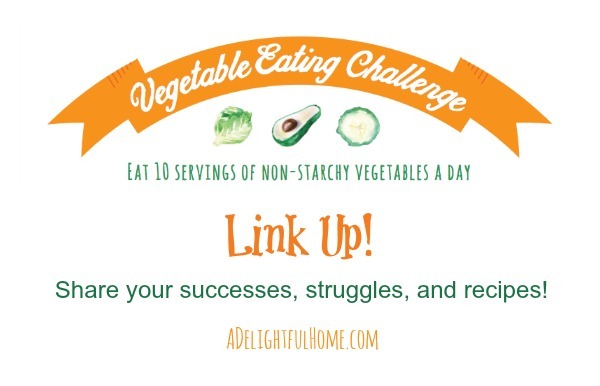 Share in the comments below of link up a blog post from your blog.
Or share your posts on social media using the hashtag #delightfulveg
I'd love to see updates on your veggie eating challenge, but you are also welcome to share veggie-based recipes for us to enjoy!