This post may contain affiliate links which won't change your price but will share some commission.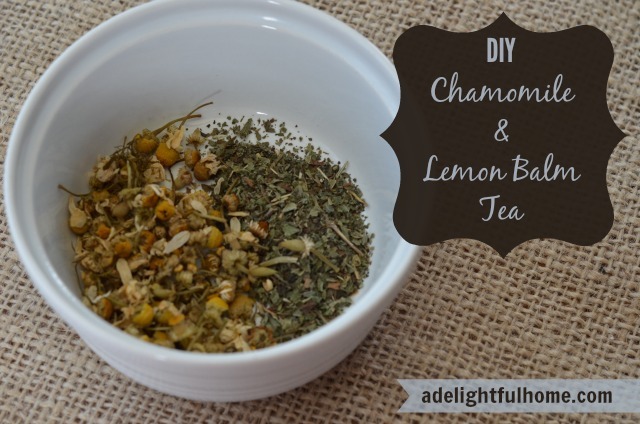 Tea is one of the simplest methods of creating herbal remedies.
Mixing together a few herbs is quick and easy Plus, they smell great.
Homemade tea mixes can be stored (and gifted) in jars and may also be given in poly-lined bags
These are available in the Tea Accessory Section of Mountain Rose Herbs.
This Chamomile and Lemon Balm Tea Recipe is helpful in boosting mood and calming anxiety.
Lemon balm is known as the happy herb since it aids in soothing the nervous system.
Chamomile is well-known for its calming properties and is perfect for relaxing before bed and any other time of anxiety or restlessness.
How to Make Chamomile and Lemon Balm Tea
Ingredients:
1 part Chamomile flowers, dried (also available on Amazon)
2 parts Lemon balm, dried
Method:
Mix herbs together in a clean bowl and put in an air-tight container.
Example of how to make:
Mix 1 cup lemon balm and 1/2 cup chamomile flowers. (Vary the amount as needed, just keep the 1:2 part ratio.)
To use:
Steep 2 teaspoons of herb mixture in 1 cup of warm water. Strain and drink.
For more DIY tea recipes, see: 52 DIY Herbal Tea Recipes
Tea can be given as a gift on it's own, but it's fun to include a mug or tea strainer too.
This, in-mug tea strainer is unique (and quite handy!).

This post contains affiliate links.