This post may contain affiliate links which won't change your price but will share some commission.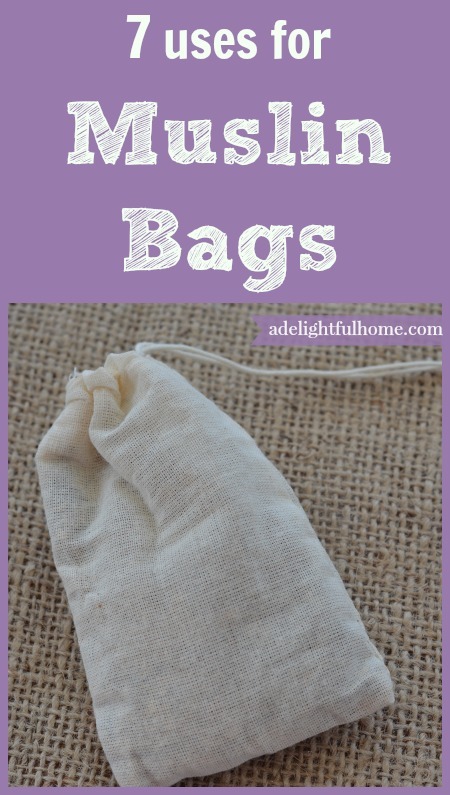 I love muslin bags!
I try to always keep a stash of muslin bags on hand because they make it possible to create quick and simple gifts. Especially when you want to make gifts in bulk. Simply line up bags and work assembly-line style.
A few items you can make with muslin bags include:
Scented-drawer Sachets
Fill bag with herbs such as dried roses or lavender
Bath Tea
Fill bags with a mixture of herbs and float in the bath tub. May also add oats and/or salts (such as sea salt or Epsom salt).
Try rose and chamomile bath bags or soothing oat and lavender bath bags.
Tea Bags
Smaller sized muslin bags can be used as tea bags. Fill with herbs and place in a cup of hot water to infuse. Or, place in a large pot of water or even a crockpot to make larger amounts of tea.
Spice Bags for Soup
Fill muslin bags with herbs and spice for soup. These work especially well when using spices that may need to be removed at the end of cooking, like whole allspice or cloves and bay leaves.
A popular herb mix used to flavor soups is called Bouquet Garni. It includes: 1 tablespoon dried parsley, 1 teaspoon dried thyme and 1 bay leaf. The bags can be made ahead of time and stored or given as gifts.
Spice Bags for Spiced Cider
When making a large batch of hot spiced cider, place cloves, cinnamon, all spices, and nutmeg in a muslin bag. Place bag in a crock pot filled with apple juice or fresh cider. Allow to warm for a few hours. Take the bag of herbs out before serving.
Party Favors
Party favors such as candy.
Gift Bags
Use muslin bags as gift bags for smaller gifts, such as money, gift cards, body care items (like lip balm), and other such things.
Muslin bags are pretty on their own, but can also be stamped or painted to add visual interest; not when used for food use or bathing, but when intended as gifts bags, it adds a nice touch.
Where to Find Muslin Bags
Buy on Amazon or Mountain Rose Herbs
Or use my very un-technical tutorial to make your own.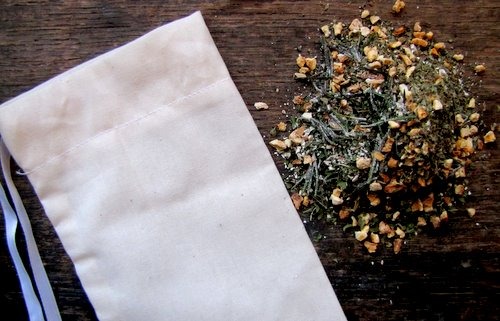 Do you use muslin bags? If so, what for?