This post may contain affiliate links which won't change your price but will share some commission.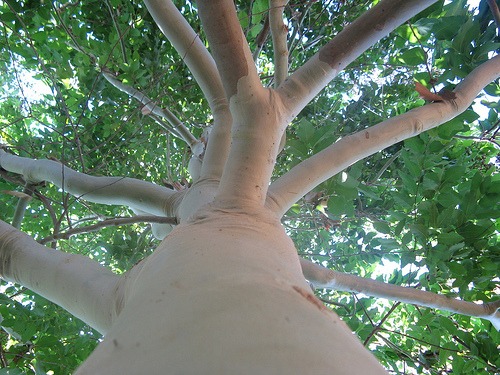 I'm excited to be participating in the Go Green & Save Green Series with several other green bloggers this week! We'll be talking about different areas of green and natural living, showing you how to go green while saving money at the same time! Be sure to check out the great links at the end of this post!
I am a huge fan of essential oils. There is some powerful stuff in those tiny bottles!
Many people, including myself, put off buying essential oils because they seem so expensive. It took me a long time to convince myself they were worth the cost. Now I always have a select few in the kitchen cabinet.
It is wonderful to have essential oils on hand for creating herbal remedies, cleaners, and homemade body products. I find this saves me money, time, and peace of mind (since I can avoid toxins and other weird ingredients).
Today I'd like to show you a variety of ways to use Eucalyptus essential oil to create your own simple and effective home remedies. A 1-ounce bottle of Eucalyptus essential oil costs about $4 and will last for many months or even years, depending on how often you use it.
I hope the uses described below will show just how effectively this little bottle of oil can help you go green and save green!
But first, here's a little information about Eucalyptus:
Eucalyptus essential oil is made from the leaves of the Eucalyptus tree (which is native to Australia, my homeland). It has antifungal, antibacterial, antiseptic and antiviral properties. Eucalyptus is also well known as a decongestant and useful for relieving congestion when inhaled.

If you'd like to learn more, you can do so here.
10 Simple (and effective) Uses for Eucalyptus Essential Oil:
1. Chest Rub
Make a quick chest rub by adding 20 drops of eucalyptus essential oil to about 4 tablespoons of olive or almond oil. Rub over chest as you would Vapo rub.
You may also like to include other oils or make this into a salve by warming the oil and adding a little grated beeswax to thicken. Add the essential oil after the beeswax has melted and pour into a jar for storage. If the salve is too thick, re-melt and add more oil, if it is too thin, re-melt and add more beeswax.
2. Steam Inhalant
Add 3 to 5 drops of eucalyptus essential oil to a quart of boiling water. Sit with head over the water, drape towel over your head and inhale the steam. Do this for five to ten minutes; inhaling through the nose and exhaling through the mouth (if possible).
Of course, please be very careful not to burn your face – don't sit too close to the hot water and remember to close your eyes, since the vapor can sting a little. You may wish to sit in a chair and have the pot by your feet. Then lean over with the towel making a tent.
3. Cold and Flu Bath
Add 10 drops of eucalyptus oil (less for children) to a bathtub full of warm water. Soak for 20 minutes and inhale the vapors to relieve congestion.
4. No-Steam bedside Inhalant
Simply add a few drops of eucalyptus essential oil to a cotton ball or tissue and place on the night stand or next to the patient's pillow. This will allow them to inhale the scent as they sleep without worrying about oil burners or vaporizers..
5. Relieve Coughs and Colds with a Vaporizer
If using a vaporizer or humidifier with a medicine cup, avoid buying commercial vaposteam or inhalants by filling the medicine cup with water and adding a few drops of eucalyptus essential oil.
6. Relive Congestion with an Oil Burner
Add 2 to 4 drops of eucalyptus essential oil to an oil burner filled with water. You may also enjoy combining the eucalyptus with other essential oils such as lemon, orange, and peppermint. The Neways guide to Essential Oils for Everyday use recommends the following combination for Colds and Flu:
Colds and Flu Combination

2 drops eucalyptus essential oil
1 drop lemon
1 drop Orange
2 drops Peppermint
Add to oil burner filled with water and stay close by to inhale the aroma.
If you do not have an oil burner or vaporizer, the essential oil can be added to a pan of simmering water. (Just be sure to keep an eye on the water level.)
7. Massage Oil for Muscle Aches
Add 10 drops of eucalyptus essential oil to 4 ounces of sweet almond oil and massage into sore muscles.
A bath with a few drops of eucalyptus essential oil is also helpful in alleviating muscle soreness.
8. Insect Repellant
Combine eucalyptus essential oil with citronella and peppermint to create an effective insect repellant. I made this homemade insect repellant over the summer and found it worked very well. Yay for no Deet!
9. Antibacterial Spray
2 drops eucalyptus oil
2 drops Tea Tree oil
1 fluid ounce of water
Spray on skin or hard surfaces to kill germs. (Recipe from Neways Essential Oils: A Guide to Everyday Use).
10. Anti-Dandruff Treatment
Add 2 drops of eucalyptus essential oil to a tablespoon of coconut oil and massage into scalp. A few drops of oil can also be added to your shampoo to aid in fighting dandruff.
Eucalyptus essential oil is also said to be useful for cuts and abrasions, warts, and cold sores. I have not yet used it for these ailments, but will let you know when I do.
Do you keep Eucalyptus on hand? If so, how do you use it?
Important:
Eucalyptus essential oil is highly concentrated and should never be used undiluted or taken internally. Please remember than I am not a certified herbalist, juts someone who is obsessed with learning and talking about herbs. Always be careful when using herbs and research the correct dosage and any possible side-effects. Eucalyptus essential oil should not be taken internally, especially by children. It can be fatal.
Check Out These Other Great Posts in the Go Green & Save Green Series:
This post is linked up to Top Ten Tuesday, Wildcrafting Wednesday. and Frugal Days, Sustainable Ways.