10 Benefits (and uses) of Apple Cider Vinegar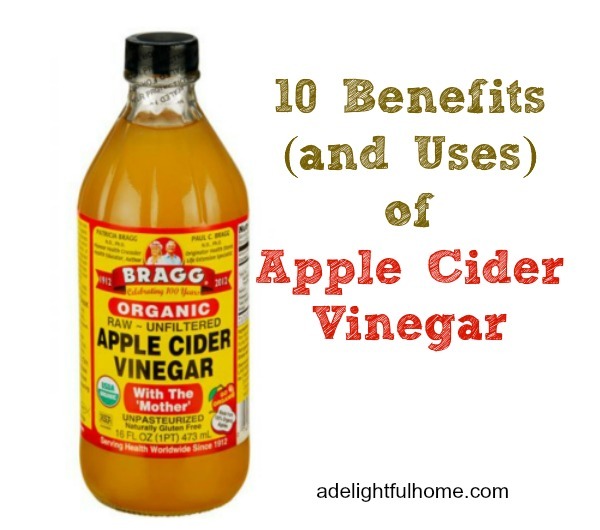 I drink a splash of apple cider vinegar in water most days of the week. It seems to refresh me and provides a tasty option to unhealthy beverages that might tempt me in the afternoon hours.
My daily apple cider vinegar elixir

1 – 3 teaspoons of apple cider vinegar (with the mother)

8 ounces of water

3 drops liquid stevia (optional)
I've heard a lot of rumors about the health benefits of apple cider vinegar and decided to look a little deeper into them. Here are some of wonderful benefits and uses I found:
Weight loss
Apple cider vinegar helps reduce hunger cravings. Drinking an apple cider vinegar elixir 15 to 30 minutes before a meal can reduce the likelihood of overeating.
Apple cider vinegar also helps to minimize sugar cravings. Next time you are hunting for a sugar fix (when you know you don't need one), sip on a glass of water with apple cider vinegar and a few drops of stevia.
To make it even more of a treat, use sparkling mineral water in place of regular water. It will get you through. (I learned the sparkling water trick from my friend Krissa of More Than Mundane.)
Apple cider vinegar is also helpful in the digestion of protein and fats. Good digestion is essential to maintaining a healthy weight, so this is a wonderful added bonus.
Treat Poison Oak and Poison Ivy
Apple cider vinegar relieves the itching associated with poison oak and poison ivy.  Mix equal parts apple cider vinegar and water in a spray bottle and spray directly onto affected area. Keep in the fridge and use cold (the cooler temperature will provide even more relief).
Treat insect bites and stings
Dab full strength apple cider vinegar on bee stings, ant bites, and mosquito bites to ease pain and relive itching.
Treat coughs and sore throats
Apple cider vinegar helps soothe a sore throat and reduce inflammation that causes coughing.
To make an ACV drink specifically targeted to reliving a sore throat: place 1 tablespoon of honey and 1 tablespoon of apple cider vinegar in the bottom of a mug, then fill with hot water. More honey can be added to taste, and also add a pinch of baking soda to cut the acid (if needed).
Relieve chicken pox
Add 1 cup of apple cider vinegar to a warm bath and soak for at least 20 minutes to relive the discomfort of chicken pox.
Aids digestion
Apple cider vinegar is thought to enhance digestion in a number of ways. It stimulates saliva and stomach acid production, which both aid digestion. It also promotes the growth of beneficial bacteria.
Consuming the apple cider vinegar elixir mentioned above on a regular basis could help alleviate chronic heartburn.
Prevent illness
Apple cider vinegar helps make the body more alkaline and also kills bacteria and viruses. Taking apple cider vinegar daily is a great way to ward off illness. When you do get sick, up the ante and drink a tablespoon of apple cider vinegar in a glass of water every few hours. It will shorten the duration of illness.
Facial toner
Apple cider vinegar helps remove dead skin cells and dirt as well as balancing the PH of skin. It is also helpful in reducing acne scars.
Make a simple toner by mixing 4 tablespoons of water with 1 tablespoon of apple cider vinegar. Apply to freshly washed skin with a cotton ball.
You can make this mixture stronger by reducing the amount of water or increasing the apple cider vinegar. Some people are able to use a 1:1 ratio. Start with a mild toner and work your way up if you are not seeing results.
Hair cleanser
Mix one cup of water with one cup of apple cider vinegar and pour into a spray bottle. After shampooing hair, spray the mixture over the hair and let sit for a few minutes. Then rinse out.
The apple cider vinegar will remove soap residue and leave extra clean hair.
Soothe Sunburn
Add one cup of apple cider vinegar to a bath of warm water and soak for at least 10 minutes to soothe a sunburn.
Relieve Headaches
When dealing with a headache, try boiling one cup of apple cider vinegar and one cup of water in a pot. Pour into a heat proof bowl and put on the table or other safe place that you can lean over the bowl and cover your head with a towel. Inhale the steam for a few minutes to bring some relief.
Which Apple Cider Vinegar to Use?
Choose apple cider vinegar that is raw and unprocessed. It should contain the 'mother.'
The mother is a natural sediment containing trace minerals, enzymes, and beneficial bacteria.
Choosing apple cider vinegar that is raw and unprocessed will give you the most benefits.
I usually buy Braggs apple cider vinegar because it is easy to find and works very well. Plus, I love that it comes in a glass bottle and can be shipped right to my door.
Books
I consulted a few books in researching this topic, namely:
Have you tried drinking Apple Cider Vinegar? What benefits have you found?
This post may contain affiliate links which won't change your price but will share some commission.
Stacy is a DIY obsessed, healthy living advocate. A preacher's wife and mom of three, she loves to encourage others to live a natural lifestyle.
Latest posts by Stacy Karen (see all)