This post may contain affiliate links which won't change your price but will share some commission.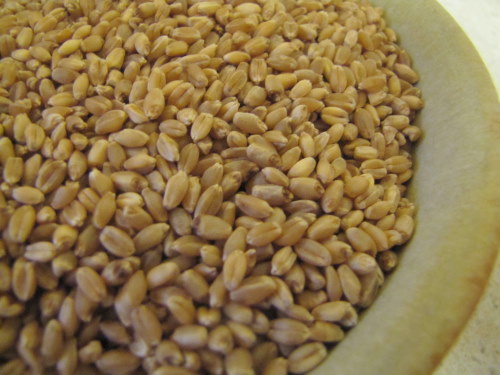 I'm excited to be participating in the Go Green & Save Green Series with several other green bloggers this week!  We'll be talking about different areas of green and natural living, showing you how to go green while saving money at the same time!  Be sure to check out the great links at the end of this post!
Does that sound crazy? Grinding your own wheat? A little extreme?
I wondered about it myself, until I tried it.
Freshly ground wheat taste better, has more nutritional value, and is less expensive than packaged flour. Plus, it saves a bunch of packaging waste. I know when I buy flour in a package, it doesn't last long and I need to replace it soon. So I figure buying the berries save a lot of excess trash and TIME.
Time, yes, that's valuable too. It might seem that grinding you own wheat takes time too, it does, but you can grind in batches and freeze, or do something else while the machine does all the hard work.
Grinding wheat doesn't require endless amount of time churning a hand crank (although it could, if you really wanted to do it that way!). There are some excellent grain mills on the market these days, and a high power blender, like a Vitamix or Blendtec, can grind wheat berries to flour too.
I own a Nutrimill and love it. The initial investment in this machine is a few hundred dollars, but after than you will be able to have fresh, organic wheat for very little cost. You can also grind other grains too. I often grind Kamut to make my favorite cookies.
From Azure Standard I can purchase 50 pounds of organic hard white wheat berries for $24.95 (less when on sale).

Currently on amazon you can buy 25 pounds of wheat flour for $24.45.

That's almost the same price for half the amount of flour!
Hard red wheat berries are also readily available, usually in the bulk bin at the health food store.
I prefer hard white wheat as it has a less wheaty taste and makes very good bread the kids love.
I also buy soft white wheat berries which make a nice pastry flour. I use this to make muffins and quick breads and any other baked good sin which I am replacing white flour.
Here is a picture of hard white wheat and soft white wheat side by side. (the hard white is on the left, soft white is on the right):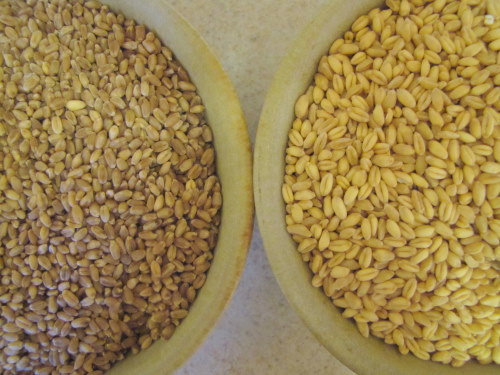 So, what do you think?
Is grinding wheat something you would try?
I'll get a video of my grain mill at work and post that soon (so you can see the magic in action). Also, I'll be sharing my favorite bread recipes early next week.
Check Out These Other Great Posts in the Go Green & Save Green Series: